10043-52-4
Product Image
Name
Calcium chloride
CAS
10043-52-4
Synonyms
APPLICATION: ACCELERATION OF THE SET OF CONCRETE, MISC.
BOD CALCIUM CHLORIDE SOLUTION C
CALCII CHLORIDUM
CALCIUM ATOMIC SPECTROSCOPY STANDARD
CALCIUM CHLORIDE
CALCIUM CHLORIDE 0-2H2O
CALCIUM CHLORIDE 2H2O
CALCIUM CHLORIDE 2-HYDRATE
CALCIUM CHLORIDE DEHYDRATED
CALCIUM CHLORIDE DIHYDRATE
Calcium chloride fused
CALCIUM CHLORIDE SOLUTION
CALCIUM CHLORIDE STANDARD
CALCIUM CHLORIDE TS
CALCIUM (II) CHLORIDE
CALCIUM ION STANDARD
CHLORO CALCIUM
PELADOW(R) SNOW AND ICE MELT
Anhydrous calcium chloride
anhydrouscalciumchloride
EINECS(EC#)
233-140-8
Molecular Formula
CaCl2
MDL Number
MFCD00010903
Molecular Weight
110.98
MOL File
10043-52-4.mol
Appearance
Calcium chloride is a colorless to off-white crystalline solid which is deliquescent (absorb water). When heated, crystals lose water @ 100C.
Appearance
white beads or powder
Melting point
772 °C (lit.)
mp
772 °C(lit.)
bp
1600 °C
Boiling point
1935 °C/1 atm (lit.)
density
1.086 g/mL at 20 °C
vapor pressure
0.01 mm Hg ( 20 °C)
refractive index
n
20/D
1.358
Fp
>1600°C
storage temp.
2-8°C
solubility
H
2
O: soluble
form
powder
color
White to gray
Specific Gravity
2.15
PH
8-10 (100g/l, H2O, 20℃)
Stability:
Stable. Incompatible with zinc, water, strong acids, methyl vinyl ether, bromine trifluoride, boron oxide, calcium oxide. Hygroscopic.
Water Solubility
740 g/L (20 ºC)
Sensitive
Hygroscopic
λmax
λ: 260 nm Amax: 0.04
λ: 280 nm Amax: 0.02
Merck
14,1659
InChIKey
UXVMQQNJUSDDNG-UHFFFAOYSA-L
Uses
Obtained as a by-product in the manufacture of potassium chlorate. The white crystals, soluble in water and alcohol, are deliquescent and must be kept in a well-stoppered bottle. Calcium chloride was used in iodized collodion formulas and in collodion emulsions. It was also an important desiccating substance used in tin calcium tubes designed to store presensitized platinum papers.
Uses
Calcium Chloride is a general purpose food additive, the anhydrous form being readily soluble in water with a solubility of 59 g in 100 ml of water at 0°c. it dissolves with the liberation of heat. it also exists as calcium chloride dihydrate, being very soluble in water with a solubility of 97 g in 100 ml at 0°c. it is used as a firming agent for canned tomatoes, potatoes, and apple slices. in evaporated milk, it is used at levels not more than 0.1% to adjust the salt balance so as to prevent coagulation of milk during sterilization. it is used with disodium edta to protect the flavor in pickles and as a source of calcium ions for reaction with alginates to form gels.
Uses
calcium chloride is an astringent. It also helps improve the reaction among certain ingredients used in cosmetic formulations. This inorganic salt is no longer commonly used in skin care products and is being replaced with potassium chloride.
CAS DataBase Reference
10043-52-4(CAS DataBase Reference)
NIST Chemistry Reference
Calcium dichloride(10043-52-4)
EPA Substance Registry System
10043-52-4(EPA Substance)
Hazard Codes
Xi
Risk Statements
R36/37/38:Irritating to eyes, respiratory system and skin .
R36:Irritating to the eyes.
R36/38:Irritating to eyes and skin .
R41:Risk of serious damage to eyes.
R22:Harmful if swallowed.
Safety Statements
S26:In case of contact with eyes, rinse immediately with plenty of water and seek medical advice .
S39:Wear eye/face protection .
S24:Avoid contact with skin .
S22:Do not breathe dust .
S36:Wear suitable protective clothing .
WGK Germany
1
RTECS
EV9810000
F
3
TSCA
Yes
HS Code
28272000
Safety Profile
Moderately toxic by ingestion. Poison by intravenous, intramuscular, intraperitoneal, and subcutaneous routes. Human systemic effects: dermatitis, changes in calcium. Questionable carcinogen with experimental tumorigenic data. Mutation data reported. Reacts violently with (B203 + CaO), BrF3. Reaction with zinc releases explosive hydrogen gas. Catalyzes exothermic polymerization of methyl vinyl ether. Exothermic reaction with water. When heated to decomposition it emits toxic fumes of Cl-. See also CALCIUM COMPOUNDS and CHLORIDES.
Hazardous Substances Data
10043-52-4(Hazardous Substances Data)
Toxicity
LD50 i.v. in mice: 42.2 mg/kg (Syed, Hosain)
General Description
White to off-white solid. Sinks and mixes with water.
Reactivity Profile
Bromine trifluoride rapidly attacks the following salts: barium chloride, cadmium chloride, calcium chloride, cesium chloride, lithium chloride, silver chloride, rubidium chloride, potassium bromide, potassium chloride, potassium iodide, rhodium tetrabromide, sodium bromide, sodium chloride, and sodium iodide [Mellor 2 Supp. 1:164, 165 1956]. Long term exposure of calcium chloride solution upon a zinc coated galvanized iron vessel caused slow evolution of hydrogen which ignited and exploded [Bretherick, 5th Ed., 1995].
Air & Water Reactions
Deliquescent. Water soluble. Adding CALCIUM CHLORIDE(10043-52-4) to hot water caused violent boiling, [MCA Case History No. 69].
Health Hazard
Inhalation causes irritation of nose and throat. Ingestion causes irritation of mouth and stomach. Contact with eyes (particularly by dust) causes irritation and possible transient corneal injury. Contact of solid with dry skin causes mild irritation; strong solutions can cause marked irritation, even a superficial burn.
Potential Exposure
Calcium chloride is used as road salt for melting snow, a drying agent in desiccators, for dehydrating organic liquids and gases, in refrigeration brines and antifreeze, as a dust-proofing agent, food additives, concrete hardening accelerator, and others. May react with strong oxidizers.
First aid
If this chemical gets into the eyes, remove any contact lenses at once and irrigate immediately for at least 15 minutes, occasionally lifting upper and lower lids. Seek medical attention immediately. If this chemical contacts the skin, remove contaminated clothing and wash immediately with soap and water. Seek medical attention immediately. If this chemical has been inhaled, remove from exposure, begin rescue breathing (using universal precautions, including resuscitation mask) if breathing has stopped and CPR if heart action has stopped. Transfer promptly to a medical facility. When this chemical has been swallowed, get medical attention. Give large quantities of water and induce vomiting. Do not make an unconscious person vomit
Shipping
There are no label or maximum shipping quantity requirements set by DOT.
Incompatibilities
The solution in water is a weak base. Reacts with zinc in presence of moisture, forming highlyflammable hydrogen gas. Dissolves violently in water with generation of much heat. Incompatible with water, bromine trifluoride; 2-furan, percarboxylic acid. May attack some building materials and metals in the presence of moisture.
Physical properties
White crystal, powder or flake; highly hygroscopic; the compound and its solutions absorb moisture from the air at various rates depending on calcium chloride concentrations, relative humidity and vapor pressure of water in the air, temperature, surface area of exposed material, and the rate of air circulation; at 40% and 95% relative humidity and 25°C, one gram anhydrous calcium chloride may absorb about 1.4 g and 17 g water, respectively. (Shearer, W. L. 1978 . In Kirk-Othmer Encyclopedia of Chemical Technology, 3rd ed., vol. 4, pp. 432-6. New York: Wiley Interscience); density 2.15, 2.24, 1.85, 1.83 and 1.71 g/cm3 for the anhydrous salt and its mono-, di-, tetra- and hexahydrates, respectively; anhydrous salts melts at 772°C, while the mono-, di-, tetra- and hexahydrates decompose at 260°, 175°, 45.5° and 30°C, respectively; the anhydrous salt vaporizes at 1,935°C; highly soluble in water, moderate to high solubility in alcohol.
Occurrence
Calcium chloride may be found in nature as the mineral tachhydrite, CaCl
2
?2MgCl
2
?12H
2
O. It also is found in other minerals. Its concentration in sea water is about 0.15%.
Calcium chloride has several industrial applications. The major applications of this compound are in deicing of roads, dust control, imparting stability to roads and buildings, and to improve traction in tractor tires. It is mixed with ice to make freezing mixtures. Hexahydrate mixed with crushed ice can lower the temperature of the cooling bath to below -50°C. It also is used as a desiccant for dehydrating gases and liquids. It is added to cement in various proportions to manufacture different types of concrete. Other uses are in adhesives, to lower gel temperatures, and as a calcium source in liquid feed supplements for dairy cattle. Also, the compound is used to control particle size development and reduce coalescence in plastics.
Definition
calcium chloride: A white deliquescentcompound, CaCl
2
, which issoluble in water; r.d. 2.15; m.p.782°C; b.p. >1600°C. There are anumber of hydrated forms, includingthe monohydrate, CaCl
2
.H
2
O, the dihydrate,CaCl
2
.2H
2
O (r.d. 0.84), andthe hexahydrate, CaCl
2
.6H
2
O (trigonal;r.d. 1.71; the hexahydrate loses4H
2
O at 30°C and the remaining2H
2
O at 200°C). Large quantities of itare formed as a byproduct of theSolvay process and it can be preparedby dissolving calcium carbonateor calcium oxide in hydrochloricacid. Crystals of the anhydrous saltcan only be obtained if the hydratedsalt is heated in a stream of hydrogenchloride. Solid calcium chloride isused in mines and on roads to reducedust problems, whilst the molten saltis the electrolyte in the extraction ofcalcium. An aqueous solution of calciumchloride is used in refrigerationplants.
Preparation
Calcium chloride is obtained as a by-product in the manufacture of sodium carbonate (soda ash) by ammonia-soda (Solvay) process. The process involves the reaction of sodium chloride with calcium carbonate and ammonia. Calcium chloride is currently produced in bulk amounts by evaporation of natural underground brines. In the laboratory, calcium chloride can be prepared by treating limestone with hydrochloric acid followed by evaporation of solution to obtain crystals. The crystals are dehydrated to obtain anhydrous salt. Calcium oxide or hydroxide may be used instead of carbonate.
Production Methods
Calcium chloride is a principal byproduct from the Solvay process.
Brand name
Cal Plus (Mallinckrodt).
Pharmaceutical Applications
The main applications of calcium chloride as an excipient relate to its dehydrating properties and, therefore, it has been used as an antimicrobial preservative, as a desiccant, and as an astringent in eye lotions.
Therapeutically, calcium chloride injection 10% (as the dihydrate form) is used to treat hypocalcemia.
Safety
Calcium chloride is used in topical, ophthalmic, and injection preparations. The pure form of calcium chloride is toxic by intravenous, intramuscular, intraperitoneal, and subcutaneous routes, and moderately toxic by ingestion, causing stomach and heart disturbances. It is a severe eye irritant and can cause dermatitis.
LD
50
(mouse, IP): 0.21 g/kg
LD
50
(mouse, IV): 0.042 g/kg
LD
50
(mouse, oral): 1.94 g/kg
LD
50
(mouse, SC): 0.82 g/kg
LD
50
(rat, IM): 0.025 g/kg
LD
50
(rat, IP): 0.26 g/kg
LD
50
(rat, oral): 1.0 g/kg
LD
50
(rat, SC): 2.63 g/kg
storage
Calcium chloride is chemically stable; however, it should be protected from moisture. Store in airtight containers in a cool, dry place.
Properties and Applications
| | |
| --- | --- |
| ITEMS | SPECIFICATION |
| APPEARANCE | WHITE,HARD ODORLESS FLAKE, POWDER,PELLET,GRANULE |
| CALCIUM CHLORIDE(As CaCl2) | 94% min |
| MAGNESIUM&ALKALI METAL SALT (As NaCl) | 3.5% max |
| WATER INSOLUBLE MATTER | 0.2% max |
| ALKALINITY(As Ca(OH)2) | 0.20% max |
| SULFATE (As CaSO4) | 0.20% max |
| pH VALUE | 7-11 |
| As | 5 ppm max |
| Pb | 10 ppm max |
| Fe | 10 ppm max |
Purification Methods
It is available as fused granules or cubic crystals. It is very hygroscopic, very soluble in H2O (exothermic), and EtOH. Store it in a tightly closed container. [Ehrlich in Handbook of Preparative Inorganic Chemistry (Ed. Brauer) Academic Press Vol I p 931 1963.]
Regulatory Status
GRAS listed. Included in the FDA Inactive Ingredients Database (injections, ophthalmic preparations, suspensions, creams). Included in medicines licensed in the UK (eye drops; intraocular irrigation; vaccines; injection powders for reconstitution; nebulizer solution; oral suspension).
Chemical Properties
Calcium chloride, CaC12, is colorless deliquescent solid that is soluble in water and ethanol. It is formed from the reaction of calcium carbonate and hydrochloric acid or calcium hydroxide and ammonium chloride. It is used in medicine, as an antifreeze, and as a coagulant.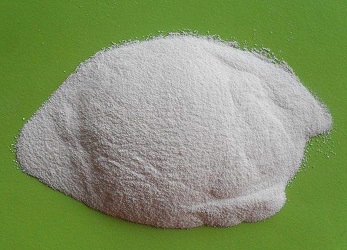 Calcium Chloride Powder
Uses
Calcium chloride (CaCl2) has many uses. It is used as a drying agent and to melt ice and snow on highways, to control dust, to thaw building materials (sand, gravel, concrete, and so on). It is also used in various food and pharmaceutical industries and as a fungicide.
Nantong Badi Chemical Co., Ltd

Telephone

150-4846-688 0513-84877366-

Contact Fax

Website

http://www.badichem.com
Shanghai Aladdin Bio-Chem Technology Co.,LTD

Telephone

400-620-6333 400-62063333-1

Contact Fax

021-50323701

Website

http://www.aladdin-e.com/
VWR(Shanghai) Co., Ltd

Telephone

400-821-8006

Contact Fax

+86-21-58558801

Website

https://cn.vwr.com
Langfang pengcai fine chemical co., ltd.

Telephone

18911125634 0316-2132008-

Contact Fax

0316-2132005

Website

https://www.chemicalbook.com
WUHAN JIXINYIBANG BIOTECHNOLOGY .,LTD

Telephone

18507152955

Contact Fax

Website

http://www.jxybchem.com/
Tianjin Zhongxin Chemtech Co., Ltd.

Telephone

022-66880623

Contact Fax

86(0)22-66880086

Website

http://www.tjzxchem.com
J & K SCIENTIFIC LTD.

Telephone

400-666-7788 010-82848833-

Contact Fax

86-10-82849933

Website

http://www.jkchemical.com
Meryer (Shanghai) Chemical Technology Co., Ltd.

Telephone

400-660-8290 21-61259100-

Contact Fax

86-21-61259102

Website

http://www.meryer.com
3B Pharmachem (Wuhan) International Co.,Ltd.

Telephone

18930552037 821-50328103-801

Contact Fax

86-21-50328109

Website
future industrial shanghai co., ltd

Telephone

400-0066-400

Contact Fax

021-55660885

Website

http://www.jonln.com
Alfa Aesar

Telephone

400-610-6006

Contact Fax

021-67582001/03/05

Website

http://chemicals.thermofisher.cn
Beijing dtftchem Technology Co., Ltd.

Telephone

13031183356 010-60275820-

Contact Fax

010-60270825

Website

http://www.dtfchem.com
BeiJing Hwrk Chemicals Limted

Telephone

18516978288 0757-86329057-

Contact Fax

0757-86311057

Website

http://www.hwrkchemical.com/
Energy Chemical

Telephone

400-005-6266 021-58432009-

Contact Fax

021-58436166

Website

http://www.energy-chemical.com
Beijing Ouhe Technology Co., Ltd

Telephone

13552068683 010-82967028-

Contact Fax

+86-10-82967029

Website

http://www.ouhechem.com/
JinYan Chemicals(ShangHai) Co.,Ltd.

Telephone

13817811078

Contact Fax

86-021-50426522,50426273

Website

http://www.jingyan-chemical.com/
Adamas Reagent, Ltd.

Telephone

400-600-9262

Contact Fax

Website

http://www.tansoole.com
Accela ChemBio Co.,Ltd.

Telephone

400-0665055

Contact Fax

021-50795055

Website

http://www.shao-yuan.com/