7550-35-8
Product Image
Name
Lithium bromide
CAS
7550-35-8
Synonyms
LITHIUM BROMIDE
LITHIUM HALIDE
Hydrobromic acid lithium salt
LiBr
Lithium bromide (LiBr)
lithiumbromide(libr)
Lithiumbromide,dihydrate
lithiummonobromide
Lithiumbromidewhitepowder
LITHIUM BROMIDE, ANHYDROUS, BEADS,-10 M ESH, 99.9+%
LITHIUM BROMIDE, 99.995+%
LITHIUM HALIDE, MINIMUM MELTING COMPOSIT ION (CA. 68.5 WT. % LIBR)
LITHIUM BROMIDE REAGENTPLUS(TM) >=99%
LITHIUM BROMIDE 1.5 M IN TETRAHYDROFURAN
LITHIUM BROMIDE, POWDER
LITHIUM BROMIDE EXTRA PURE
LITHIUM BROMIDE, ANHYDROUS, BEADS,-10 MESH, 99.999% METALS BASIS
LITHIUM BROMIDE, REAGENTPLUS, >=99%
LITHIUM BROMIDE, 54 WT. % SOLUTION IN WA TER
LithiumBromideSolution55%
EINECS(EC#)
231-439-8
Molecular Formula
BrLi
MDL Number
MFCD00011077
Molecular Weight
86.85
MOL File
7550-35-8.mol
Appearance
White powder
Melting point
550 °C (lit.)
mp
550 °C(lit.)
Boiling point
1265 °C
bp
1265 °C
density
1.57 g/mL at 25 °C
Fp
1265°C
storage temp.
Store at RT
form
powder
color
White
Specific Gravity
3.464
Stability:
Stable. Anhydrous form is extremely hygroscopic.
Water Solubility
61 g/100 mL (25 º C)
Sensitive
Hygroscopic
Merck
14,5526
CAS DataBase Reference
7550-35-8(CAS DataBase Reference)
NIST Chemistry Reference
Lithium bromide(7550-35-8)
EPA Substance Registry System
7550-35-8(EPA Substance)
Hazard Codes
Xn,Xi,F+
Risk Statements
R22:Harmful if swallowed.
R36/37:Irritating to eyes and respiratory system .
R12:Extremely Flammable.
R36/37/38:Irritating to eyes, respiratory system and skin .
Safety Statements
S26:In case of contact with eyes, rinse immediately with plenty of water and seek medical advice .
RIDADR
UN 2056 3/PG 2
WGK Germany
2
RTECS
OJ5755000
F
3
TSCA
Yes
HS Code
28275900
Description
Lithium bromide (LiBr) is the chemical compound of lithium and bromine. It has extreme hygroscopic, making it a suitable desiccant in the air conditioning systems. It can also be used in absorption chilling together with water. It is also useful in the organic synthesis such as forming adduct with some pharmaceuticals. In medical fields, it can be used as a sedative and used for the treatment of bipolar disorder. It can be manufactured by the treatment of lithium carbonate with hydrobromic acid.
Physical properties
Lithium bromide is a white, crystalline, deliquescent solid. Aqueous solutions of lithium bromide have unusually low water vapor pressures. The following hydrates are formed: LiBr·H2O, LiBr-2H2O, LiBr-3H2O and LiBr-5H2O. All hydrates have incongruent melting points. Concentrated aqueous solutions of lithium bromide can dissolve significant quantities of polar organic substances such as cellulose. Lithium bromide, like lithium chloride, is soluble in polar organic solvents such as alcohols.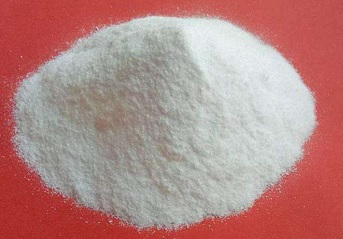 Uses
Lithium bromide is used in absorption, refrigeration and air-conditioning systems. A highly concentrated solution of the salt is an efficient absorbent of water vapor. The vapor pressure of such solution is very low. Other applications include the use of the salt as a swelling agent for wool, hair and other organic fibers; as a catalyst in dehydrohalogenation reactions; and as a sedative and hypnotic in medicine.
Preparation
Lithium bromide is prepared by neutralizing lithium hydroxide or lithium carbonate with an aqueous solution of hydrobromic acid, followed by concentration and crystallization:
LiOH + HBr → LiBr + H
2
O
Li
2
CO
3
+ HBr → LiBr + CO
2
+ H
2
O
The salt is usually obtained as hydrates. Anhydrous lithium bromide is obtained by heating hydrated salt under vacuum.
Chemical Properties
White cubic crystals; hygroscopic; refractive index 1.784; density 3.464 g/cm3; melts at 550°C; vaporizes at 1,265°C; highly soluble in water (145g/100g at 4°C), much greater solubility in hot water (254g/100g at 90°C); soluble in methanol, ethanol and ether; slightly soluble in pyridine; vapor pressure of aqueous solutions at 52 and 68% concentrations at 25°C are 5 and 0.7 torr, respectively.
Definition
ChEBI: A lithium salt in which the counterion is bromide. The anhydrous salt forms cubic crystals similar to common salt.
Purification Methods
Crystallise it several times from water or EtOH, then dry it under high vacuum for 2 days at room temperature, followed by drying at 100o. Its solubility in H2O is 167% at ~20o, and 250% at ~100o. It is deliquescent and should be stored in a tightly stoppered vessel.
南通科洁化工有限公司

Telephone

13901570103 0513-86820518-

Contact Fax

Website

http://www.kejiechem.com
Shanghai Aladdin Bio-Chem Technology Co.,LTD

Telephone

400-620-6333 021-20337333-801

Contact Fax

021-50323701

Website

http://www.aladdin-e.com/
Shanghai Huayu Industrial Co., Ltd.

Telephone

18917588395 18917588395

Contact Fax

Website

https://www.chemicalbook.com/ShowSupplierProductsList31037/0.htm
Hubei XinghengKang Chemical Technology Co., Ltd.

Telephone

18162384755 027-88878869-

Contact Fax

027-88878869

Website

http://www.xhkhgkj.com/
Shanghai Oujin Lithium Industrial., Ltd

Telephone

18217292481

Contact Fax

Website

https://www.chemicalbook.com/ShowSupplierProductsList124589/0.htm
J & K SCIENTIFIC LTD.

Telephone

400-666-7788 010-82848833-

Contact Fax

86-10-82849933

Website

http://www.jkchemical.com
Meryer (Shanghai) Chemical Technology Co., Ltd.

Telephone

400-660-8290 21-61259100-

Contact Fax

86-21-61259102

Website

http://www.meryer.com
Alfa Aesar

Telephone

400-610-6006

Contact Fax

021-67582001/03/05

Website

http://chemicals.thermofisher.cn
TCI (Shanghai) Development Co., Ltd.

Telephone

021-67121386 / 800-988-0390

Contact Fax

021-67121385

Website

https://www.tcichemicals.com/CN/zh/
BeiJing Hwrk Chemicals Limted

Telephone

18516978288 0757-86329057-

Contact Fax

0757-86311057

Website

http://www.hwrkchemical.com/
Energy Chemical

Telephone

400-005-6266 021-58432009-

Contact Fax

021-58436166

Website

http://www.energy-chemical.com
Beijing Ouhe Technology Co., Ltd

Telephone

13552068683 010-82967028-

Contact Fax

+86-10-82967029

Website

http://www.ouhechem.com/
JinYan Chemicals(ShangHai) Co.,Ltd.

Telephone

13817811078

Contact Fax

86-021-50426522,50426273

Website

http://www.jingyan-chemical.com/
Shanghai Sinch Parmaceuticals Tech. Co. Ltd.

Telephone

+86-21-54098501

Contact Fax

+86-21-54096319

Website

http://www.sinch.com.cn/
Jia Xing Isenchem Co.,Ltd

Telephone

18627885956 0573-85285100-

Contact Fax

0573-85285100

Website

https://www.chemicalbook.com/ShowSupplierProductsList14265/0.htm
Secco work (Beijing) chemical technology co., LTD

Telephone

010-69755668

Contact Fax

010-69755668

Website

http://www.tjzkgh.com
Adamas Reagent, Ltd.

Telephone

400-600-9262

Contact Fax

Website

http://www.tansoole.com
Accela ChemBio Co.,Ltd.

Telephone

400-0665055

Contact Fax

021-50795055

Website

http://www.shao-yuan.com/