1310-73-2
Product Image
Name
Sodium hydroxide
CAS
1310-73-2
Synonyms
BETZ 0234
IODINE SOLUTION
KALII IODIDUM
LUGOL'S SOLUTION
POTASSIUM IODIDE
POTASSIUM IODIDE STANDARD
POTASSIUM IODIDE TS
Aetznatron
Augus hot rod
causticflake
causticsoda,bead
causticsoda,bead(dot)
causticsoda,dry(dot)
causticsoda,flake(dot)
causticsoda,granular(dot)
causticsoda,solid(dot)
causticsoda,solution
Collo-Grillrein
Collo-Tapetta
Fuers Rohr
EINECS(EC#)
231-659-4
Molecular Formula
HNaO
MDL Number
MFCD00011405
Molecular Weight
40
MOL File
1310-73-2.mol
Definition
The most important commercial caustic.
Appearance
White solid
Appearance
NaOH is a white, odorless, deliquescent material sold as pellets, flakes, lumps, or sticks. Aqueous solutions are known as soda lye
mp
681 °C(lit.)
bp
145 °C
density
1.515 g/mL at 20 °C
vapor density
<1 (vs air)
vapor pressure
1 mm Hg ( 745 °C)
refractive index
1,473-1,475
Fp
176-178°C
storage temp.
2-8°C
solubility
H
2
O: 1 M at 20 °C, clear, colorless
form
beads
Water Solubility
SOLUBLE
Sensitive
Air Sensitive & Hygroscopic
Decomposition
176-178 ºC
Merck
14,8627
Uses
Sodium Hydroxide is an alkali that is soluble in water, having a solubility of 1 g in 1 ml of water. it is used to destroy the bitter chemicals in olives that are to become black olives. it also functions to neutralize acids in various food products.
Uses
sodium hydroxide is used to adjust a product pH to make it more acceptable to the skin. It is commonly referred to as caustic soda, and often serves as a chemical reagent when making soap. If too concentrated it may cause severe skin irritation.
CAS DataBase Reference
1310-73-2(CAS DataBase Reference)
NIST Chemistry Reference
Sodium hydroxide(1310-73-2)
EPA Substance Registry System
1310-73-2(EPA Substance)
Hazard Codes
C,Xi
Risk Statements
R36/38:Irritating to eyes and skin .
R35:Causes severe burns.
R34:Causes burns.
Safety Statements
S26:In case of contact with eyes, rinse immediately with plenty of water and seek medical advice .
S45:In case of accident or if you feel unwell, seek medical advice immediately (show label where possible) .
S37/39:Wear suitable gloves and eye/face protection .
S24/25:Avoid contact with skin and eyes .
S36/37/39:Wear suitable protective clothing, gloves and eye/face protection .
RIDADR
UN 1824 8/PG 2
WGK Germany
1
RTECS
TT2975000
F
8
HazardClass
8
PackingGroup
II
HS Code
28151100
Safety Profile
Poison by intraperitoneal route. Moderately toxic by ingestion. Mutation data reported. A corrosive irritant to skin, eyes, and mucous membranes. When heated to decomposition it emits toxic fumes of NanO.
Hazardous Substances Data
1310-73-2(Hazardous Substances Data)
General Description
A white solid. Corrosive to metals and tissue. Used in chemical manufacturing, petroleum refining, cleaning compounds, drain cleaners.
Reactivity Profile
CAUSTIC SODA (Sodium hydroxide) is a strong base. Reacts rapidly and exothermically with acids, both organic and inorganic. Readily absorbs moisture from the air to give caustic semi-solids that attack aluminum and zinc with the evolution of flammable hydrogen gas. Catalyzes the polymerization of acetaldehyde and other polymerizable compounds; these reactions can occur violently, for example, acrolein polymerizes with extreme violence when put in contact with alkaline materials such as sodium hydroxide [Chem. Safety Data Sheet SD-85 1961]. Reacts with great violence with phosphorus pentaoxide when initiated by local heating [Mellor 8 Supp.3:406 1971]. Contact (as a drying agent) with tetrahydrofuran, which often contains peroxides, may be hazardous---explosions have occurred in such a use of the chemically similar potassium hydroxide [NSC Newsletter Chem. Soc. 1967]. Mixing with any of the following substances in a closed container caused the temperature and pressure to increase: glacial acetic acid, acetic anhydride, acrolein, chlorohydrin, chlorosulfonic acid, ethylene cyanohydrin, glyoxal, hydrochloric acid (36%), hydrofluoric acid (48.7%), nitric acid (70%), oleum, propiolactone, sulfuric acid (96%) [NFPA 1991]. Accidental contact between a caustic cleaning solution (probably containing sodium hydroxide) and Pentol caused a violent explosion. [MCA Case History 363(1964)]. Heating with a mixture of methyl alcohol and trichlorobenzene during an attempted synthesis led to a sudden increase in pressure and an explosion [MCA Guide for Safety Appendix 3 1972]. Hot and/or concentrated NaOH can cause hydroquinone to decompose exothermically at elevated temperature. (NFPA Pub. 491M, 1975, 385)
Air & Water Reactions
Soluble in water. Dissolution can liberate enough heat to cause steaming and spattering and ignite adjacent combustible material [Haz. Chem. Data 1966].
Hazard
Corrosive to tissue in presence of mois- ture, strong irritant to tissue (eyes, skin, mucous membranes, and upper respiratory tract), poison by ingestion.
Health Hazard
Strong corrosive action on contacted tissues. INHALATION: dust may cause damage to upper respiratory tract and lung itself, producing from mild nose irritation to pneumonitis. INGESTION: severe damage to mucous membranes; severe scar formation or perforation may occur. EYE CONTACT: produces severe damage.
Potential Exposure
NaOH is utilized to neutralize acids and make sodium salts in petroleum refining, viscose rayon; cellophane, plastic production; and in the reclamation of solutions of their salts. It is used in the manufacture of mercerized cotton, paper, explosives, and dyestuffs in metal cleaning; electrolytic extraction of zinc; tin plating; oxide coating; laundering, bleaching, dishwashing; and it is used in the chemical industries.
Fire Hazard
Non-combustible, substance itself does not burn but may decompose upon heating to produce corrosive and/or toxic fumes. Some are oxidizers and may ignite combustibles (wood, paper, oil, clothing, etc.). Contact with metals may evolve flammable hydrogen gas. Containers may explode when heated.
Shipping
UN1823 NaOH, solid, Hazard class: 8; Labels: 8-Corrosive material. UN1824 NaOH, solution, Hazard class: 8; Labels: 8-Corrosive material
Incompatibilities
A strong base and a strong oxidizer. Violent reaction with acid. Incompatible with water; flammable liquids; organic halogens, nitromethane, and nitrocompounds, combustibles. Rapidly absorbs carbon dioxide and water from air. Contact with moisture or water may generate heat. Corrosive to metals. Contact with zinc, aluminum, tin and lead in the presence of moisture, forming explosive hydrogen gas. Attacks some forms of plastics, rubber or coatings.
Waste Disposal
Discharge into tank containing water, neutralize, then flush to sewer with water.
Chemical Properties
Sodium hydroxide is a white, odorless, nonvolatile alkaline material marketed in solid form as pellets, flakes, clumps, or sticks. Its solubility in water is 111% by weight and a vapor pressure of 0mmHg (NIOSH, 1994).
It can react with tricholoethylene (TCE) to form flammable dichloroacetylene and with metals to form hydrogen gas (OEHHA, 1993). Its reactivity with metals should be considered in regards to storage units and containers.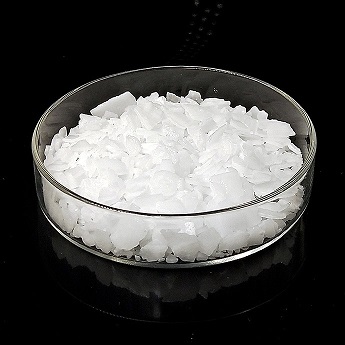 Sodium hydroxide is commonly available as an aqueous solution known as caustic soda, soda lye, or simple as lye. It has various uses, including neutralization of acid; the manufacture of paper, textiles, plastics, corrosives, dyestuffs, paint, paint remover, and soap; refining of petroleum; electroplating; metal cleaning; laundering; and dish washing. A burgeoning use has been in the illegal manufacture of methamphetamine.
Uses
Sodium hydroxide (NaOH) is one of the most useful industrial sodium compounds. It is also known as lye or caustic soda and is one of the strongest base alkalis (high pH value) on the household market. It is used as a drain and oven cleaner, and it saponifies fats in the manufacture of soap. It must be used with care because it is also capable of producing serious skin burns.
description
Sodium hydroxide, also known as lye and caustic soda, is a highly caustic substance that is used used in small amounts in cosmetics to establish and hold the pH of a product.Sodium Hydroxide is a extremely important compound in our lives because it has so many uses. It is a very common base used in the chemical industry and is used for many things, many of which occur in our daily lives. One of the most well known uses of Sodium Hydroxide is its use in unclogging drains. It comes in many different brands of drain cleaners, but one of the most common is Drano. It also comes in the form of lye soap which can be used to wash practically anything, from the dishes to your face.
sodium hydroxide structure
At room temperature, sodium hydroxide is a white crystalline odorless solid that absorbs moisture from the air. It is a manufactured substance. Sodium Hydroxide is an inorganic compound used to control the pH levels or serve as a buffering agent in cosmetics and personal care products. It was historically used in the formulation of soaps, but is currently seen in a variety of formulas, including bath products, cleansing products, fragrances, foot powders, hair dyes and colors, makeup, nail products, personal cleanliness products, shampoos, shaving products, depilatories, skin care products, and suntan products, as well as chemical hair straighteners and hair wave sets. It is also a popular ingredient in industrial solvents as a chemical base for soaps, oven cleaners, detergents and drain cleaners because of its ability to dissolve grease, oils, fats and protein based deposits, according to Wikipedia. Less frequently, Sodium Hydroxide is seen as an ingredient in toothpastes.
Sodium Hydroxide is FDA approved, and has received the GRAS (Generally Recognized as Safe) rating as a direct food additive. However, it is primarily used in the washing and chemical peeling of produce. It is approved for use in cosmetics and personal care products in varying concentrations: 5% by weight in nail cuticle solvents, 2% by weight in hair straighteners for general use, 4.5% by weight in hair straighteners for professional use, up to a pH 12.7 in depilatories, and up to pH 11 in other uses as a pH adjuster.
References
https://pubchem.ncbi.nlm.nih.gov/compound/sodium_hydroxide
http://sodiumhydroxide.weebly.com/uses.html
Uses
Sodium hydroxide is one of the most important industrial chemicals. In volume, it is in the top ten chemicals produced in the United States. It is used in manufacturing a large number of compounds including several sodium salts, in treating cellulose for producing rayon and cellophane, and in manufacturing soaps, detergents, pulp, and paper. Sodium hydroxide is a common neutralizing agent for acids in acid-base titrations and petroleum refining. Another major application is extracting metals from their ores where alkali fusion, such as fusion with caustic soda, often is applied to open the ores. Additionally, sodium hydroxide is used to precipitate metals as hydroxides. Other uses are in reclaiming rubber, dissolving casein in plastics production, refining vegetable oils, processing textiles, as an eluant in ion chromatography, etching and electroplating, and as a laboratory reagent. Sodium hydroxide also is used as a strong base in many organic synthesis and base-catalyzed reactions.
Industry
Applications
Benefit
Paper and egenerated fibers making
Pulping process
Help to separate lignin from cellulose fibers
Brown pulp bleaching
Supply strong alkaline environment
Chemical manufacture
Production of sodium salt
Source of sodium
Praparation of formic acid, oxalic acid,phenol and other chemicals
Adjust pH, raw materials
Biodiesel manufacture
Ransesterification of methanol and triglycerides
Anhydrous sodium hydroxide acts as a catalyst
Cleaning agent
Industrial cleaning agent
Heated with water to clean process equipment, storage tanks, etc.
Cleaning waste discharge pipes and drains
Water solution can dissolve grease, oils, fats and protein-based deposits
Cleaning stainless steel, glass bakeware and oven cleaners
Used with surfactants to stabilize dissolved substances and thus prevent redeposition
Production of parts washer detergents
Major components
Drain opener and water pipes cleaners
Dissolves greases and hydrolyzes the proteins to unblock clogged drains
Food
Washing or chemical peeling of fruits and vegetables
Major components of peeling agent
Olives
Soak olives in sodium hydroxide for softening
Pretzels and German lye rolls
Help to make them crisp
Other foods processe
Used as neutralization, peeling, bleaching, deodorization, detoxification, and/or detergent agent.
Dissolving amphoteric metals and compounds
Etching, removing anodizing, or converting a polished surface to a satin-like finish
Make the solution alkaline to dissolve amphoteric metals and compounds
The refining of alumina containing ores to produce alumina
Dissolve alumina, leaving impurities less soluble at high pH
Praparation of sodium zincate and sodium plumbate
Make the solution alkaline to dissolve zinc and lead
Petroleum
Refining petroleum products
Neutralize the residual acid in the refining process
Oil-field drilling mud
Make the mud to be alkalin to inhibit microbial survival
Tissue digestion
Farm animals processing
Used with water to breaks the chemical bonds that keep the flesh intact
The process of decomposing roadkill dumped in landfills
Turns the body into a liquid with coffee-like appearance
Hairdressing
Manufacturers of chemical relaxers
Help to straighten hair
Water treatment
Removing lead, copper and other toxic metals
Increase ph of water
Soap making
Cold process soap, saponification
Used as esterification and transesterification reagent
Textile and dyeing
Cotton cloth processing
Used as desizing, scouring and mercerizing agent
Chemical analysis
Determination of acid content
Neutralize acid to make indicator coloured
Others
Asorbing slight CO2 and water
Works by its hygroscopicity and alkalinity
Reaction
Sodium hydroxide is strongly alkaline and can react with acids to form salts and water.
Sodium hydroxide reacts with acidic oxides to form salt and water, so sodium hydroxide can be used to absorb acid gases in the laboratory or industrially.
Sodium hydroxide can react with aqueous solutions of many metal salts to form sodium salts and metal hydroxides
When sodium hydroxide and ammonia salt are heated together, it can release ammonia

Sodium hydroxide is highly corrosive, so that the glass bottles storing sodium hydroxide solutions must be rubber stoppers, and glass stoppers should not be used to prevent a chemical reaction from opening. Sodium hydroxide is an important industrial raw material, and can be produced by electrolysis of saline solution industrially
Preparation
Sodium hydroxide is manufactured together with chlorine by electrolysis of sodium chloride solution. Various types of electrolytic cells are used commercially. They include the mercury cell, the diaphragm cell, and the membrane cell.
A saturated solution of brine is electrolyzed. Chlorine gas is liberated at the anode and sodium ion at the cathode. Decomposition of water produces hydrogen and hydroxide ions. The hydroxide ion combines with sodium ion forming NaOH. The overall electrolytic reactions may be represented as:
2Na+ + 2Cl_ + 2H2O → Cl2 (g) + H2 (g) + 2NaOH (aq)
The mercury cell proceeds in two stages that occur separately in two cells. The first is known as the brine cell or the primary electrolyzer in which sodium ion deposits on the mercury cathode forming amalgam, while chlorine gas is liberated at the anode:
Na+ + Cl–→ Na-Hg (cathode) + ½Cl2(g) (anode)
In the second cell, known as the decomposer cell, a graphite cathode is used while sodium amalgam serves as the anode. Water reacts with the sodium metal of the amalgam in the decomposer:
Na-Hg + H2O → Na+ + OH– + ½H2↑ + Hg
In chlor-alkali diaphragm cells, a diaphragm is employed to separate chlorine liberated at the anode from the sodium hydroxide and hydrogen generated at the cathode. Without a diaphragm, the sodium hydroxide formed will combine with chlorine to form sodium hypochlorite and chlorate. In many cells, asbestos diaphragms are used for such separation. Many types of diaphragm cells are available.
Sodium hydroxide is produced either as an anhydrous solid or as a 50% aqueous solution.
Sigma-Aldrich

Telephone

800-8193336 021-61415566-

Contact Fax

Website

http://www.sigmaaldrich.com
Shandong XiYa Chemical Industry Co., Ltd

Telephone

400-990-3999

Contact Fax

0539-6365991

Website

http://www.xiyashiji.com
Rhawn Reagent

Telephone

18019345275 400-1332688

Contact Fax

400-133-2688

Website

http://www.rhawn.cn
Wuhan Mengqi Technology Co., Ltd.

Telephone

15871702139

Contact Fax

Website

https://www.chemicalbook.com/ShowSupplierProductsList30995/0.htm
Wuhan Bosman Medicine Tech Co.,LTD

Telephone

15377535057 027-88991195

Contact Fax

Website

http://www.whbosman.com/
Qingdao Trust Agri Chemical Co.,Ltd

Telephone

13573296305 008613573296305

Contact Fax

0532-87927000

Website

http://www.qdtrustagri.com/
Wuhan Monad Medicine Tech Co.,LTD

Telephone

18771942761 02768782018

Contact Fax

Website
Liaocheng Yuze Chemical Products Co., Ltd.

Telephone

13589473332

Contact Fax

Website

http://www.yuanzehuagong.com
Wuhan Xinru Chemical Co., Ltd.

Telephone

15307171479 027-59843600-

Contact Fax

Website

https://www.xinruchem.com
Jinan Trands Chemical Co. LTD

Telephone

18888332244 0531-88770911-

Contact Fax

0531-88770911

Website

http://www.sdcschem.com/
Wuhan Dingxintong Pharmaceutical Co. , Ltd.

Telephone

17720532645 027-83984790-

Contact Fax

027-83984790

Website

https://www.chemicalbook.com/UserProfile/companyinfoManage.aspx
Jinan Trands Chemical Co. LTD

Telephone

18888332244 0531-88770911-

Contact Fax

0531-88770911

Website

http://www.sdcschem.com/
Jinan Century Tongda Chemical Co., Ltd.

Telephone

15605418165 0531-83538869-

Contact Fax

Website

http://www.jinanshijitongda.com/contact.html