937-14-4
Product Image
Name
3-Chloroperoxybenzoic acid
CAS
937-14-4
Synonyms
3-CHLOROPERBENZOIC ACID
3-CHLOROPEROXYBENZOIC ACID
3-Chloroperoxy benzoic acid(more than 57% but not more than 86%,with 3-chorobenzoic acid)
M-CHLORO BENZOYL HYDROPEROXIDE
M-CHLOROPERBENZOIC ACID
M-CHLOROPEROXYBENZOIC ACID
M-CPBA
3-Chlorobenzenecarboperoxoic acid
3-chloro-benzenecarboperoxoicaci
3-chlorobenzenecarboperoxoicacid
Benzenecarboperoxoic acid, 3-chloro-
m-chloro-peroxybenzoicaci
Perbenzoic acid, m-chloro-
Peroxybenzoic acid, m-chloro-
3-Choroperoxybenzoic acid
m-choroperoxybenzoic acid
3-CHLOROPEROXYBENZOIC ACID, 77% MAX.
metaChloro Perbenzoic Acid
3-Chloroperoxybenzoic acid, tech., wet with water, 50-55%
3-Chloroperoxybenzoicacid,tech.70-77%,wetwithwater
EINECS(EC#)
213-322-3
Molecular Formula
C7H5ClO3
MDL Number
MFCD00002127
Molecular Weight
172.57
MOL File
937-14-4.mol
Appearance
white powder
Melting point
69-71 °C(lit.)
mp
69-71 °C(lit.)
Boiling point
244.67°C (rough estimate)
density
0.56
refractive index
1.4580 (estimate)
storage temp.
2-8°C
form
Moist Powder
pka
7.57 (in water @ 25 °C)
color
White
Odor
slight pungent odor
Stability:
Strong oxidizing agent-contact with combustible material may cause fire. May be shock or heat sensitive. Incompatible with organic materials, strong reducing agents.
PH
4.5@25 °C (saturated aq. sol)
Water Solubility
insoluble
Decomposition
>88 °C
Detection Methods
HPLC
BRN
608317
InChIKey
NHQDETIJWKXCTC-UHFFFAOYSA-N
CAS DataBase Reference
937-14-4(CAS DataBase Reference)
NIST Chemistry Reference
3-Chloroperbenzoic acid(937-14-4)
EPA Substance Registry System
937-14-4(EPA Substance)
Hazard Codes
O,Xi,C
Risk Statements
R5:Heating may cause an explosion.
R8:Contact with combustible material may cause fire.
R36/37/38:Irritating to eyes, respiratory system and skin .
R43:May cause sensitization by skin contact.
R7:May cause fire.
R34:Causes burns.
R22:Harmful if swallowed.
Safety Statements
S17:Keep away from combustible material .
S26:In case of contact with eyes, rinse immediately with plenty of water and seek medical advice .
S36/37:Wear suitable protective clothing and gloves .
S45:In case of accident or if you feel unwell, seek medical advice immediately (show label where possible) .
S36/37/39:Wear suitable protective clothing, gloves and eye/face protection .
S3/7:Keep container tightly closed in a cool place .
S14:Keep away from ... (incompatible materials to be indicated by the manufacturer) .
S27:Take off immediately all contaminated clothing .
S7/9:Keep container tightly closed and in a well-ventilated place .
RIDADR
UN 3106 5.2
WGK Germany
3
RTECS
SD9470000
F
4.4
TSCA
Yes
HazardClass
5.2
PackingGroup
II
HS Code
29163990
Raw materials
1,4-Dioxane
-->
Magnesium sulfate
-->
Poly(ethylene)
-->
3-Chlorobenzoyl chloride
Preparation Products
3,5-DIMETHYLPYRIDIN-4-AMINE
-->
2-(2,3-DIHYDRO-1-BENZENESULFONYL-PYRROLO[2,3-B]PYRIDIN-3-YL)ACETONITRILE
-->
4,5-DICHLORO-2-METHYLPYRIDINE
-->
METHYL(2R,3S)-2,2-DIMETHYL-3-(2-OXOPROPYL)-CYCLOPROPANEACETATE
-->
2,5-Dichloropyridine
-->
1-PROPANESULPHONYLACETONITRILE
-->
2-Hydroxymethyl-5-bromopyridine
-->
5-Bromopyridine-2-carbaldehyde
-->
3-AMINOMETHYL-PYRIDINE-2-CARBOXYLIC ACID
-->
4-(CHLOROSULFONYL)-7-FLUORO-2,1,3-BENZOXADIAZOLE
-->
4-Chloro-2-(methylsulfonyl)pyrimidine
-->
S-METHYL-S-(2-METHYLPYRAZINYL) SULFOXIMINE
-->
4-[(TERT-BUTOXYCARBONYLAMINO)METHYL]-2-CYANOPYRIDINE
-->
4-(BOC-AMINOMETHYL)PYRIDINE-2-CARBOXYLIC ACID
-->
4-FLUORO-2,1,3-BENZOXADIAZOLE
-->
LORACARBEF (200 MG)
-->
1,4-OXATHIANE SULFOXIMINE
-->
3-(TERT-BUTOXYCARBONYLAMINO-METHYL)-PYRIDINE-2-CARBOXYLIC ACID
-->
Omeprazole
-->
Tacalcitol
-->
8-HYDROXYQUINOLINE-2-CARBONITRILE
-->
5-BROMO-4-CHLORO-2-METHANESULFONYL-PYRIMIDINE
-->
1,2-EPOXYHEXANE
-->
1,7-DIDEAZAADENINE
-->
1H-PYRROLO[2,3-B]PYRIDINE, 4-NITRO-
-->
5-BROMO-2-METHYLPYRIDINE N-OXIDE
-->
4-Bromo-7-azaindole
-->
NITROCYCLOHEXANE
-->
1,2-EPOXY-9-DECENE
-->
6-BROMO-1H-PYRROLO[2,3-B]PYRIDINE
-->
6-CHLORO-1H-PYRROLO[2,3-B]PYRIDINE
-->
3-ISOCHROMANONE
-->
4-(METHYLSULFINYL)PHENOL
-->
1H-Pyrrolo[2,3-b]pyridine, 4-nitro-, 7-oxide
-->
4-IODO-7-AZAINDOLE
-->
4-Chloro-7-azaindole
-->
Cyclopentene oxide
-->
Pantoprazole
-->
3-NITROSOBENZAMIDE
-->
7-OXIDE-7-AZAINDOLE
General Description
This solid peroxide is sensitive to heat. Storage of this material must be done so with stringent temperature control measures. It's explosion hazard is also mitigated by mixing the peroxide in a solvent slurry.
Reactivity Profile
May explode from heat, shock, friction or contamination. May ignite combustibles (wood, paper, oil, clothing, etc.). May be ignited by heat, sparks or flames.
Reactions
3-Chloroperoxybenzoic acid (MCPBA) is one of the most popular oxidation reagent in organic synthesis, because of its outstanding performance in terms of:
reactivity, combined with reducing the number of reaction steps in classical synthetic routes,
regio- and stereoselectivity,
protection of functional groups mostly not required,
high purity and yields.
Its literature covers a huge area of different syntheses and below reaction equations just can be a brief overview of its interesting applications: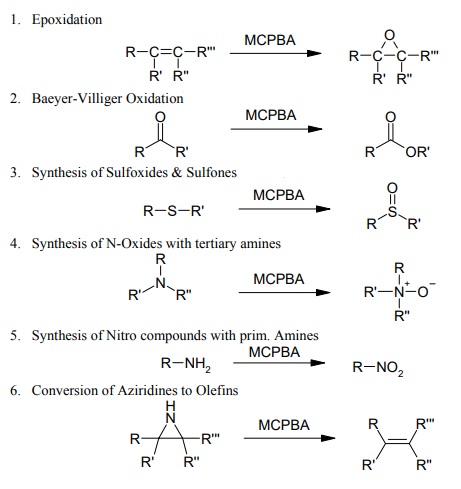 Synthesis Reference(s)
Synthetic Communications, 19, p. 1271, 1989
DOI:
10.1080/00397918908054534
Purification Methods
Recrystallise MCPBA from CH2Cl2 [Traylor & Mikztal J Am Chem Soc 109 2770 1987]. Peracid of 99+% purity can be obtained by washing commercial 85% material with phosphate buffer pH 7.5 and drying the residue under reduced pressure. Alternatively the peracid can be freed from m-chlorobenzoic acid by dissolving 50g/L of *benzene and washing with an aqueous solution buffered at pH 7.4 (NaH2PO4/NaOH) (5 x 100mL). The organic layer is dried over MgSO4 and carefully evaporated under vacuum. Necessary care should be taken in case of EXPLOSION. The solid is recrystallised twice from CH2Cl2/Et2O and stored at 0o in a plastic container as glass catalyses the decomposition of the peracid. The acid is assayed iodometrically. [Schwartz & Blumbrgs J Org Chem 29 1976 1964, Bortolini et al. J Org Chem 52 5093 1987, McDonald et al. Org Synth Coll Vol VI 276 1988, Beilstein 9 IV 972.]
Chemical Properties
3-chloroperoxybenzoic acid is white powdery crystals. Melting point is 92-94°C (decomposed). It is almost insoluble in water, but soluble in ethanol, ethers, chloroform, and dichloroethane. It is thermally stable and has an annual decomposition rate of less than 1% at room temperature. The decomposition rate is accelerated in the liquid state. 3-Chloroperbenzoic acid is sensitive to heat and shock, and pure solid. 3-Chloroperbenzoic acid is flammable and potentially explosive. It contains a weak –O–O– bond and a nucleophilic OH group, that makes it versatile oxidative and easily breakable.
Uses
3-Chloroperoxybenzoic acid is commonly used in double bond epoxidation, nitridation, cyclization, Baeyer-Villiger oxidation, and N-oxidation. It can also be used as an oxidant for fine chemicals such as synthetic medicine and pesticides. It is also sometimes used as a bleaching agent [1-6].
• Used in cyclization reaction, Baeyer-Villiger reaction, N-oxidation reaction and S-oxidation reaction.
• Used as an oxidant for fine chemical products such as synthetic medicine and pesticides.
• Used as oxidant and bleach.
• As a good electrophilic reagent, it can react with many functional groups and can oxidize olefins, enol silyl ethers, furans, sulfides, selenides and amino compounds.
Wuxi tomorrow Chemical Technology Co., Ltd

Telephone

15949267094 0510-80776682-

Contact Fax

0510-80776682

Website

www.mr2021.com
Jiangxi Boye Medical Technology Co., Ltd

Telephone

18971341812 027-81625225-

Contact Fax

027-81625225

Website

http://www.boyechemicals.com/
Beijing Ouhe Technology Co., Ltd

Telephone

13552068683 010-82967028-

Contact Fax

+86-10-82967029

Website

http://www.ouhechem.com/
ShangHai Siyan Biological Technology Co., Ltd.

Telephone

18800375331 021-50908862-

Contact Fax

021-50908862

Website

http://www.siyanbio-tec.com
Shanghai demo pharmaceutical technology co., LTD

Telephone

13341686687 400-021-7337

Contact Fax

021-50182339

Website

http://www.demochem.com
Chongqing Yuzhiquan Biological Technology Co., Ltd.

Telephone

18306022109 023-18306022-109

Contact Fax

QQ:2966918840

Website

https://www.chemicalbook.com/ShowSupplierProductsList31378/0.htm
Henan Wanxiang Technology & Trade Co., Ltd.

Telephone

13949088811 0371-56669001-

Contact Fax

0371-56669008

Website

http://www.58chem.cn
Shanghai Yichang Chemical Co., Ltd.

Telephone

13472573725 021-56145923-

Contact Fax

Website

http://www.yichangchemical.com
Chengtian Fine Chemical Co., Ltd

Telephone

18164048996 027-87680390-

Contact Fax

027-87680390

Website
Energy Chemical

Telephone

400-005-6266 021-58432009-

Contact Fax

021-58436166

Website

http://www.energy-chemical.com
J & K SCIENTIFIC LTD.

Telephone

400-666-7788 010-82848833-

Contact Fax

86-10-82849933

Website

http://www.jkchemical.com
Meryer (Shanghai) Chemical Technology Co., Ltd.

Telephone

400-660-8290 21-61259100-

Contact Fax

86-21-61259102

Website

http://www.meryer.com
3B Pharmachem (Wuhan) International Co.,Ltd.

Telephone

18930552037 821-50328103-801

Contact Fax

86-21-50328109

Website
Alfa Aesar

Telephone

400-610-6006

Contact Fax

021-67582001/03/05

Website

http://chemicals.thermofisher.cn
TCI (Shanghai) Development Co., Ltd.

Telephone

021-67121386 / 800-988-0390

Contact Fax

021-67121385

Website

https://www.tcichemicals.com/CN/zh/
Beijing dtftchem Technology Co., Ltd.

Telephone

13651141086

Contact Fax

86 (10) 60270825

Website

http://www.dtfchem.com/
Capot Chemical Co., Ltd

Telephone

+86 (0) 571 85 58 67 18

Contact Fax

0086-571-85864795

Website

http://www.capotchem.com/
JinYan Chemicals(ShangHai) Co.,Ltd.

Telephone

13817811078

Contact Fax

86-021-50426522,50426273

Website

http://www.jingyan-chemical.com/