7722-88-5
Product Image
Name
Tetrasodium pyrophosphate
CAS
7722-88-5
Synonyms
DECAHYDRATE TETRASODIUM PYROPHOSPHATE
DIPHOSPHORIC ACID TETRASODIUM SALT
DIPHOSPHORIC ACID, TETRASODIUM SALT, DECAHYDRATE
PYROPHOSPHATE INORGANIC
Pyrophosphoric acid,tetrasodiumsalt
SODIUM DIPHOSPHATE
SODIUM DIPHOSPHATE DECAHYDRATE
SODIUM DIPHOSPHATE TETRABASIC DECAHYDRATE
SODIUM PYROPHOSPHATE
SODIUM PYROPHOSPHATE, 10-HYDRATE
SODIUM PYROPHOSPHATE DECAHYDRATE
SODIUM PYROPHOSPHATE TETRABASIC DECAHYDRATE
SODIUM TETRAPYROPHOSPHATE
TETRA-SODIUM DIPHOSPHATE
TETRA-SODIUM DIPHOSPHATE-10-HYDRATE
TETRA-SODIUM DIPHOSPHATE DECAHYDRATE
TETRASODIUM PYROPHOSPHATE
TETRASODIUM PYROPHOSPHATE DECAHYDRATE
TSPP
TSPP DECAHYDRATE
EINECS(EC#)
231-767-1
Molecular Formula
Na4O7P2
MDL Number
MFCD00003513
Molecular Weight
265.9
MOL File
7722-88-5.mol
Appearance
white crystalline powder or colourless crystals
Melting point
80 °C
mp
80 °C
Boiling point
93.8 °C
bp
93.8 °C
density
2.53 g/mL at 25 °C(lit.)
storage temp.
Inert atmosphere,Room Temperature
solubility
H
2
O: 0.1 M at 20 °C, clear, colorless
form
Granular
color
White
Specific Gravity
2.534
Odor
Odorless
Stability:
Stable. Incompatible with strong oxidizing agents.
PH Range
10.3
Water Solubility
Soluble in water. Insoluble in ethyl alcohol.
Sensitive
Hygroscopic
Merck
14,9240
InChIKey
FQENQNTWSFEDLI-UHFFFAOYSA-J
Uses
Tetrasodium Pyrophosphate is a coagulant, emulsifier, and sequestrant that is mildly alkaline, with a ph of 10. it is moderately soluble in water, with a solubility of 0.8 g/100 ml at 25°c. it is used as a coagulant in noncooked instant puddings to provide thicken- ing. it functions in cheese to reduce the meltability and fat separa- tion. it is used as a dispersant in malted milk and chocolate drink powders. it prevents crystal formation in tuna. it is also termed sodium pyrophosphate, tetrasodium diphosphate, and tspp.
CAS DataBase Reference
7722-88-5(CAS DataBase Reference)
EPA Substance Registry System
7722-88-5(EPA Substance)
Hazard Codes
Xi
Risk Statements
R36/37/38:Irritating to eyes, respiratory system and skin .
Safety Statements
S26:In case of contact with eyes, rinse immediately with plenty of water and seek medical advice .
S36:Wear suitable protective clothing .
WGK Germany
3
RTECS
UX7350000
TSCA
Yes
HS Code
28353990
Safety Profile
Poison by ingestion, intraperitoneal, intravenous, and subcutaneous routes. It is not a cholinesterase inhibitor. When heated to decomposition it emits toxic fumes of POx and Na2O.
Hazardous Substances Data
7722-88-5(Hazardous Substances Data)
General Description
Odorless, white powder or granules. Mp: 995°C. Density: 2.53 g cm-3. Solubility in water: 3.16 g/100 mL (cold water); 40.26 g/100 mL boiling water. Used as a wool de-fatting agent, in bleaching operations, as a food additive. The related substance TETRASODIUM PYROPHOSPHATE(7722-88-5) decahydrate (Na4P2O7 0H2O) occurs as colorless transparent crystals. Loses its water when heated to 93.8°C.
Reactivity Profile
TETRASODIUM PYROPHOSPHATE is basic. Reacts exothermically with acids. Incompatible with strong oxidizing agents. Decomposes in ethyl alcohol.
Hazard
Toxic by inhalation.
Description
Sodium pyrophosphate, also called Tetrasodium pyrophosphate or TSPP is used in the laboratory as a buffering agent. The compound has been shown to be useful in the preparation of an EDTA-sodium pyrophosphate extraction buffer for microcystin analysis of soil samples. Tetrasodium pyrophosphate is an odorless, white powder or granules. It is used in water softener, buffering agent, thickening agent, dispersing agent, wool de-fatting agent, metal cleaner, soap and synthetic detergent builder, general sequestering agent, in electrodeposition of metals. It also acts as a tartar control agent in toothpaste and dental floss. In addition, it is used as a chelating agent in antimicrobial studies. It is also used as a food additive in common foods such as chicken nuggets, crab meat and canned tuna.
Chemical Properties
Tetrasodium pyrophosphate is a white crystalline powder or colourless crystals with the formula Na4P2O7. It contains the pyrophosphate ion and sodium cation. Toxicity is approximately twice that of table salt when ingested orally. There is also a hydrated form, Na4P2O7.10H2O.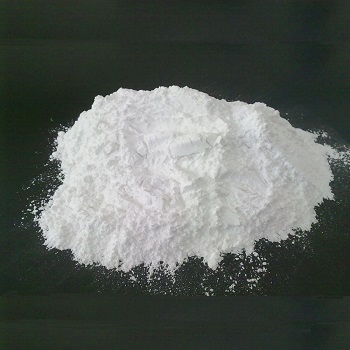 Tetrasodium pyrophosphate is used as a buffering agent, an emulsifier, a dispersing agent, and a thickening agent, and is often used as a food additive. It is widely used as an emulsifying salt (ES) in process cheese. Common foods containing sodium pyrophosphate include chicken nuggets, marshmallows, pudding, crab meat, imitation crab, canned tuna, and soy-based meat alternatives and cat foods and cat treats where it is used as a palatability enhancer. It is the active ingredient in Bakewell, the substitute for baking powder's acid component marketed during shortages in World War II. It is also used in some common baking powders.
Preparation
Tetrasodium pyrophosphate is formed when pure disodium hydrogen orthophosphate is heated to 500℃ for 5 hours. The product will contain better than 98 per cent Na4P2O7. Crystalline masses large enough for optical measurements are produced by heating in platinum to above the melting point of the tetrasodium pyrophosphate, 800°, and cooling slowly. Higher temperatures or longer heating times do not change the tetrasodium pyrophosphate, as this is the final product in the dehydration of disodium hydrogen orthophosphate.
Health Hazard
Tetrasodium pyrophosphate (TSPP) is of low toxicity, but the dust may be irritating to the eyes, upper respiratory tract, and skin. Mild to moderate skin and eye irritation have occurred with acute exposure to the dust.
-Wuhan Xingshi Chemical Co., Ltd.

Telephone

13387525752 027-83851726-

Contact Fax

027-83851726

Website

http://www.xingshichem.com
Shanghai Aladdin Bio-Chem Technology Co.,LTD

Telephone

400-620-6333 400-62063333-1

Contact Fax

021-50323701

Website

http://www.aladdin-e.com/
J & K SCIENTIFIC LTD.

Telephone

400-666-7788 010-82848833-

Contact Fax

86-10-82849933

Website

http://www.jkchemical.com
3B Pharmachem (Wuhan) International Co.,Ltd.

Telephone

18930552037 821-50328103-801

Contact Fax

86-21-50328109

Website
Alfa Aesar

Telephone

400-610-6006

Contact Fax

021-67582001/03/05

Website

http://chemicals.thermofisher.cn
BeiJing Hwrk Chemicals Limted

Telephone

18516978288 0757-86329057-

Contact Fax

0757-86311057

Website

http://www.hwrkchemical.com/
Energy Chemical

Telephone

400-005-6266 021-58432009-

Contact Fax

021-58436166

Website

http://www.energy-chemical.com
JinYan Chemicals(ShangHai) Co.,Ltd.

Telephone

13817811078

Contact Fax

86-021-50426522,50426273

Website

http://www.jingyan-chemical.com/
Adamas Reagent, Ltd.

Telephone

400-600-9262

Contact Fax

Website

http://www.tansoole.com
Chengdu XiYa Chemical Technology Co., Ltd.

Telephone

400-990-3999

Contact Fax

0539-6365991

Website

http://www.xiyashiji.com
China Langchem Inc.

Telephone

0086-21-58956006

Contact Fax

0086-21-58956100

Website

http://www.langchem.com/
Tianjin heowns Biochemical Technology Co., Ltd.

Telephone

400 638 7771

Contact Fax

Website

http://www.heowns.com
Sinopharm Chemical Reagent Co,Ltd.

Telephone

86-21-63210123

Contact Fax

86-21-63290778 86-21-63218885

Website

http://www.reagent.com.cn
Maya High Purity Chemicals

Telephone

+86 (573) 82222445 (0)18006601000 QQ:452520369

Contact Fax

+86 (573) 82222643

Website

http://www.maya-r.com
Spectrum Chemical Manufacturing Corp.

Telephone

18616765336

Contact Fax

021-57711696

Website

https://www.spectrumchemical.com/OA_HTML/index.jsp?minisite=10020&respid=22372&language=US
Wuhan Fortuna Chemical Co., Ltd

Telephone

13308628970 027-59207852-

Contact Fax

QQ3130921841

Website

http://www.fortunachem.cn
ShangHai YuanYe Biotechnology Co., Ltd.

Telephone

15800763013 021-61312847-

Contact Fax

021-55068248

Website

http://www.shyuanye.com
Chengdu Ai Keda Chemical Technology Co., Ltd.

Telephone

4008-755-333 028-85911938-

Contact Fax

028-86757656

Website

http://www.aikeshiji.com