Natriumdichromat Dihydrat Produkt Beschreibung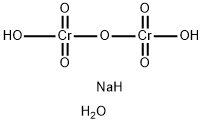 7789-12-0
CAS-Nr.

7789-12-0

Bezeichnung:

Natriumdichromat Dihydrat

Englisch Name:

Sodium dichromate dihydrate

Synonyma:

Natriumdichromat Dihydrat
SODIUM BICHROMATE;SODIUM DICHROMATE;SODIUM DICHROMATE GR;Sodium dichromate di;SODIUM DICHROMATE 2H2O;SODIUM DICHROMATE, ACS;Sodiumbichromateanhydrous;SODIUM DICHROMATE, HYDROUS;SODIUM DICHROMATE 2HYD XTL;SODIUM BICHROMATE DIHYDRATE

CBNumber:

CB2206099

Summenformel:

Cr2H5NaO8

Molgewicht:

260.01

MOL-Datei:

7789-12-0.mol
Natriumdichromat Dihydrat physikalisch-chemischer Eigenschaften
Schmelzpunkt: :

91 °C(lit.)


Siedepunkt: :

400°C

Dichte :

2,348 g/cm3

Dampfdichte :

10 (vs air)


storage temp. :

Store at +5°C to +30°C.

Aggregatzustand :

Solid

Wichte :

2.348

Farbe :

Red-orange

Geruch (Odor) :

Odorless

Säure-Base-Indikators(pH-Indikatoren) :

3.5-4.0

Wasserlöslichkeit :

730 g/L (20 ºC)

Sensitive :

Hygroscopic

Merck :

14,8609

CAS Datenbank :

7789-12-0(CAS DataBase Reference)

EPA chemische Informationen :

Disodium dichromate dihydrate (7789-12-0)
Sicherheit
Kennzeichnung gefährlicher :

O,T+,N

S-Sätze: :

53-45-60-61

RIDADR :

UN 3086 6.1/PG 1


WGK Germany :

3


RTECS-Nr. :

HX7750000


TSCA :

Yes

HazardClass :

5.1

PackingGroup :

III

HS Code :

28413000
Sodium dichromate dihydrate Chemische Eigenschaften,Einsatz,Produktion Methoden
R-Sätze Betriebsanweisung:

R45:Kann Krebs erzeugen.
R46:Kann vererbbare Schäden verursachen.
R60:Kann die Fortpflanzungsfähigkeit beeinträchtigen.
R61:Kann das Kind im Mutterleib schädigen.
R8:Feuergefahr bei Berührung mit brennbaren Stoffen.
R21:Gesundheitsschädlich bei Berührung mit der Haut.
R25:Giftig beim Verschlucken.
R26:Sehr giftig beim Einatmen.
R34:Verursacht Verätzungen.
R42/43:Sensibilisierung durch Einatmen und Hautkontakt möglich.
R48/23:Giftig: Gefahr ernster Gesundheitsschäden bei längerer Exposition durch Einatmen.
R50/53:Sehr giftig für Wasserorganismen, kann in Gewässern längerfristig schädliche Wirkungen haben.

S-Sätze Betriebsanweisung:

S53:Exposition vermeiden - vor Gebrauch besondere Anweisungen einholen.
S45:Bei Unfall oder Unwohlsein sofort Arzt zuziehen (wenn möglich, dieses Etikett vorzeigen).
S60:Dieses Produkt und sein Behälter sind als gefährlicher Abfall zu entsorgen.
S61:Freisetzung in die Umwelt vermeiden. Besondere Anweisungen einholen/Sicherheitsdatenblatt zu Rate ziehen.

Chemische Eigenschaften

Sodium chromate, including the hexahydrate, is yellow crystalline solids that can also be used in solution. Disodium dichromate (10588-01-9):

Chemische Eigenschaften

Orange-yellow powder. Soluble in acids and hot water; insoluble in alcohol and ether.

Verwenden

It is used in preparation of titrant in redox titrations.

Definition

A red crystallinesolid, Na2Cr2O7.2H2O, solublein water and insoluble in ethanol. Itis usually known as the dihydrate(r.d. 2.52), which starts to lose waterabove 100°C; the compound decomposesabove 400°C. It is made bymelting chrome iron ore with limeand soda ash and acidification of thechromate thus formed. Sodiumdichromate is cheaper than the correspondingpotassium compound buthas the disadvantage of being hygroscopic.It is used as a mordant in dyeing,as an oxidizing agent in organicchemistry, and in analytical chemistry.

Allgemeine Beschreibung

Solid orange-yellow crystal or powder.

Air & Water Reaktionen

Water soluble (hot water).

Reaktivität anzeigen

Sodium dichromate dihydrate can react with reducing agents to generate heat and products that may be gaseous (causing pressurization of closed containers). The products may themselves be capable of further reactions (such as combustion in the air). Reactions may be rapid but often requires initiation (heat, spark, catalyst, addition of a solvent). Can react violently with active metals, cyanides, esters, and thiocyanates.

Hazard

Toxic by ingestion and inhalation.

Health Hazard

INHALATION: Corrosive to mucous membranes continuous exposure may lead to perforation of nasal septum. EYES: Conjunctivitis and lacrimation. SKIN: Corrosive producing deep penetrating ulcers to exposed area. Slow to heal. INGESTION: Has a harsh metallic taste. May cause vertigo, thirst, abdominal pain, vomiting, shock, convulsions and coma.

mögliche Exposition

Used to make dyes, inks, pigments, and other chromates; in leather tanning, a corrosion inhibitor in circulating water systems; metal treatment; a drilling mud additive; chemical intermediate for chromium catalysts; colorimetry, oxidizing agent; bleaching agent; an algicide, fungicide, insecticide; in wood preservation.

Versand/Shipping

UN3087 Oxidizing solid, toxic, n.o.s., Hazard Class: 5.1; Labels: 5.1-Oxidizer, 6.1-Poisonous materials, Technical Name Required. UN3085 Oxidizing solid, corrosive, n.o.s., Hazard Class: 5.1; Labels: 5.1-Oxidizer, 8-Corrosive material, Technical Name Required.

läuterung methode

Crystallise the dichromate from small volumes of H2O by evaporation to crystallisation. Its solubility in H2O is 238% at 0o and 508% at boiling. The red dihydrate is slowly dehydrated by heating at 100o for long periods. It is deliquescent and is a powerful oxidising agent—do not place it in contact with skin— wash immediately as it is caustic. (Possible carcinogen.) Sodium dihydrogen orthophosphate ( 2 H2O) [13472-35-0 (2H2O), 10049-21-5 (H2O), 7558-80-7 (anhydrous)] M 156.0, m 60o(dec), d 4 1.91. Crystallise it from warm water (0.5mL/g) by chilling.

Inkompatibilitäten

Aqueous solution in a base. A strong oxidizer. Violent reaction with reducing agents; combustibles, strong acids; organic materials.
Sodium dichromate dihydrate Upstream-Materialien And Downstream Produkte
Upstream-Materialien
Downstream Produkte
Hydrogen[4-[[4-(diethylamino)-o-tolyl][4-[ethyl(3-sulfonatobenzyl)amino]phenyl]methylen]cyclohexa-2,5-dien-1-yliden](ethyl)(3-sulfonatobenzyl)ammonium, Natriumsalz 1-(2,6-Dimethylphenoxy)aceton 2,3,6-Trimethyl-p-benzochinon Bleichromat Dehydrocholsure 4-Aminonaphthalin-1,8-dicarboximid Strontiumchromat Hydrogen[4-[[4-(diethylamino)phenyl][4-[ethyl(3-sulfonatobenzyl)amino]phenyl]methylen]cyclohexa-2,5-dien-1-yliden](ethyl)(3-sulfonatobenzyl)ammonium, Natriumsalz Natrium-1,2,3,6-tetrahydro-2,6-dioxopyrimidin-4-carboxylat Methylenblau (C.I. 52015) Hydrogen[4-[[4-(diethylamino)phenyl][4-[ethyl[(3-sulfonatobenzyl)amino]-o-tolyl]methylen]-3-methylcyclohexa-2,5-dien-1-yliden](ethyl)(3-sulfonatobenzyl)ammonium, Natriumsalz Pirenoxin 1,2,4-Trimethoxybenzol Menadion 9,10-Phenanthrenchinon Acenaphthenchinon 9-Oxofluoren-2-carbonsure Chromhydroxidsulfat Kalium-1,2,3,6-tetrahydro-2,6-dioxopyrimidin-4-carboxylat Lithiumdichromat Natriumchromat Bleisulfochromatgelb 4-((Dipropylamino)sulfonyl)-benzoesäure Ammoniumdichromat
7789-12-0, Sodium dichromate dihydrate Verwandte Suche:
Natriumchromat Ammoniumdichromat Natriumhydroxid Chrom Chromsure Natriumdichromat Natriumchlorid Natriumhydrogencarbonat Natriumformiat Natriumgluconat Natriumdichromat Dihydrat (o-(-2,6-Dichloranilino)phenyl)-essigsäure, Natrium-Salz Natriumbenzoat Chromsure (H2Cr2O7), Dinatriumsalz, Reaktionsprodukte mit [1R-[1α(R*),2β,4aβ,8aα]]-α-Ethenyldecahydro-2-hydroxy-α,2,5,5,8a-pentamethyl-1-naphthalenpropanol, hydriert Kohle, braun, Reaktionsprodukte mit Natriumdichromat, neutralisiert 4-Methyl-2-pyridylamin sodium DICHROMATE
SODIUM DICHROMATE
SODIUM DICHROMATE 2H2O
SODIUM DICHROMATE-2-HYDRATE
SODIUM DICHROMATE DIHYDRATE
SODIUM DICHROMATE, HYDROUS
SODIUM BICHROMATE
SODIUM BICHROMATE DIHYDRATE
SODIUM DICHROMATE, DIHYDRATE REAGENT (ACS)
Sodiumdichromatedihydrate,ReagentGrade
chromicacid(h2cr2o7),disodiumsalt,dihydrate
dichromicacid(h2cr2o7),disodiumsalt,dihydrate
Dichromicacid,disodiumsalt,dihydrate
Sodium dichromate dihydrate, ReagentPlus&#174,, 99%
SODIUM DICHROMATE DIHYDRATE, ACS
SODIUM DICHROMATE DIHYDRATE 99.5+% &
SODIUM DICHROMATE DIHYDRATE, 99.5+%, A.C .S. REAGENT
SODIUM DICHROMATE EXTRA PURE
SODIUM DICHROMATE GR
Sodiumdichromatedihydrate,99%
Sodium dichromate dihydrate, ACS, 99.5-100.5%
SODIUM DICHROMATE extrapure AR
Merck Sodium Dichromate GPR
Sodium dichromate, standard solution
SODIUMDICHROMATE,CRYSTAL,REAGENT
SODIUMDICHROMATE,GRANULAR,TECHNICAL
chromic acid, disodium salt, dihydrate
Disodium oxido-(oxido-dioxochromio)oxy-dioxochromium dihydrate
3-Hydroxy-4-(4-methyl-2-sulfophenylazo)-2-naphthalenecarboxylic acid·calcium
Bichromic acid·2sodium·2hydrate
Sodium dichromate dihydrate,Sodium bichromate
Sodium dichromate dihydrate, reagent grade, ACS
SODIUM DICHROMATE, ACS
Sodium dichromate di
Disodiumdichromatedihydrate
Sodiumbichromateanhydrous
Sodium dichromate dihydrate (Na2Cr2O7.2H2O)
Sodium dichromate dihydrate (VI)
SODIUM DICHROMATE DIHYDRATE, FINE CRYST.
SODIUM DICHROMATE DIHYDRATE ACS REAGENT
SODIUM DICHROMATE-2-HYDRATE R. G., REAG.
SODIUM DICHROMATE DIHYDRATE, 99.995%
SODIUM DICHROMATE-2-HYDRATE PURE
SODIUM DICHROMATE DIHYDRATE REAGENTPLU&
SodiuM dichroMate dihydrate, ACS reagent, 99.5-100.5%
SODIUM DICHROMATE DIHYDRATE FOR ANALYSIS
SodiuM dichroMate, dehydrate
Sodium dichromate dihydrateACS reagent, 99.5-100.5% (Titration)
Sodium dichromate dihydrate, For analysis ACS
Sodium dichromate dihydrate ACS reagent, >=99.5%
BAIRD PARKER RPF BASE 10X90ML
chroMicacid(h2cr2o7),disodiuMsalt,dihydrate dichroMicacid(h2cr2o7),disodiuMsalt,dihydrate DichroMicacid,disodiuMsalt,dihydrate DisodiuMdichroMatedihydrate SodiuMbichroMateanhydrous
(T)SODIUMDICHROMATEDIHYDRATE
SODIUM DICHROMATE 2HYD XTL
SODIUM DICHROMATE, DIHYDRATE, REAGENT (ACS)SODIUM DICHROMATE, DIHYDRATE, REAGENT (ACS)SODIUM DICHROMATE, DIHYDRATE, REAGENT (ACS)SODIUM DICHROMATE, DIHYDRATE, REAGENT (ACS)
7789-12-0
7782-12-0
Na2Cr2O7
Cr2Na2O72H2O