What is tert-Butyldimethylsilyl chloride?
Aug 13,2020
Introduction
Triethylchlorosilane is a silyl chloride consisting of a central silicon atom covalently bound to one chloro, one tert-butyl and two methyl groups. It is a silane containing two methyl groups, a tert-butyl group, and a reactive chloride. tert-Butyldimethylsilyl chloride is a derivatisation agent used in gas chromatography/mass spectrometry applications.
Triethylchlorosilane is a clear, colourless to yellowish, pungent smelling, caustic and flammable liquid. It can be dissolved in non-protonating solvents without decomposition.
It may be used as silylating agent for dervatization of primary and secondary alcohols etc.. Also it may be used to protect allylic esters as silylketene acetal which is ore stable but less volatile derivates than trimethylchlorosilane.
It is moderately toxic.
Reagent Uses
tert-Butyldimethylsilyl chloride (TBS-Cl) is generally used as a reagent for installing TBS protecting groups. A similar reagent is tert-butyldimethylsilyl trifluoromethanesulfonate (TBS-OTf). It is a versatile protecting reagent for amines, amides, and especially alcohols, among others. Can be selectively removed in the presence of a t-BuPh2Si-protected alcohol. Used in a preparatrion of isoxazoline N-oxides from α-bromonitroalkanes.
Trimethylsilyl ethers are too susceptible to solvolysis for them to have any utility as protecting groups. The tert-butyldimethylsilyloxy group is ca. 104 times more hydrolytically stable and holds more promise for such applications.
When the commercially available tert-butyldimethylsilyl chloride (TBDMS-Cl) was initially used as a silylation agent, it was found by E. J. Corey (J. Am. Chem. Soc. 1972, 94, 6192) to react very slowly and to give unsatisfactory yields with alcohols. Even forcing silylation techniques (excess silyl chloride, dry pyridine, elevated temperatures) were not successful. The use of 2.5 eq. imidazole with 1.2 eq. of TBDMS-Cl and dimethylformamide as solvent proved to be effective, and resulted in the mild conversion of various alcohols to tert-butyldimethylsilyl ethers in high yield.
tert-Butyldimethylchlorosilane is used to protect hydroxyl group in organic synthesis. It finds application in the synthesis of prostaglandin. It is also used as an auxiliary material for hypolipaemics such as lovastatin and simvastatin. It plays an important role in the preparation of isoxazolines N-oxides from alpha-bromonitroalkanes. It acts as a versatile protecting reagent for amines, amides and alcohols.
TBS Protection(TBS-Cl) Examples:
Example 1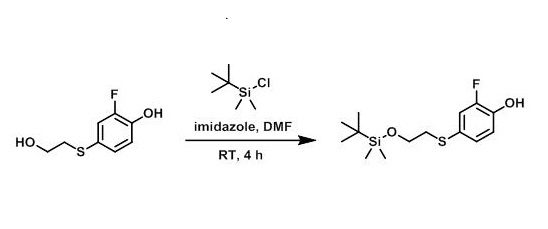 To a solution of the SM (985 mg, 5.24 mmol), imidazole (371 mg, 5.30 mmol), and DMF (5 mL) was added portionwise TBSCl (814 mg, 5.24 mmol). The reaction mixture was stirred at RT for 4 h. The mixture was concentrated in vacuo, diluted with H2O, and extracted with EtOAc (3x). The combined organics were washed with brine, dried (MgSO4), and concentrated to provide the product as an orange oil which was used without further purification. [1.43 g, 90%]
Example 2

To a solution of the SM (1.2 g, 3.4 mmol), imidazole (0.70 g, 10 mmol), and dry DCM (33 mL) was added TBSCl (0.77 g, 5.1 mmol) under N2 at RT. The reaction mixture was stirred at RT for 75 min. The mixture was quenched with H2O and extracted with DCM. The layers were separated and the org layer was washed with H2O, brine, dried (MgSO4), and concentrated to provide the product as a colorless oil which was carried to the next step without further purification. [1.69 g, 100%]
Example 3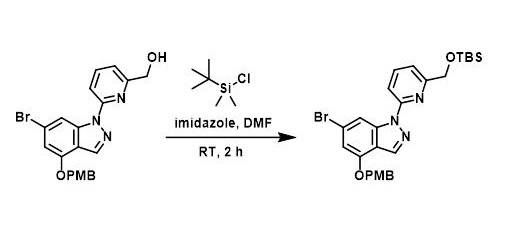 To a mixture of the SM (2.35 g, 5.36 mmol) and imidazole (729 mg, 10.72 mmol) in DMF (30 mL) at RT was added TBSCl (1.21 g, 8.04 mmol). The reaction mixture was stirred at RT for 2 h. The mixture was diluted with H2O (300 mL) and extracted with EtOAc (3 x 100 mL). The combined organics were washed with brine (100 mL), dried (Na2SO4), and concentrated. The resulting residue was purified by silica gel column chromatography (5:1 PE/EtOAc) to provide the product as a yellow solid. [2.34 g, 79%]
Example 4

A mixture of the SM (0.750 g, 2.22 mmol), imidazole (0.302 g, 4.43 mmol), TBSCl (0.401 g, 2.66 mmol), and DMAP (0.01 g, 0.08 mmol) in DMF (6.86 mL) was stirred at RT for 48 h. The mixture was diluted with DCM, washed with NaHCO3, and concentrated. The residue was purified by silica gel chromatography (40 g silica, EtOAc/heptane) to provide the product as a clear solid. [600 mg]
tert-Butyldimethylsilyl chloride
18162-48-6
See also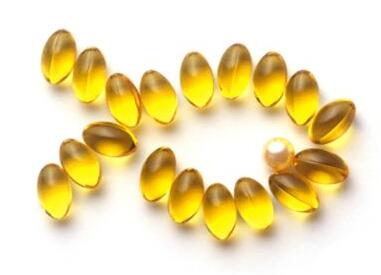 Physiological function of Docosahexaenoic acid
Aug 13, 2020
Lastest Price from tert-Butyldimethylsilyl chloride manufacturers
tert-Butyldimethylsilyl chloride

US $1.00
/KG
2021-05-13
CAS:

18162-48-6

Min. Order:

1KG

Purity:

99%

Supply Ability:

10T
tert-Butyldimethylsilyl chloride

US $19.90
/Kg/Drum
2021-04-24
CAS:

18162-48-6

Min. Order:

1KG

Purity:

99%

Supply Ability:

10 mt