The review of Nicotinic acid
Feb 10,2022
The reduction of the plasma levels of cholesterol
Niacin has many benefits. Several studies have shown that niacin (also known as vitamin B3) can increase DHL (good cholesterol) levels in the body by 35%, while also reducing LDL (bad cholesterol) levels by 25%. Niacin can also reduce triglyceride levels by 50%. Also, niacin may also reduce total blood cholesterol levels at the same time. These benefits of niacin make it unquestionably one of the main ingredients in cholesterol-regulating health supplements.
Different treatment on cholesterol
Despite this very efficacious treatment, clinical studies have shown that even an aggressive reduction in LDL cholesterol reduces the occurrence of cardiovascular events by only 25–40%. This result is due to the fact that high LDL cholesterol levels are not the only risk factor for cardiovascular diseases. In addition to genetic factors, hypertension, age and cigarette smoking, low 'high-density lipoprotein' (HDL) cholesterol levels are also an independent risk factor. Currently, HDL cholesterol levels of p40–45 mg per 100 ml are regarded as a risk factor for coronary heart disease, whereas levels 460 mg per 100 ml are considered protective (Grundy et al., 2004). The development of new strategies to elevate HDL cholesterol plasma levels has therefore been intensified in recent years. One of the most promising new approaches to raise HDL cholesterol levels, inhibition of the cholesterol ester transfer protein (CETP) (Le Goff et al., 2004), has recently suffered a setback when the CETP inhibitor torcetrapib failed in the phase III trials. Currently, the oldest lipid-modifying drug, nicotinic acid (niacin), is attracting renewed attention as it has the strongest HDL cholesterol-elevating effect among the drugs currently approved for the treatment of lipid disorders (Table 1).
Table 1 Effect of various drugs[1]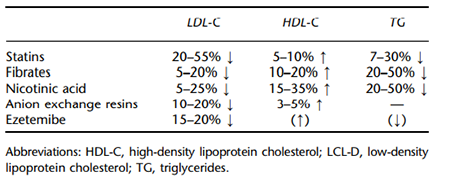 The pharmacology of nicotinic acid
In this review, we will summarize the pharmacology of nicotinic acid with particular focus on recent findings that have elucidated the mechanisms underlying some of the effects of nicotinic acid. Clinical use of nicotinic acid Nicotinic acid has profound and unique effects on lipid metabolism and is thus referred to as a 'broad-spectrum lipid drug'. In addition to elevating HDL cholesterol as well as decreasing both LDL and total cholesterol, nicotinic acid also induces a decrease in the concentrations of both 'very-low-density lipoproteins' (VLDL) and plasma triglyceride (TG). The plasma concentration of lipoprotein Lp(a), which has been suggested to play a role as an independent risk factor for coronary heart disease, is also decreased by nicotinic acid. Soon after the initial discovery of the lipid-modifying effect of high doses of nicotinic acid, the water-soluble vitamin nicotinic acid was introduced into clinical therapy as the first lipidmodifying drug. In the Coronary drug project, conducted from 1966 to 1975, nicotinic acid administered as monotherapy at 3 g day1 was shown to lead to an efficient secondary prevention of myocardial infarction. A follow-up study of the Coronary Drug project revealed that nicotinic acid also reduced the mortality of patients who had been treated with nicotinic acid. The Stockholm ischaemic heart disease secondary prevention study came to similar findings. With the introduction of cholesterol synthesis inhibitors (statins) in the therapy of hypercholesterolaemia during the late 1980s, interest in the therapeutic potential of nicotinic acid decreased. However, in recent years, several clinical studies have been conducted to test whether nicotinic acid provides a benefit to patients who are receiving treatment with statins but still display low HDL cholesterol levels. Both the HDL Atherosclerosis Treatment Study and the Arterial Biology for the Investigation of the Treatment Effects of Reducing Cholesterol study indicate that patients with low HDL cholesterol levels benefit from a treatment with nicotinic acid in addition to statins. However, both studies are relatively small and have some limitations, including the lack of an ideally designed control group in HDL Atherosclerosis Treatment Study or the evaluation of the intima-media thickness of the carotid artery as a surrogate parameter for the development of clinically relevant atherosclerosis in the Arterial Biology for the Investigation of the Treatment Effects of Reducing Cholesterol study. In any case, there is good evidence supporting a therapeutic benefit of nicotinic acid, and randomized long-term studies to evaluate the effect of nicotinic acid in addition to statins in patients with low HDL cholesterol levels and increased cardiovascular risk have recently been initiated.
Reference
1 Bodor E T, Offermanns S. Nicotinic acid: an old drug with a promising future[J]. British journal of pharmacology, 2008, 153(1): 68-75.
);
Nicotinic acid
59-67-6
Related articles And Qustion
See also
The effect of HATU on human health
Feb 10, 2022
Lastest Price from Nicotinic acid manufacturers
Nicotinic acid
US $18.00
/KG
2023-09-27
CAS:

59-67-6

Min. Order:

5KG

Purity:

99%

Supply Ability:

20t/month
NICOTINIC ACID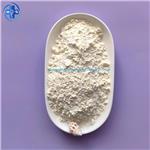 US $9.83
/g
2023-09-23
CAS:

59-67-6

Min. Order:

100g

Purity:

99%

Supply Ability:

15MT