Cepharanthine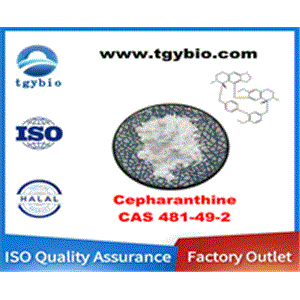 US $ 435.0000 / 25kg
Min. Order:

1kg

Purity:

1%;2%;10%;98%; as your request

Cas No:

Supply Ability:

1000kg
Product Details
Overview
Product Name:

Cepharanthine

CAS No:

481-49-2

EC-No.:

Min. Order:

1kg

Purity:

1%;2%;10%;98%; as your request

Supply Ability:

1000kg

Release date:

2022/05/14
Product Advantage
Stephanine is a bipartite isowalin alkaloid isolated from Stephania Stephania and Rhizoma stephaniae. It has the functions of anti-tumor, anti malaria, bacteriostasis and regulating immune function. Modern research suggests that it also has the functions of stimulating reticuloendothelial system, activating hematopoietic tissue and promoting bone marrow tissue proliferation. It has been used to prevent and treat leukopenia caused by radiotherapy, chemotherapy and other reasons in tumor patients. Therefore, stephanine is considered to be a low toxicity and effective leukocyte raising drug. Stephanine can partially reverse the multidrug resistance of leukemia fine chemicalbook cells, and the effect is significantly better than the classical reversal drug verapamil, and the cytotoxic effect is much less than verapamil at the reversal dose. Foreign studies have also shown that stephanine has a good reversal effect on multiple drug-resistant cells. Stephanine can enhance the immune function and activity of cells and macrophages in vivo. In Japan, stephanine has been used clinically as a leukocyte raising drug for more than years without obvious toxic and side effects. It has been used in the experimental treatment of pneumoconiosis for many years in China. The above results suggest that stephanine has great clinical value.
Company Profile
Introduction
XI'AN TIAN GUANGYUAN BIOTECH CO., LTD. It located in Xi'an Hi-tech Industrial Development Zone, is a professional engaged in API and Chemicals, bio-chemical raw materials research and development, production and sale of high-tech technology enterprises.Since the planning and design since 2009, the company established its own independent R & D team, and with the local colleges and universities and research institutions have close relations of cooperationIn strict accordance with the GMP standard requirements of production safety, the company is committed to maintaining the natural nature of raw materials, raw materials to reduce heavy metals and pesticide residues and other issues. Force in the pursuit of providing customers with reliable quality of innovative products and services. XI'AN TIANGUANGYUAN BIOTECH CO., LTD. focus on meeting customer needs. To the rapid development of new products, stable product quality and high technology sustained and stable technical support to win the global customer recognition, the company's products are exported to the United States, Europe, Japan, Australia, Africa and other places
Audit supplier:
Country:

China

CB index:

58

Mobile:

+86-18829239519

Address:

I-City unit 3, South of Tangyan Road, Hi-Tech Industrial Zone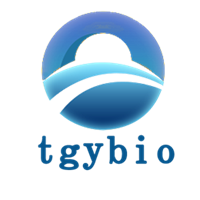 XI'AN TIANGUANGYUAN BIOTECH CO., LTD.