99-94-5
Product Image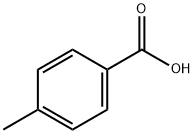 Name
p-Toluic acid
CAS
99-94-5
Synonyms
4-METHYLBENZOIC ACID
4-METHYLBENZOIC ACID ZONE REFINED
4-TOLUIC ACID
AKOS BBS-00003712
BENZOIC ACID, 4-METHYL-
Crithminic acid
P-METHYLBENZOIC ACID
PTLA
P-TOLUIC ACID
P-TOLUYLIC ACID
RARECHEM AL BO 0067
SUPPORTED BENZOIC ACID
toluenecarboxylic acid
para-Toluic acid
p-carboxytoluene
p-toluic
P-ToluicAcid>98%
P-ToluicAcidForSynthesis
PARA-TOLUIC ACID FOR SYNTHESIS
4-Methylbenzoic acid 98%
EINECS(EC#)
202-803-3
Molecular Formula
C8H8O2
MDL Number
MFCD00002565
Molecular Weight
136.15
MOL File
99-94-5.mol
Appearance
colourless crystals or white crystalline powder
Melting point
177-180 °C (lit.)
mp
179 °C
Boiling point
274-275 °C (lit.)
bp
274-275 °C(lit.)
density
1,06 g/cm
3
vapor pressure
0.02 hPa (70 °C)
refractive index
1.5120 (estimate)
Fp
181°C
storage temp.
Store at RT.
solubility
0.3g/l
pka
4.36(at 25℃)
form
Powder
color
White to slightly yellow-cream
Stability:
Stable. Incompatible with strong oxidizing agents, strong bases.
Water Solubility
<0.1 g/100 mL at 19 ºC
Usage
Intermediates of Liquid Crystals
Merck
14,9535
Detection Methods
T,NMR,HPLC
BRN
507600
InChIKey
LPNBBFKOUUSUDB-UHFFFAOYSA-N
CAS DataBase Reference
99-94-5(CAS DataBase Reference)
NIST Chemistry Reference
Benzoic acid, 4-methyl-(99-94-5)
EPA Substance Registry System
99-94-5(EPA Substance)
Uses
p-Toluic Acid is used as a reagent in the synthesis of several organic compounds including that of 2-aryl-1,3,4-oxadiazole derivatives which are potential antibacterial agents. Also used in the synthesis of 4-(bromomethyl) benzoic acid.
Hazard Codes
Xn
Risk Statements
R22:Harmful if swallowed.
Safety Statements
S22:Do not breathe dust .
S24/25:Avoid contact with skin and eyes .
WGK Germany
1
RTECS
XU1575000
Autoignition Temperature
570 °C
TSCA
Yes
HS Code
29163900
Toxicity
LD50 orally in Rabbit: 400 mg/kg
General Description
White powder. Sublimes.
Reactivity Profile
P-TOLUIC ACID(99-94-5) is a carboxylic acid. Carboxylic acids donate hydrogen ions if a base is present to accept them. They react in this way with all bases, both organic (for example, the amines) and inorganic. Their reactions with bases, called "neutralizations", are accompanied by the evolution of substantial amounts of heat. Neutralization between an acid and a base produces water plus a salt. Carboxylic acids with six or fewer carbon atoms are freely or moderately soluble in water; those with more than six carbons are slightly soluble in water. Soluble carboxylic acid dissociate to an extent in water to yield hydrogen ions. The pH of solutions of carboxylic acids is therefore less than 7.0. Many insoluble carboxylic acids react rapidly with aqueous solutions containing a chemical base and dissolve as the neutralization generates a soluble salt. Carboxylic acids in aqueous solution and liquid or molten carboxylic acids can react with active metals to form gaseous hydrogen and a metal salt. Such reactions occur in principle for solid carboxylic acids as well, but are slow if the solid acid remains dry. Even "insoluble" carboxylic acids may absorb enough water from the air and dissolve sufficiently in P-TOLUIC ACID(99-94-5) to corrode or dissolve iron, steel, and aluminum parts and containers. Carboxylic acids, like other acids, react with cyanide salts to generate gaseous hydrogen cyanide. The reaction is slower for dry, solid carboxylic acids. Insoluble carboxylic acids react with solutions of cyanides to cause the release of gaseous hydrogen cyanide. Flammable and/or toxic gases and heat are generated by the reaction of carboxylic acids with diazo compounds, dithiocarbamates, isocyanates, mercaptans, nitrides, and sulfides. Carboxylic acids, especially in aqueous solution, also react with sulfites, nitrites, thiosulfates (to give H2S and SO3), dithionites (SO2), to generate flammable and/or toxic gases and heat. Their reaction with carbonates and bicarbonates generates a harmless gas (carbon dioxide) but still heat. Like other organic compounds, carboxylic acids can be oxidized by strong oxidizing agents and reduced by strong reducing agents. These reactions generate heat. A wide variety of products is possible. Like other acids, carboxylic acids may initiate polymerization reactions; like other acids, they often catalyze (increase the rate of) chemical reactions. This chemical is incompatible with strong oxidizers. P-TOLUIC ACID(99-94-5) is also incompatible with strong bases. .
Air & Water Reactions
Fine dust dispensed in air in sufficient concentrations, and in the presence of an ignition source is a potential dust explosion hazard. . Insoluble in water.
Fire Hazard
Flash point data for this chemical are not available; however, P-TOLUIC ACID is probably combustible.
Chemical Properties
colourless crystals or white crystalline powder. Slightly soluble in water; soluble in alcohol and ether. Combustible.
Definition
ChEBI: A methylbenzoic acid in which the methyl substituent is located at position 4.
Synthesis Reference(s)
Journal of the American Chemical Society, 94, p. 4024, 1972
DOI:
10.1021/ja00766a069
The Journal of Organic Chemistry, 37, p. 2564, 1972
DOI:
10.1021/jo00981a010
Purification Methods
Crystallise the acid from water, water/EtOH (1:1), MeOH/water or *benzene. [Beilstein 9 IV 1724.] Aromatic acid impurities (to <0.05%) can be removed via the (±)--methylbenzylamine salt as described for 2,4-dichlorobenzoic acid [Ley & Yates Organic Process Research & Development 12 120 2008]. The S-benzylisothiuronium salt has m 164o (from aqueous EtOH).
Taizhou Chemedir Biopharm-tech. Co., Ltd

Telephone

18994667082 0523-86200218

Contact Fax

+86 523-86200613

Website

http://www.chemedir.com/
Shandong Vantage Specialty Chemicals Biotechnology Co., Ltd.

Telephone

18678026865 133-96369453-

Contact Fax

0536-2101172

Website

http://fantaichem.webd.testwebsite.cn
Shanghai XiZhi Chemical Co., Ltd.

Telephone

13701817869 021-69005855-

Contact Fax

021-69005955

Website

https://www.chemicalbook.com/ShowSupplierProductsList19756/0.htm
Chongqing Yuanyuanxiang Technology Development Co. LTD

Telephone

15320534687 023-55703781-

Contact Fax

023-55703781

Website

https://www.chemicalbook.com/supplier/23615899/
Hubei yongkuo Technology Co., Ltd

Telephone

15972152991 027-59223108-

Contact Fax

027-59223108

Website
Weifang Siyuan Chemical Co., Ltd.

Telephone

17663601818 0536-8888106-

Contact Fax

0536-8888106

Website

http://www.siyuanchem.com/
Hebei mo Jin biotechnology co., ltd

Telephone

15533902111

Contact Fax

Website

http://www.hbmojin.com
Shanghai Boyle Chemical Co., Ltd.

Telephone

Mr Qiu:021-50182298(Demestic market) Miss Xu:021-50180596(Abroad market)

Contact Fax

+86-21-57758967

Website

http://www.boylechem.com
J & K SCIENTIFIC LTD.

Telephone

400-666-7788 010-82848833-

Contact Fax

86-10-82849933

Website

http://www.jkchemical.com
Meryer (Shanghai) Chemical Technology Co., Ltd.

Telephone

400-660-8290 21-61259100-

Contact Fax

86-21-61259102

Website

http://www.meryer.com
Alfa Aesar

Telephone

400-610-6006

Contact Fax

021-67582001/03/05

Website

http://chemicals.thermofisher.cn
TAIYUAN RHF CO.,LTD.

Telephone

+86 351 7031519

Contact Fax

+86 351 7031519

Website

http://www.rhfchem.com/
TCI (Shanghai) Development Co., Ltd.

Telephone

021-67121386 / 800-988-0390

Contact Fax

021-67121385

Website

https://www.tcichemicals.com/CN/zh/
ShangHai DEMO Chemical Co.,Ltd

Telephone

400-021-7337 qq:2355568890

Contact Fax

0086-21-50182339

Website

http://www.demochem.com
Beijing dtftchem Technology Co., Ltd.

Telephone

13031183356 010-60275820-

Contact Fax

010-60270825

Website

http://www.dtfchem.com
BeiJing Hwrk Chemicals Limted

Telephone

18516978288 0757-86329057-

Contact Fax

0757-86311057

Website

http://www.hwrkchemical.com/
Energy Chemical

Telephone

400-005-6266 021-58432009-

Contact Fax

021-58436166

Website

http://www.energy-chemical.com
Wuhan Chemwish Technology Co., Ltd

Telephone

86-027-67849912

Contact Fax

86-027-87531808

Website

http://www.chemwish.com