Calycosin – an O-methylated isoflavone
Dec 23,2019
Calycosin is an O-methylated isoflavone. It can be isolated from Astragalus membranaceus Bge. var. mongholicus and Trifolium pratense L. [1]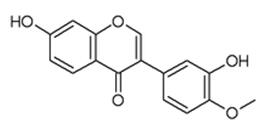 Calycosin is a member of the class of 7-hydroxyisoflavones that is 7-hydroxyisoflavone which is substituted by an additional hydroxy group at the 3' position and a methoxy group at the 4' position. It has a role as a metabolite and an antioxidant. It is a member of 7-hydroxyisoflavones and a member of 4'-methoxyisoflavones. It derives from an isoflavone. It is a conjugate acid of a calycosin(1-) [2].
Radix astragali (Fabaceae astragalus propinquus Schischkin) is a Chinese medicinal herb traditionally used for the treatment of several diseases. Calycosin is the major bioactive chemical in the dry root extract of this medical plant. It has been used as the representative bioactive chemical of Radix astragali. Technologies for the industrial-scale preparation of calycosin were recently rudimentarily established using microporous resins or negative-pressure cavitation extraction (NPCE) [3]. To promote the development of this potential drug, detailed studies on calycosin, such as its functional mechanism and its performance in preclinical and clinical trials, are very important.
The potential pharmaceutical properties of calycosin in the treatment of tumors, inflammation, stroke, and cardiovascular diseases have gained increasing attention in the recent years. The literature survey showed that calycosin exhibits promising effects for the treatment of several diseases and that these effects may be due to its isoflavonoid and phytoestrogenic properties. The effects of calycosin most likely result from its interaction with the ER receptors on the cell membrane and the modulation of the MAPK signaling pathway. Calycosin exhibits great potential as a therapeutic drug and may be a successful example of the standardization and modernization of traditional Chinese herbal medicine.The pharmaceutical properties of calycosin are largely due to its role as an isoflavonoid and a phytoestrogen. This chemical interacts with the ER receptors on the cellular membrane and modulates the MAPK signaling pathway. Through its effect on this pathway, calycosin can regulate several cell activities, such as apoptosis and angiogenesis, which enables its therapeutic functions. The dosage is crucial for the function of calycosin. As an antitumor drug, the dosage of calycosin should be higher than 7mg/L. Dosages lower than this value may inversely induce the proliferation of cancer cells. In contrast, a concentration as high as 28 mg/L improved angiogenesis in zebrafish and HUVECs. This phenomenon indicates that the same dosage may exert opposite effects under different conditions. Thus, more detailed information on how calycosin interacts with the ER is required, and the use of calycosin as a therapeutically drug in pre-clinical and clinical studies should be carefully studied.
In addition to the medical effects mentioned above, many other effects of Radix astragali have not yet been studied using calycosin. The flavonoids from Astragalus have been shown to exhibit anti-lipid peroxidation, blood pressure lowering, and liver protective effects. The work conducted by Qi et al. (2011) showed that the total flavonoids protected the mice against radiation damage induced by 60Co g-irradiation [4]. Wang et al. (2012) demonstrated the anti-atherosclerosis effects of the total flavonoids of Astragalus. Because it is the major isoflavonoid of Astragalus, calycosin is most likely responsible for these important pharmaceutical effects.
Based on the results of this review, the efficacy and pharmacology of calycosin have been recently receiving increasing attention. However, additional studies are still needed to make calycosin an applicable drug. The first problem is that the effects have only been studied in animal models to date. Reliable and feasible human trials should thus be conducted. Because calycosin is separated from the medical plant Radix astragali, it is expected to be safe and inexpensive. Second, the pharmacokinetics of calycosin should be clarified. Currently, the conjugation and oxidation of calycosin have been observed in zebrafish larvae. More sophisticated and thorough studies on the in vivo metabolism of calycosin are important and required for the wider and improved application of this traditional drug. Finally, although the effectiveness of this drug was verified, its mechanism has only been preliminarily established. More detailed information and molecular-level evidence, particularly on the interaction of calycosin with signaling cascades related to cell apoptosis and angiogenesis, are required [5].
References
[1] https://en.wikipedia.org/wiki/Calycosin
[2] https://pubchem.ncbi.nlm.nih.gov/compound/Calycosin
[3] Chen CY, Zu YG, Fu YJ, et al. (2011a). Preparation and antioxidant activity of Radix astragali residues extracts rich in calycosin and formononetin. Biochem Eng J 56:84–93.
[4] Qi L, Liu CY, Wu WQ, et al. (2011). Protective effect of flavonoids from Astragalus complanatus on radiation induced damages in mice. Fitoterapia 82:383–92.
[5] JunQing Gao, Zong Jun Liu, Tao Chen & DeQiang Zhao, Pharmaceutical properties of calycosin, the major bioactive isoflavonoid in the dry root extract of Radix astragali, Pharmaceutical Biology, 52:9, 1217-1222, DOI: 10.3109/13880209.2013.879188
CALYCOSIN
20575-57-9
See also
Tomatine – a glycoalkaloid in tomato plants
Dec 23, 2019
Lastest Price from CALYCOSIN manufacturers
Calycosin 20575-57-9

US $96.00
/mg
2021-09-26
CAS:

20575-57-9

Min. Order:

20mg

Purity:

≥98%

Supply Ability:

1000.00 kgs
CALYCOSIN
US $15.00-10.00
/KG
2021-07-13
CAS:

20575-57-9

Min. Order:

1KG

Purity:

99%+ HPLC

Supply Ability:

Monthly supply of 1 ton