Uses and characteristics of HEPES buffer
Apr 13,2022
HEPES (4-(2-hydroxyethyl)-1-piperazineethanesulfonic acid) is a zwitterionic sulfonic acid buffering agent; one of the twenty Good's buffers. HEPES is widely used in cell culture, largely because it is better at maintaining physiological pH despite changes in carbon dioxide concentration (produced by aerobic respiration) when compared to bicarbonate buffers, which are also commonly used in cell culture.
Lepe-Zuniga et al. reported an unwanted photochemical process wherein HEPES when exposed to ambient light produces hydrogen peroxide,which is not a problem in bicarbonate-based cell culture buffers. It is therefore strongly advised to keep HEPES-containing solutions in darkness as much as possible to prevent oxidation.
Characteristics
HEPES has the following characteristics:
pKa1 (25 °C) = 3
pKa2 (25 °C) = 7.5
Useful pH range = 2.5 to 3.5 or 6.8 to 8.2
HEPES has negligible metal ion binding,making it a good choice as a buffer for enzymes which might be inhibited by metal chelation.
Uses
HEPES is a zwitterionic buffer used to maintain pH of media used in cell cultures. It is one of Good's twelve buffers that has a pKa value similar to its pH value making it an ideal buffer for pH maintenance. It has only one restriction, it interferes with the Folin protein assay. This buffer can form radicals so it is not suitable for redox studies. HEPES is used as a Good's buffer because it has low UV absorptivity, minimal reactivity, stable pH and is soluble in water.
);
HEPES
7365-45-9
Related articles And Qustion
See also
Application of Chloranil
Apr 13, 2022
Lastest Price from HEPES manufacturers
HEPES
US $0.00
/kg
2023-09-29
CAS:

7365-45-9

Min. Order:

1kg

Purity:

99.5%

Supply Ability:

1000tons
4-(2-Hydroxyethyl)-1-piperazineethanesulfonic acid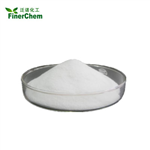 US $0.00
/Kg/Drum
2023-09-27
CAS:

7365-45-9

Min. Order:

1KG

Purity:

99%

Supply Ability:

200mt