Dexmedetomidine hydrochloride:Pharmacological effect,Side effects
May 30,2023
Dexmedetomidine hydrochloride is a medication that belongs to the class of drugs called alpha-2 adrenergic agonists. It is commonly used in critical care settings as a sedative agent to help reduce anxiety and promote sleep in patients who are on ventilators or undergoing painful procedures.
Pharmacological effect
Dexmedetomidine HCl works by binding to the alpha-2 receptors in the brain, which are involved in the regulation of heart rate and blood pressure. Activating these receptors, produces a sedative effect that helps calm the patient. Compared to other sedatives such as benzodiazepines, dexmedetomidine HCl has a more selective mode of action, and it does not cause respiratory depression or impair cognitive function.
In addition to its sedative properties, dexmedetomidine HCl has been shown to have analgesic and anxiolytic effects. Studies have found that it can reduce opioid requirements and the incidence of delirium in critically ill patients, which can help improve their overall outcome.
Dexmedetomidine HCl is typically administered intravenously by a healthcare provider in a hospital or ICU setting. The dosage and timing of administration are based on the patient's weight, age, and medical condition. It is important to monitor the patient's vital signs closely during administration and adjust the dosage as necessary.
Side effects
Dexmedetomidine HCl may cause side effects such as nausea, vomiting, dizziness, and headache. In rare cases, it may also cause bradycardia (slow heart rate) or hypotension (low blood pressure). Patients who have a history of heart disease or low blood pressure may be at a higher risk of experiencing these side effects.
Benefits
Dexmedetomidine hydrochloride is a useful medication that can help improve patient comfort and reduce the need for other sedatives or opioids. It has a more selective mode of action and does not cause respiratory depression, which makes it a safer alternative for critically ill patients.
);
Dexmedetomidine hydrochloride
145108-58-3
See also
Modern applications of sebacic acid
May 31, 2023
Lastest Price from Dexmedetomidine hydrochloride manufacturers
Dexmedetomidine hydrochloride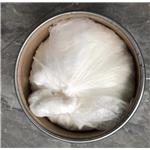 US $0.00-0.00
/kg
2023-09-13
CAS:

145108-58-3

Min. Order:

1kg

Purity:

99.9%

Supply Ability:

20tons
Dexmedetomidine hydrochloride
US $10.00
/kg
2023-09-07
CAS:

145108-58-3

Min. Order:

1kg

Purity:

99%

Supply Ability:

1000tons