佛司可林;弗斯可林
发布时间:

2019-08-13

产品名称:

佛司可林;弗斯可林

产品英文名称:

Forskolin(Colforsin)

CAS号:

66575-29-9

产品包装:

100mg;500mg;1g;5g;10g

产品价格:

无

有效期:

一年

品牌:

Chemleader

产地:

上海

保存条件:

纯度规格:

98%+

产品类别: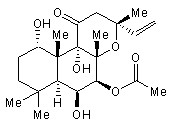 Product Name: Forskolin
CAS No.: 66575-29-9
Synonyms: Colforsin; ForsLean; Coleonol; HL 362; L 75-1362B; NSC 357088; NSC 375489; 7β-Acetoxy-8,13-epoxy-1α,6β,9α-trihydroxylabd-14-en-11-one
Chemical Name: (3R,4aR,5S,6S,6aS,10S,10aR,10bS)-5-(Acetyloxy)-3-ethenyldodecahydro-6,10,10b-trihydroxy-3,4a,7,7,10a-pentamethyl-1H-naphtho[2,1-b]pyran-1-one; [3R-(3α,4aβ,5β,6β,6aα,10α,10aβ,10bα)]-5-(Acetyloxy)-3-ethenyldodecahydro-6,10,10b-trihydroxy-3,4a,7,7,10a-pentamethyl-1H-naphtho[2,1-b]pyran-1-one; 5-(acetyloxy)-3-ethenyldodecahydro-6,10,10b-trihydroxy-3,4a,7,7,10a-pentamethyl-(3R,4aR,5S,6S,6aS,10S,10aR,10bS)-1H-Naphtho[2,1-b]pyran-1-one
Molecular Formula: C22H34O7
Molecular Weight: 410.50
Appearance: Off-white to white powder
Assay(HPLC)≥98%
Biological Activity: Cell-permeable activator of adenylyl cyclase. Hypotensive and vasodilatory agent. Induces neuronal differentiation in stem cells and in several neuroblastoma. Used to reprogram mouse embryonic fibroblasts to induced pluripotent stem cells in combination with three other small molecules. Activates adenylate cyclase leading to an increase in the intracellular concentration of cAMP.
Cyclic AMP (cAMP) is an important signal carrier necessary for the proper biological response of cells to hormones, neurotransmitters, and other extracellular signals. Forskolin is a naturally occurring diterpene that is produced by the Indian Coleus plant (C. forskohlii). It directly activates adenylyl cyclase through its catalytic subunit and is commonly used to raise levels of cAMP in a wide variety of intact cells and tissue preparations. Forskolin binds to adenylyl cyclase in membranes from stably transfected Sf9 cells expressing type 1 adenylyl cyclase with an IC50 value of 41 nM and demonstrates an EC50 value of 0.5 μM in an activation assay assessing formation of cAMP from ATP. Forskolin also interacts with glucose transporters and certain ion channels and has been used for examining adenylyl cyclase expression, regulation, and G protein signaling.
The major cell-permeable diterpene isolated from the Indian plant Coleus forskohlii. At low doses, it acts as a positive inotropic agent. At higher doses, it serves as a hypotensive and vasodilatory agent due to its actions as a smooth muscle relaxant. No major side effects are observed at effective doses. Forskolins pharmacological activities are due to its activation of adenylate cyclase (EC50 = 4 µM), resulting in increased cAMP levels. The exact mechanism of forskolins positive inotropic effect is unknown but may be related to a cAMP-dependent increase in Na+ permeability that results in indirect augmentation of Ca2+ release. Inhibits MAP kinase in rat renal mesangial cells (IC50 = 25 µM). Also acts as a Hh pathway antagonist. Shown to inhibit apoptosis in cerebellar granule cells and to induce apoptosis in resting human B lymphocytes.
An adenylate cyclase activator and MAP kinase inhibitor. Forskolin is a diterpenoid isolated from Coleus forskohlii, interacts directly with the catalytic subunit of A cyclase (adenylate cyclase), activating the enzyme and raising intracellular levels of cAMP. Forskolin is cell permeable and active in vivo producing positive inotropic, platelet anti-aggregatory and anti-hypertensive effects. Has also been shown to exhibit smooth muscle relaxant activity, decrease in intraocular pressure and the promotion of hormonal release from the pituitary glands. Inhibits MAP kinase, induces phosphorylation of CREB, connexin 43, Bad, ATF-1 and PKB. Forskolin is an inhibitor of AChR.
Forskolin is a cell permeable diterpenoid isolated from Coleus forskohlii. Cell-permeable diterpenoid that possesses anti-hypertensive, positive inotropic, and adenylyl cyclase activating properties. Many of its biological effects are due to its activation of adenylyl cyclase and the resulting increase in intracellular cAMP concentration.Forskolin effects calcium currents and inhibits MAP kinase.
Forskolin(Colforsin);66575-29-9
联系人

凯立德生物

公司名称

凯立德生物医药技术(上海)有限公司

电话

021-58180488

手机

传真

邮箱

sales@Biochemleader.com

地址

国际医学园区康新公路3399弄25号楼5F
公司简介:
凯立德生物医药是一家专门从事化学定制合成,医药中间体以及新药研发的外向型企业。公司坚持以科技创新为动力,以市场需求为导向,产品涵盖医药原料,医药中间体,天然产物,手性化合物,药物研究试剂等。同时致力于为国内外知名药企,科研机构及高校提供新型和高附加值的医药原料、医药中间体及天然产物的订制合成服务。 公司自成立以来,始终坚持客户至上的经营理念,不断进取,赢得了国内外客户的好评与信任,并与其建立了长期稳定的业务关系。公司将一如既往的以严格的质量管理体系,稳定的产品质量为客户提供优质的产品和服务。
佛司可林;弗斯可林生产厂家及价格: