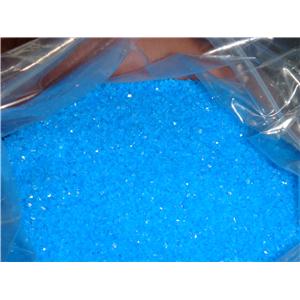 硫酸铜
Shanxi Bewell Chemicals Co
非会员
中文名称:

硫酸铜
英文名称:

Copper Sulphate
Uses: Copper Sulphate is used for extracting the other copper is also used as a textile mordant, agricultural pesticides, fungicides, and for water treatment.

If there any requests, plz feel free to let us know and we would like to make our best quotation for you.


Remarks: 90% Upwards of powder for feed can pass 80-mesh experimentation screen. Pellet size of other type and packing can be produced as users' requirments.
Storage: At dry and ventilated places, preventing damps and rains.
Our
Paradichlorobenzene
is sometimes used as a deodorant for garbage and restrooms, as well as an insecticide for control of fruit borers and ants, and so on.
We also have Zinc Sulphate which have feed grade and industry grade.
If you have any requirement, please feel free to contact us for details, we shall be glad to offer you our best price and service.
contact: Floria
email:florialee658@gmail.com
Shanxi Bewell Chemicals Co., Ltd
MSN: florialee658@hotmail.com
Shan Xi Be Well Chemicals Co., Ltd. is one of the backbone enterprises manufacture and trading chemical raw material products, including the basis Inorganic and Organic Chemicals, Dyestuffs, which are used in Paint & Coating Industry, Rubber Industry, Detergent Industry, Water-treatment Industry, Leather/Texitile Industry, Plasticiser Industry, etc. Our main products are Detergent, Pigment, Paint, plasticizer. Copper sulphate, LABSA, SLES, DOP, STPP, SHMP, SMBS, PVC Resin, Stearic acid, Lithopone, Sulfur Black, Carbon Black, Maleic Anhydride, Adipic Acid, GAA, TDI, Titanium Dioxide, Zinc
内容声明:
以上所展示的信息由商家自行提供,内容的真实性、准确性和合法性由发布商家负责。 商家发布价格指该商品的参考价格,并非原价,该价格可能随着市场变化,或是由于您购买数量不同或所选规格不同而发生变化。最终成交价格,请咨询商家,以实际成交价格为准。请意识到互联网交易中的风险是客观存在的