乙基黄原酸钠
发布时间:

2011-08-11

产品名称:

乙基黄原酸钠

产品英文名称:

sodium ethyl xanthate SEX

CAS号:

140-90-9

产品包装:

iron drum,wooden box

产品价格:

9500元/吨

有效期:

一年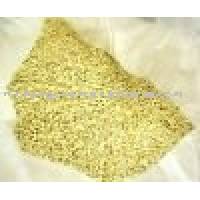 Pale yellow or yellow free flowing powder or pellet with strong odour,soluble in water,
decomposing easily when meeting acid and heat.
Sodium ethyl
xanthate
is a low cost but a high selective collector of available xanthates.
It is most useful in the flotation of sulphide ore and multi-metallic ore for maximum selectivity.
120kg
/iron drum;or 25kg net bag;or 850kg net plywood box(with 25kg or 50kg inner bag)
Keep stored in cool and dry environment.
Keep away from wet, fire and sunshine. To avoid decomposing, don't be used in acid circumstance. When opening the bag, keep away from any warm object. Wear ocular and anti-toxin respirator to protect your skin, eye and nonnasality. In case of contact, wash immediately with plenty of water for at least 15 minutes
xanthate,xanthogenate,mining reagents,flotation reagents,sex,collector reagents
联系人

Jenny

公司名称

Qingdao Ruchang Trading Co., Ltd

电话

532-80980631

手机

传真

532-80980635

邮箱

qdyxh4727@hotmail.com

地址

Room 1808,Huizhi Plaza, 193 Jiangshan Mid Road,Economic & Technological Development Zone, Qingdao, Shandong, China (Mainland)
进入官方账号