Uses and Properties of Dodecylamine as a Collector
Oct 25,2019
Dodecylamine (DDA, CH3(CH2)10CH2NH2, MW = 185.35 g/moL) appears as a yellow liquid with an ammonia-like odor. Insoluble in water and less dense than water. Hence floats on water. Contact may irritate skin, eyes and mucous membranes. May be toxic by ingestion, inhalation or skin absorption. Dodecylamine is frequently used as collectors for silicate flotation, due to low cost, high efficiency, strong frothing property and high temperature resistant[1]. The head groups of DDA can physically adsorb onto mineral surface, while their non-polar hydrocarbons form a hydrophobic monolayer on particle surface, making particles hydrophobic[2]. Dodecylamine's production and use as a cationic surface-active agent may result in its release to the environment through various waste streams.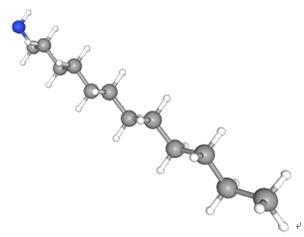 If released to air, a vapor pressure of 8.05×10-3mmHg at 25°C indicates DDA will exist solely as a vapor in the ambient atmosphere. Vapor-phase Dodecylamine will be degraded in the atmosphere by reaction with photochemically-produced hydroxyl radicals; the half-life for this reaction in air is estimated to be 8.4 hours. If released to soil, Dodecylamine is expected to be immobile based upon an estimated Koc of 9,300. A pKa of 10.63 indicates that dodecylamine will exist primarily in the protonated form in moist soils and is not expected to volatilize. A 60% of theoretical BOD in an activated sludge inoculum over a 12 day incubation period suggests that dodecylamine may biodegrade in the environment. If released into water, Dodecylamine is expected to adsorb to suspended solids and sediment in the water column based upon the estimated Koc.
This compound's pKa of 10.63 indicates dodecylamine will exist almost entirely in the protonated form at pH values 5 to 9 and therefore volatilization from water surfaces is not expected to be an important fate process. An estimated BCF of 2,400 suggests the potential for bioconcentration in aquatic organisms is very high. Occupational exposure to dodecylamine may occur through inhalation and dermal contact with this compound at workplaces where dodecylamine is produced or used. Dodecylamine is most commonly used collector in the flotation separation of muscovite from gangue minerals such as quartz and feldspar[3].
References
[1] Z. Liu, Z. Sun, J.-G. Yu, Investigation of dodecylammonium adsorption on mica, albite and quartz surfaces by QM/MM simulation, Mol. Phys. 113 (2015) 3423–3430.
[2] J. Kou, D. Tao, G. Xu, A study of adsorption of dodecylamine on quartz surface using quartz crystal microbalance with dissipation, Colloids Surf. A 368(2010):75–83.
[3] Y. Xu, Y.-L. Liu, D.-D. He, G.-S. Liu, Adsorption of cationic collectors and water on muscovite (001) surface: a molecular dynamics simulation study, Miner.Eng. 53 (2013) 101-107.
Dodecylamine
124-22-1
See also
Uses of 1,8-Diazafluoren-9-one
Oct 25, 2019
Top 9 Benefits of NAC (N-Acetyl Cysteine)
Oct 25, 2019
Lastest Price from Dodecylamine manufacturers
Dodecanamine
US $10.00
/KG
2021-09-07
CAS:

124-22-1

Min. Order:

1KG

Purity:

99%

Supply Ability:

20 tons
Dodecylamine
US $100.00
/Kg/Bag
2021-09-02
CAS:

124-22-1

Min. Order:

1KG

Purity:

99%

Supply Ability:

10 Tons