935-79-5
Product Image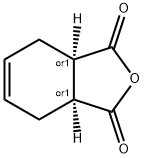 Name
cis-1,2,3,6-Tetrahydrophthalic anhydride
CAS
935-79-5
Synonyms
1,2,3,6-TETRAHYDROPHTHALIC ANHYDRIDE
3A,4,7,7A-TETRAHYDRO-2-BENZOFURAN-1,3-DIONE
4-CYCLOHEXENE-1,2-DICARBOXYLIC ANHYDRIDE
CIS-1,2,3,6-TETRAHYDROPHTHALIC ANHYDRIDE
CIS-4-CYCLOHEXEN-1,2-DIMETHANOIC ANHYDRIDE
CIS-4-CYCLOHEXENE-1,2-DICARBOXYLIC ANHYDRIDE
CIS-4-TETRAHYDROPHTHALIC ANHYDRIDE
CIS-DELTA4-TETRAHYDROPHTHALIC ANHYDRIDE
CIS-THPA
TETRAHYDROPHTHALIC ANHYDRIDE
THPA
1,3-isobenzofurandion,3a,4,7,7a-tetrahydro-,cis-
3-Isobenzofurandione,3a,4,7,7a-tetrahydro-,cis-1
4,7,7a-tetrahydro-3-isobenzofurandioncis-3a
cis-3a,4,7,7a-Tetrahydro-1,3-isobenzofurandione
#ncis-1,2,3,6-Tetrahydrophthalic anhydride
Cis-1,2,3,6-Tetrahydrophthalic
CIS-4-CYCLOHEXENEDICARBOXYLIC ANHYDRIDE: 1,2,3,6-THPA: THPA
CIS-1,2,3,6-TETRAHYDROPHTHALICACIDANHYDRIDE
cis-1,2,3,6-Tetrahydrophthalic anhydride (THPA)
EINECS(EC#)
213-308-7
Molecular Formula
C8H8O3
MDL Number
MFCD00065335
Molecular Weight
152.15
MOL File
935-79-5.mol
Hazard Codes
Xn
Risk Statements
R41:Risk of serious damage to eyes.
R42/43:May cause sensitization by inhalation and skin contact .
R52/53:Harmful to aquatic organisms, may cause long-term adverse effects in the aquatic environment .
Safety Statements
S22:Do not breathe dust .
S24:Avoid contact with skin .
S26:In case of contact with eyes, rinse immediately with plenty of water and seek medical advice .
S37/39:Wear suitable gloves and eye/face protection .
S61:Avoid release to the environment. Refer to special instructions safety data sheet .
RIDADR
UN 2698 8/PG 3
WGK Germany
3
RTECS
GW5775000
TSCA
Yes
HazardClass
8
PackingGroup
III
HS Code
29173990
preparation
A flask containing 500 ml of dry benzene and 196 gm (2 moles) of maleic anhydride is heated with a pan of hot water while butadiene is introduced rapidly (0.6-0.8 liter/min) from a commercial cylinder. The solution is stirred rapidly and the heating is stopped after 3-5 min when the temperature reaches 50°C. In 15-25 min the reaction causes the temperature of the solution to reach 70-75°C. The absorption of the rapid stream of butadiene is nearly complete in 30-40 min. The addition of butadiene is continued at a slower rate for a total of 2\ hr. The solution is poured into a 1-liter beaker which is covered and kept at 0-5°C overnight. The product is collected on a large Buchner funnel and washed with 250 ml of b.p. 35-60°C petroleum ether. A second crop is obtained by diluting the filtrate with an additional 250 ml of petroleum ether. Both crops are dried to constant weight in an oven at 70-80°C to yield 281.5-294.5 gm (96- 97%, m.p. 99-102°C). Recrystallization from ligroin or ether raises the melting point to 103-104°C.

Chemical Properties
WHITE FLAKES
Synthesis Reference(s)
Journal of the American Chemical Society, 64, p. 802, 1942
DOI:
10.1021/ja01256a018
Shanghai Dingfen Chemical Technology Co., Ltd.

Telephone

02157450129 021-57450129-

Contact Fax

021-57450128

Website

http://karmachem.cn
Hubei Baidu Chemical Co., Ltd

Telephone

13627137652 027-59223020-

Contact Fax

027-59223020

Website

http://www.baidu-chem.com/
Hubei Youyicheng Industrial Co., Ltd.

Telephone

19521119694

Contact Fax

86-027-87001826

Website

https://www.chemicalbook.com/ShowSupplierProductsList1031551/0.htm
J & K SCIENTIFIC LTD.

Telephone

400-666-7788 010-82848833-

Contact Fax

86-10-82849933

Website

http://www.jkchemical.com
Alfa Aesar

Telephone

400-610-6006

Contact Fax

021-67582001/03/05

Website

http://chemicals.thermofisher.cn
TCI (Shanghai) Development Co., Ltd.

Telephone

021-67121386 / 800-988-0390

Contact Fax

021-67121385

Website

https://www.tcichemicals.com/CN/zh/
BeiJing Hwrk Chemicals Limted

Telephone

18516978288 0757-86329057-

Contact Fax

0757-86311057

Website

http://www.hwrkchemical.com/
Energy Chemical

Telephone

400-005-6266 021-58432009-

Contact Fax

021-58436166

Website

http://www.energy-chemical.com
Beijing Ouhe Technology Co., Ltd

Telephone

13552068683 010-82967028-

Contact Fax

+86-10-82967029

Website

http://www.ouhechem.com/
JinYan Chemicals(ShangHai) Co.,Ltd.

Telephone

13817811078

Contact Fax

86-021-50426522,50426273

Website

http://www.jingyan-chemical.com/
Puyang Huicheng Electronic Material Co. Ltd.

Telephone

0393-8910800-

Contact Fax

0393-8912775

Website

http://www.huichengchem.com.cn
Adamas Reagent, Ltd.

Telephone

400-600-9262

Contact Fax

Website

http://www.tansoole.com
Shanghai Hanhong Scientific Co.,Ltd.

Telephone

021-54302127

Contact Fax

Website

http://www.chemto.com/ch/
Chengdu XiYa Chemical Technology Co., Ltd.

Telephone

400-990-3999

Contact Fax

0539-6365991

Website

http://www.xiyashiji.com
Syntechem Co.,Ltd

Telephone

Please Email

Contact Fax

E-Mail Inquiry

Website

http://www.syntechem.com/
BEST-REAGENT

Telephone

18981987031 400-1166-196

Contact Fax

Website

http://www.hx-r.com/
Tianjin heowns Biochemical Technology Co., Ltd.

Telephone

400 638 7771

Contact Fax

Website

http://www.heowns.com
Sinopharm Chemical Reagent Co,Ltd.

Telephone

86-21-63210123

Contact Fax

86-21-63290778 86-21-63218885

Website

http://www.reagent.com.cn