9012-09-3
Product Image
Name
CELLULOSE TRIACETATE
CAS
9012-09-3
Synonyms
TRIACETYLCELLULOSE
CELLULOSE TRIACETATE
Cellulose triacetate NF
cellulose triacetate microcrystalline
CELLULOSE TRIACETATE TETRACHLOROETHANE SOLUBLE
size15-25umforthechromatographicseparationofenantiomers
CELLULOSE TRIACETATE MICROCRYSTALLINE, F OR HPLC, <10 UM
CELLULOSE TRIACETATE MICROCRYSTALLINE, FOR HPLC, 15-25 UM
Cellulosetriacetat, (mittlere Molmasse 80 000 bis 120 000 g/mol)
Molecular Formula
C6H7O2(OOCH3)3
MDL Number
MFCD00132680
MOL File
9012-09-3.mol
Molecular Weight
966.841
Appearance
white to slightly yellow pellets or rods
Melting point
120-160 °C
density
1.29 g/cm3
solubility
chloroform: 0.1 g/10 mL leave for 5 h, clear, colorless
form
pellets
color
White to slightly yellow
CAS DataBase Reference
9012-09-3
EPA Substance Registry System
Cellulose, triacetate (9012-09-3)
Chemical Properties
white to slightly yellow pellets or rods
Uses
Cellulose Triacetate Polymer can be used to treat, prevent, and/or alleviate osteoarthritis.
Preparation
Cellulose triacetate is prepared according to the following reaction: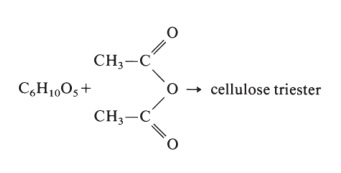 Because cellulose triacetate has a high softening temperature, it must be processed in solution. A mixture of dichloromethane and methanol is a common solvent.
Cellulose triacetate sheeting and film have good gauge uniformity and good optical clarity. Cellulose triacetate products have good dimensional stability and resistance to water and have good folding endurance and burst strength. It is highly resistant to solvents such as acetone. Cellulose triacetate products have good heat resistance and a high dielectric constant.
Safety Statements
24/25
WGK Germany
-
HS Code
39121100
J & K SCIENTIFIC LTD.

Telephone

010-82848833 400-666-7788

Website

http://www.jkchemical.com
Meryer (Shanghai) Chemical Technology Co., Ltd.

Telephone

18621169121

Website

http://www.meryer.com
RYSS TECH LTD

Telephone

400-188-0725 +86 21 34310725 13611771617

Website

http://www.rysstech.com
Thermo Fisher Scientific

Telephone

800-810-5118

Website

http://www.thermo.com.cn
Cheng Du Micxy Chemical Co.,Ltd

Telephone

028-85632863 18048500443

Website

http://www.micxy.com
9ding chemical ( Shanghai) Limited

Telephone

4009209199

Website

http://www.9dingchem.com
Chizhou Kailong Import and Export Trade Co., Ltd.

Telephone

Please Email

Website

https://www.chemicalbook.com/ShowSupplierProductsList16778/0.htm
Shanghai EFE Biological Technology Co., Ltd.

Telephone

021-65675885

Website

http://www.efebio.com
Grader reagent

Telephone

18221735425

Website

http://www.shxinping.net
Wuhan FengyaoTonghui Chemical Products Co., Ltd.

Telephone

027-87466205 15377573527

Website

https://www.chemicalbook.com/ShowSupplierProductsList30440/0_EN.htm
Shanghai Hongye Biotechnology Co. Ltd

Telephone

400-9205774

Website

http://www.glpbio.cn/
Hefei TNJ Chemical Industry Co.,Ltd.

Telephone

0551-65418671

Website

https://www.tnjchem.com
Hebei Crovell Biotech Co Ltd

Telephone

+8619930503285

Website

http://www.guanlang-group.com/
Dayang Chem (Hangzhou) Co.,Ltd.

Telephone

571-88938639 +8617705817739

Website

https://www.dycnchem.com/
Dideu Industries Group Limited

Telephone

029-88380327 +8617691182729

Website

https://www.dideu.com
SIMAGCHEM CORP

Telephone

+86-13806087780 +86-13806087780

Website

http://www.simagchem.com/
Xiamen AmoyChem Co., Ltd

Telephone

592-6051114

Website

http://www.amoychem.com/
Hubei xin bonus chemical co. LTD

Telephone

86-13657291602

Website

https://www.chemicalbook.com/ShowSupplierProductsList1549548/0.htm