7699-45-8
Product Image
Name
Zinc bromide
CAS
7699-45-8
Synonyms
ZINC BROMIDE
ZINC(II) BROMIDE
Zinc bromide (ZnBr2)
Zinc bromide anhydrous
zincbromide(znbr2)
zincdibromide
ZnBr2
ZincbromidePURATREM
Zincbromidewhitepowder
Zinc bromide hydrate
ZINC BROMIDE SOL. D20 2,5 OPTICAL GRADE FOR SHIELDED WINDOWS OF HOT CELLS
ZINC BROMIDE, 98+%
ZINC BROMIDE REAGENT GRADE >=98%
Zinc bromide, 99.999% metals basis
ZINC BROMIDE EXTRA PURE
ZINC BROMIDE, ANHYDROUS, BEADS,-10 MESH , 99.999%
ZINC BROMIDE, 99.9% (METALS BASIS)
ZINC BROMIDE (99.999%-ZN) SPECTRO
ZincBromide(Anhydrous)ForSynthesis
Zinc(II) bromide, anhydrous, 98%
EINECS(EC#)
231-718-4
Molecular Formula
Br2Zn
MDL Number
MFCD00011294
Molecular Weight
225.2
MOL File
7699-45-8.mol
Appearance
White hygroscopic powder
Appearance
Zinc bromide is an odorless white crystalline solid.
mp
394 °C(lit.)
bp
697 °C
density
4.22
refractive index
1.5452
Fp
650°C
storage temp.
APPROX >0°C
form
beads
Stability:
Stable. Forms explosive mixtures with sodium and potassium. Protect from moisture.
Water Solubility
soluble, 447 g/100 mL (20 ºC)
Sensitive
Hygroscopic
Merck
14,10129
Uses
Zinc bromide is a white crystalline powder prepared by dissolving zinc carbonate in hydrobromic acid. Zinc chloride (ZnCl2? is a white granular crystal made by the action of hydrochloric acid on zinc. Zinc iodide (ZnI2) is a white powder made by dissolving zinc in ionic acid. All of the zinc halides are soluble in water, alcohol, and ether. They were all used as halides for the collodion emulsion processes.
CAS DataBase Reference
7699-45-8(CAS DataBase Reference)
NIST Chemistry Reference
Zinc dibromide(7699-45-8)
EPA Substance Registry System
7699-45-8(EPA Substance)
Hazard Codes
C,N
Risk Statements
R34:Causes burns.
R50/53:Very Toxic to aquatic organisms, may cause long-term adverse effects in the aquatic environment .
R50:Very Toxic to aquatic organisms.
Safety Statements
S26:In case of contact with eyes, rinse immediately with plenty of water and seek medical advice .
S36/37/39:Wear suitable protective clothing, gloves and eye/face protection .
S45:In case of accident or if you feel unwell, seek medical advice immediately (show label where possible) .
S60:This material and/or its container must be disposed of as hazardous waste .
S61:Avoid release to the environment. Refer to special instructions safety data sheet .
S29:Do not empty into drains .
RIDADR
UN 3260 8/PG 3
WGK Germany
3
RTECS
ZH1150000
F
3-21
HazardClass
8
PackingGroup
II
HS Code
28275900
Hazardous Substances Data
7699-45-8(Hazardous Substances Data)
General Description
A white crystalline noncombustible solid. The primary hazard is the threat to the environment. Immediate steps should be taken to limit its spread to the environment. ZINC BROMIDE(7699-45-8) is used in medicine, in photography.
Reactivity Profile
Acidic inorganic salts, such as ZINC BROMIDE, are generally soluble in water. The resulting solutions contain moderate concentrations of hydrogen ions and have pH's of less than 7.0. They react as acids to neutralize bases. These neutralizations generate heat, but less or far less than is generated by neutralization of inorganic acids, inorganic oxoacids, and carboxylic acid. They usually do not react as either oxidizing agents or reducing agents but such behavior is not impossible. Many of these compounds catalyze organic reactions.
Air & Water Reactions
Hygroscopic. Water soluble
Health Hazard
Inhalation of dust may irritate nose and throat. Ingestion can cause irritation or corrosion of the alimentary tract; if large amount is swallowed and not thrown up, drowsiness and other symptoms of bromide poisoning may occur. Contact with eyes or skin causes irritation.
Potential Exposure
Zinc bromide is used in photography, rayon manufacturing and medicine
First aid
If this chemical gets into the eyes, remove any contact lenses at once and irrigate immediately for at least 15 minutes, occasionally lifting upper and lower lids. Seek medical attention immediately. If this chemical contacts the skin, remove contaminated clothing and wash immediately with soap and water. Seek medical attention immediately. If this chemical has been inhaled, remove from exposure, begin rescue breathing (using universal precautions, including resuscitation mask) if breathing has stopped and CPR if heart action has stopped. Transfer promptly to a medical facility. When this chemical has been swallowed, get medical attention. Give large quantities of water and induce vomiting. Do not make an unconscious person vomit.
Shipping
UN3260 Corrosive solid, acidic, inorganic, n.o.s., Hazard class: 8; Labels: 8-Corrosive material, Technical Name Required. UN3077 Environmentally hazardous substances, solid, n.o.s., Hazard class: 9; Labels: 9-Miscellaneous hazardous material, Technical Name Required.
Incompatibilities
Keep away from alkali metals. Incompatible with oxidizers (chlorates, nitrates, peroxides, permanganates, perchlorates, chlorine, bromine, fluorine, etc.); contact may cause fires or explosions. Keep away from alkaline materials, strong bases, strong acids, oxoacids, epoxides, metallic sodium, or potassium. Store above 32 ℉/0℃.
Description
Zinc bromide (chemical formula: ZnBr2) is an inorganic compound consisting of zinc and bromide. It is manufactured through the reaction between zinc oxide (alternatively, zinc metal) with hydrobromic acid, alternatively by the reaction between zinc metal and bromine. It is a kind of Lewis acid in organic chemistry. It can be used as the electrolyte in the zinc bromide battery. In oil and natural gas industry, its related solution can be used to displace drilling mud. Moreover, its solution can be used as a transparent shield against radiation. Finally, it can be used as a catalyst for the Stereospecific and regioselective reaction between silacyclopropanes with carbonyl compounds.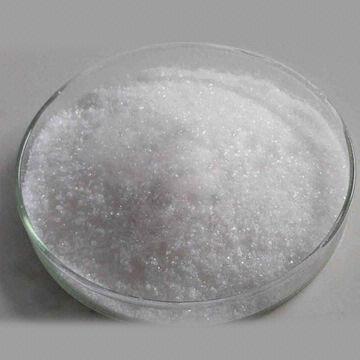 References
https://en.wikipedia.org/wiki/Zinc_bromide
https://www.alfa.com/en/catalog/B22510/
Ji 'nan jinbang environmental protection technology co., ltd

Telephone

15168820891

Contact Fax

Website

https://www.jinbangch.com
Jinan Type Chemical Co., Ltd.

Telephone

13791023792 0531-88062576

Contact Fax

QQ:395595425

Website

http://www.typechem.com
Weifang luze new material co., ltd

Telephone

17176128999

Contact Fax

Website
Tianjin Zhongxin Chemtech Co., Ltd.

Telephone

022-66880623

Contact Fax

86(0)22-66880086

Website

http://www.tjzxchem.com
J & K SCIENTIFIC LTD.

Telephone

400-666-7788 010-82848833-

Contact Fax

86-10-82849933

Website

http://www.jkchemical.com
Meryer (Shanghai) Chemical Technology Co., Ltd.

Telephone

400-660-8290 21-61259100-

Contact Fax

86-21-61259102

Website

http://www.meryer.com
future industrial shanghai co., ltd

Telephone

400-0066-400

Contact Fax

021-55660885

Website

http://www.jonln.com
Alfa Aesar

Telephone

400-610-6006

Contact Fax

021-67582001/03/05

Website

http://chemicals.thermofisher.cn
TCI (Shanghai) Development Co., Ltd.

Telephone

021-67121386 / 800-988-0390

Contact Fax

021-67121385

Website

https://www.tcichemicals.com/CN/zh/
Beijing dtftchem Technology Co., Ltd.

Telephone

13031183356 010-60275820-

Contact Fax

010-60270825

Website

http://www.dtfchem.com
BeiJing Hwrk Chemicals Limted

Telephone

18516978288 0757-86329057-

Contact Fax

0757-86311057

Website

http://www.hwrkchemical.com/
Energy Chemical

Telephone

400-005-6266 021-58432009-

Contact Fax

021-58436166

Website

http://www.energy-chemical.com
Beijing Ouhe Technology Co., Ltd

Telephone

13552068683 010-82967028-

Contact Fax

+86-10-82967029

Website

http://www.ouhechem.com/
JinYan Chemicals(ShangHai) Co.,Ltd.

Telephone

13817811078

Contact Fax

86-021-50426522,50426273

Website

http://www.jingyan-chemical.com/
Jia Xing Isenchem Co.,Ltd

Telephone

18627885956 0573-85285100-

Contact Fax

0573-85285100

Website

https://www.chemicalbook.com/ShowSupplierProductsList14265/0.htm
Adamas Reagent, Ltd.

Telephone

400-600-9262

Contact Fax

Website

http://www.tansoole.com
Accela ChemBio Co.,Ltd.

Telephone

400-0665055

Contact Fax

021-50795055

Website

http://www.shao-yuan.com/
Shanghai Hanhong Scientific Co.,Ltd.

Telephone

021-54302127 021-54306202-

Contact Fax

Website

http://www.chemto.com/ch/