738-70-5
Product Image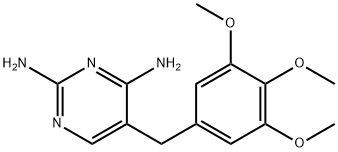 Name
Trimethoprim
CAS
738-70-5
Synonyms
2,4-DIAMINO-5-(3,4,5-TRIMETHOXYBENZYL)PYRIMIDE
2,4-DIAMINO-5-(3',4',5'-TRIMETHOXYBENZYL)PYRIMIDINE
2,4-DIAMINO-5-(3,4,5-TRIMETHOXYBENZYL)PYRIMIDINE
5-(3,4,5-trimethoxybenzyl)-2,4-diaminopyrimidine
5-(3,4,5-TRIMETHOXYBENZYL)PYRIMIDINE-2,4-DIYLAMINE
5-((3,4,5-trimethoxyphenyl)methyl)-2,4-pyrimidinediamine
abaprim
TMP
TRIMETHOPRIM
TRIMETHORPIM
TRIMETOPRIM
2,4-diamino-5-(3,4,5-trimethoxybenzyl)-pyrimidin
2,4-Pyrimidinediamine, 5-[(3,4,5-trimethoxyphenyl)methyl]-
5-((3,4,5-trimethoxyphenyl)-methyl)-4-pyrimidinediamine
5-(3,4,5-Trimethoxybenzyl)-2,4-pyrimidinediamine
Bactramin
BW 56-72
bw56-72
component of Bactrim
Instalac
EINECS(EC#)
212-006-2
Molecular Formula
C14H18N4O3
MDL Number
MFCD00036761
Molecular Weight
290.32
MOL File
738-70-5.mol
Appearance
Crystalline
mp
199-203 °C
storage temp.
2-8°C
solubility
DMSO: soluble
form
white powder
Stability:
Stable. Incompatible with strong oxidizing agents, acids.
Water Solubility
<0.1 g/100 mL at 24 ºC
Usage
Antibacterial.
Merck
9709
CAS DataBase Reference
738-70-5(CAS DataBase Reference)
NIST Chemistry Reference
Trimethoprim(738-70-5)
EPA Substance Registry System
738-70-5(EPA Substance)
Hazard Codes
T
Risk Statements
R25:Toxic if swallowed.
Safety Statements
S45:In case of accident or if you feel unwell, seek medical advice immediately (show label where possible) .
RIDADR
3249
WGK Germany
3
RTECS
UV8225000
F
8-10-21
HazardClass
6.1(b)
PackingGroup
III
HS Code
29335900
Hazardous Substances Data
738-70-5(Hazardous Substances Data)
General Description
Odorless white powder. Bitter taste.
Reactivity Profile
This compound readily forms salts with acids. .
Air & Water Reactions
Insoluble in water.
Fire Hazard
Flash point data for this chemical are not available. TRIMETHOPRIM is probably combustible.
Pyrimethamine class antibacterial agents
Trimethoprim is a lipophilic and weak alkaline pyrimethamine class bacteriostatic agent. It is a white or almost white crystalline powder, odorless, bitter, and slightly soluble in chloroform, ethanol or and acetone, but almost insoluble in water and highly soluble in glacial acetic acid solution. It has an antibacterial spectrum which is similar with sulfa drugs, but with a strong antibacterial effect. It has a good effect on treating Escherichia coli, Proteus mirabilis, Klebsiella pneumoniae, Staphylococcus saprophyticus, and a variety of other gram-positive and negative bacteria. But it is ineffective against Pseudomonas aeruginosa infection. Its minimum inhibitory concentration is often less than 10 mg/L with using alone being easy to cause bacterial resistance, and thus it is generally not used alone, and mainly combined with sulfa drug to form compound preparation for clinical treatment of urinary tract infections, intestinal infections, respiratory infections, dysentery, enteritis, typhoid fever, meningitis, otitis media, meningitis, sepsis and soft tissue infections. It has an effect on treating typhoid and paratyphoid effect which is not less than ampicillin; It can also be combined with long-acting sulfa drugs for prevention and treatment of drug-resistant falciparum malaria.
The basic principle of anti-bacterial of trimethoprim is to interfere with folate metabolism in bacteria. The main mechanism of action is the selective inhibition of the activity of dihydrofolate reductase in bacteria so that dihydrofolate can't be reduced to tetrahydrofolate. Since the synthesis of folic acid is the main part of a nucleic acid biosynthesis, and therefore the product prevents bacterial nucleic acids and proteins synthesis. Moreover, the binding affinity of trimethoprim (TMP) to bacterial dihydrofolate reductase enzyme is five times as strong as that to the mammalian dihydrofolate reductase. The combination between it with sulfa drugs can cause dual blockage to the folic acid biosynthesis metabolism of bacteria so that there is a synergistic effect which will enhance the antibacterial activity of sulfa drugs, and can turn antibacterial effect to bactericidal effect which reduce the drug-resistant strains. In addition, the product can also enhance the antibacterial effects of a variety of other antibiotics (such as tetracycline, gentamicin).
Side effects
Trimethoprim (referred to as the TMP) has a low toxicity with commonly used dose causing rare cases of adverse reactions. Since the product can interfere with folate metabolism which may cause patients' suffer from some adverse reactions of blood systems such as anemia, leukopenia and thrombocytopenia. This is commonly observed in cases of overdose or long duration of application. Therefore, during the treatment, it is necessary to regularly check blood condition. This product has the maximum daily dosage being lower than 0.5g with continuous medication time being less than one week. Upon blood system adverse reaction, the patient can orally administrate folic acid preparation for treatment. This product is not suitable to be simultaneously combined with anticancer drugs, antiepileptic drugs and other folic acid antagonists used; the combination between TMP and SMZ or SD even can cause crystallization of urine. Other adverse reactions also include mild skin rash and gastrointestinal reactions.
Chemical Properties
White crystalline powder, odorless, bitter taste. Melting point: 199-203 °C. It is insoluble in water, ether, benzene, and slightly soluble in chloroform, methanol, highly soluble in acetic acid.
Uses
1. It can be used as a synergistic antimicrobial drugs; it can also be used for treating bacterial infections and coccidiosis in poultry.
2. It is a novel orally administrated broad-spectrum antibiotics. It has a similar antibacterial spectrum with sulfa drugs but with a stronger potency. It is effective in treating a variety of Gram positive and negative bacteria. Since the bacteria is easy to evolve drug resistance to this product, it is not suitable to be used alone as an antimicrobial drug. The combination between trimethoprim and sulfa drugs can enhance the antibacterial activity by several times to several dozens of times. The product is mainly used for being as the synergistic drugs for sulfonamide drugs with a general ratio of 1: 5 for usage. It can also be used as a veterinary drug for treatment of avian sepsis caused by Escherichia coli, salmonellosis, fowl typhoid, cholera, and respiratory system secondary bacterial infections. It can also be used for the treatment of coccidiosis.
3. Application: used as antibacterial synergistic drugs; treat respiratory tract infections, urinary tract infections and intestinal infections when being used alone.
The above information is edited by the chemicalbook of Dai xiongfeng.
Production methods
Use Trimethoxybenzaldehyde as raw material; first condense with methoxypropionitrile to produce 3'4'5'-trimethoxy-2-cyano-3-methoxy-propene; and cyclized together with guanidine nitrate in the presence of methanol/sodium methoxide.
Wuhan Wiseman Bioengineering Co.,Ltd

Telephone

13419526507 027-59506022-

Contact Fax

027-59506022

Website

https://www.chemicalbook.com/ShowSupplierProductsList50897/0.htm
Wuhan Fortuna Chemical Co., Ltd

Telephone

13308628970 027-59207852-

Contact Fax

QQ:702039778

Website

http://www.fortunachem.cn
J & K SCIENTIFIC LTD.

Telephone

400-666-7788 010-82848833-

Contact Fax

86-10-82849933

Website

http://www.jkchemical.com
Meryer (Shanghai) Chemical Technology Co., Ltd.

Telephone

400-660-8290 21-61259100-

Contact Fax

86-21-61259102

Website

http://www.meryer.com
3B Pharmachem (Wuhan) International Co.,Ltd.

Telephone

18930552037 821-50328103-801

Contact Fax

86-21-50328109

Website
future industrial shanghai co., ltd

Telephone

400-0066-400

Contact Fax

021-55660885

Website

http://www.jonln.com
TAIYUAN RHF CO.,LTD.

Telephone

+86 351 7031519

Contact Fax

+86 351 7031519

Website

http://www.rhfchem.com/
TCI (Shanghai) Development Co., Ltd.

Telephone

021-67121386 / 800-988-0390

Contact Fax

021-67121385

Website

https://www.tcichemicals.com/zh/cn/index.html
ShangHai DEMO Chemical Co.,Ltd

Telephone

400-021-7337 qq:2355568890

Contact Fax

0086-21-50182339

Website

http://www.demochem.com
Beijing dtftchem Technology Co., Ltd.

Telephone

13651141086

Contact Fax

86 (10) 60270825

Website

http://www.dtfchem.com/
BeiJing Hwrk Chemicals Limted

Telephone

18600197062 0757-86311057-

Contact Fax

0757-86311057

Website

http://www.hwrkchemical.com/
Energy Chemical

Telephone

400-005-6266 021-58432009

Contact Fax

021-58436166-800

Website

http://www.energy-chemical.com
Wuhan Chemwish Technology Co., Ltd

Telephone

86-027-67849912

Contact Fax

86-027-87531808

Website

http://www.chemwish.com
Beijing Ouhe Technology Co., Ltd

Telephone

13552068683 010-82967028-

Contact Fax

+86-10-82967029

Website

http://www.ouhechem.com/
Jia Xing Isenchem Co.,Ltd

Telephone

18627885956 0573-85285100-

Contact Fax

0573-85285100

Website

https://www.chemicalbook.com/ShowSupplierProductsList14265/0.htm
Adamas Reagent, Ltd.

Telephone

400-600-9262

Contact Fax

Website

http://www.tansoole.com
Nanjing Chemlin Chemical Co., Ltd

Telephone

025-83697070-

Contact Fax

+86-25-83453306

Website

http://www.echemlin.cn
Chemsky(shanghai)International Co.,Ltd.

Telephone

021-50135380

Contact Fax

Website

http://www.shchemsky.com