620-22-4
Product Image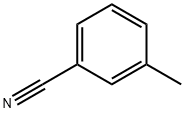 Name
m-Tolunitrile
CAS
620-22-4
Synonyms
3-CYANOTOLUENE
3-METHYLBENZENECARBONITRILE
3-METHYLBENZONITRILE
3-TOLUNITRILE
3-tolyl cyanide
CNT
MCT
M-CYANO TOLUENE
MTN
M-TOLUNITRILE
M-TOLUONITRILE
1-Methyl-3-cyanobenzene
3-methyl-benzonitril
3-Toluenkarbonitril
meta-Tolunitrile
m-Methylbenzonitrile
m-Toluenenitrile
m-Tolylnitrile
m-Tolynitrile
Nitril kyseliny m-toluylove
EINECS(EC#)
210-631-5
Molecular Formula
C8H7N
MDL Number
MFCD00001808
Molecular Weight
117.15
MOL File
620-22-4.mol
Hazard Codes
Xn,Xi
Risk Statements
R20/21/22:Harmful by inhalation, in contact with skin and if swallowed .
R36/37/38:Irritating to eyes, respiratory system and skin .
R36/38:Irritating to eyes and skin .
Safety Statements
S26:In case of contact with eyes, rinse immediately with plenty of water and seek medical advice .
S36/37/39:Wear suitable protective clothing, gloves and eye/face protection .
S45:In case of accident or if you feel unwell, seek medical advice immediately (show label where possible) .
S37:Wear suitable gloves .
S36:Wear suitable protective clothing .
RIDADR
3276
WGK Germany
3
RTECS
XV0525000
Hazard Note
Irritant
HS Code
29269095
General Description
Clear, yellow liquid.
Reactivity Profile
Nitriles, such as M-TOLUNITRILE(620-22-4), may polymerize in the presence of metals and some metal compounds. They are incompatible with acids; mixing nitriles with strong oxidizing acids can lead to extremely violent reactions. Nitriles are generally incompatible with other oxidizing agents such as peroxides and epoxides. The combination of bases and nitriles can produce hydrogen cyanide. Nitriles are hydrolyzed in both aqueous acid and base to give carboxylic acids (or salts of carboxylic acids). These reactions generate heat. Peroxides convert nitriles to amides. Nitriles can react vigorously with reducing agents. Acetonitrile and propionitrile are soluble in water, but nitriles higher than propionitrile have low aqueous solubility. They are also insoluble in aqueous acids.
Air & Water Reactions
Insoluble in water.
Health Hazard
ACUTE/CHRONIC HAZARDS: This chemical causes skin irritation on contact.
Fire Hazard
This chemical is combustible.
Henan Jiuke Chemical Co. LTD

Telephone

17303700913 0370-2071226-

Contact Fax

0370-2071226

Website
Shanghai Huichu Chemical Technology Co., Ltd

Telephone

13917817467 021-57188992-

Contact Fax

021-5718892

Website

http://www.shhuichu.com
J & K SCIENTIFIC LTD.

Telephone

400-666-7788 010-82848833-

Contact Fax

86-10-82849933

Website

http://www.jkchemical.com
Alfa Aesar

Telephone

400-610-6006

Contact Fax

021-67582001/03/05

Website

http://chemicals.thermofisher.cn
TAIYUAN RHF CO.,LTD.

Telephone

+86 351 7031519

Contact Fax

+86 351 7031519

Website

http://www.rhfchem.com/
TCI (Shanghai) Development Co., Ltd.

Telephone

021-67121386 / 800-988-0390

Contact Fax

021-67121385

Website

https://www.tcichemicals.com/CN/zh/
Beijing dtftchem Technology Co., Ltd.

Telephone

13031183356 010-60275820-

Contact Fax

010-60270825

Website

http://www.dtfchem.com
Energy Chemical

Telephone

400-005-6266 021-58432009-

Contact Fax

021-58436166

Website

http://www.energy-chemical.com
Wuhan Chemwish Technology Co., Ltd

Telephone

86-027-67849912

Contact Fax

86-027-87531808

Website

http://www.chemwish.com
Beijing Ouhe Technology Co., Ltd

Telephone

13552068683 010-82967028-

Contact Fax

+86-10-82967029

Website

http://www.ouhechem.com/
Shanghai Sinch Parmaceuticals Tech. Co. Ltd.

Telephone

+86-21-54098501

Contact Fax

+86-21-54096319

Website

http://www.sinch.com.cn/
Adamas Reagent, Ltd.

Telephone

400-600-9262

Contact Fax

Website

http://www.tansoole.com
XiaoGan ShenYuan ChemPharm co,ltd

Telephone

15527768850 0712-2580635-

Contact Fax

Website

http://www.farchem.com/
Chengdu XiYa Chemical Technology Co., Ltd.

Telephone

400-990-3999

Contact Fax

0539-6365991

Website

http://www.xiyashiji.com
Syntechem Co.,Ltd

Telephone

Please Email

Contact Fax

E-Mail Inquiry

Website

http://www.syntechem.com/
BEST-REAGENT

Telephone

18981987031 400-1166-196

Contact Fax

Website

http://www.hx-r.com/
China Langchem Inc.

Telephone

0086-21-58956006

Contact Fax

0086-21-58956100

Website

http://www.langchem.com/
Tianjin heowns Biochemical Technology Co., Ltd.

Telephone

400 638 7771

Contact Fax

Website

http://www.heowns.com