619-42-1
Product Image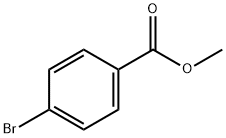 Name
Methyl 4-bromobenzoate
CAS
619-42-1
Synonyms
4-BROMOBENZOIC ACID METHYL ESTER
BRBSME
METHYL 4-BROMOBENZOATE
METHYL P-BROMOBENZOATE
RARECHEM AL BF 0075
4-bromo-benzoicacimethylester
Benzoic acid, 4-bromo-, methyl ester
Benzoic acid, p-bromo-, methyl ester
Benzoicacid,4-bromo-,methylester
p-Bromobenzoic acid, methyl ester
1-BROMO-4-(METHOXYCARBONYL)BENZENE
Methyl 4-bromobenzoate, 98+%
EINECS(EC#)
210-596-6
Molecular Formula
C8H7BrO2
MDL Number
MFCD00013531
Molecular Weight
215.04
MOL File
619-42-1.mol
Appearance
WHITE CRYSTALS OR CRYSTALLINE POWDER
Melting point
77-81 °C (lit.)
mp
77-81 °C(lit.)
Boiling point
252.95°C (rough estimate)
density
1,689 g/cm
3
refractive index
1.5500 (estimate)
storage temp.
Sealed in dry,Room Temperature
form
Crystals or Crystalline Powder
color
White
Water Solubility
Insoluble in water.
Merck
14,1408
BRN
2045132
InChIKey
HANNIMAAZKBBRE-UHFFFAOYSA-N
CAS DataBase Reference
619-42-1(CAS DataBase Reference)
NIST Chemistry Reference
4-Bromobenzoic acid methyl ester(619-42-1)
EPA Substance Registry System
619-42-1(EPA Substance)
Hazard Codes
Xi
Risk Statements
R36/37/38:Irritating to eyes, respiratory system and skin .
Safety Statements
S26:In case of contact with eyes, rinse immediately with plenty of water and seek medical advice .
S24/25:Avoid contact with skin and eyes .
WGK Germany
3
TSCA
Yes
HS Code
29163990
Chemical Properties
WHITE CRYSTALS OR CRYSTALLINE POWDER
Uses
Methyl 4-bromobenzoate is halogenated benzoate used as a reagent in organic synthesis. Methyl 4-bromobenzoate can be used to stimulate microbial dechlorination of PCBs. It is also used in the preparation of stable radioiodinating reagent to label monoclonal antibodies for radiotherapy of cancer.
Purification Methods
Crystallise the ester from MeOH. EtOH (m 81o, also 80.5o, 79.5o) or *C6H6/pet ether (m 78-79o). [Beilstein 9 H 352, 9 III 1405, 9 IV 1017.]
Shanghai TongYuan Chemical Co., Ltd.

Telephone

13701855675 021-69182866-

Contact Fax

021-69182022

Website

http://www.shtychem.com
Shaanxi Dideu Medichem Co. Ltd

Telephone

18109201436

Contact Fax

029-88380327

Website

https://www.dideu.com/
Creasyn Finechem(Tianjin) Co., Ltd.

Telephone

022-83945878-

Contact Fax

022-83945176

Website

http://www.creasyn.com/
J & K SCIENTIFIC LTD.

Telephone

400-666-7788 010-82848833-

Contact Fax

86-10-82849933

Website

http://www.jkchemical.com
Meryer (Shanghai) Chemical Technology Co., Ltd.

Telephone

400-660-8290 21-61259100-

Contact Fax

86-21-61259102

Website

http://www.meryer.com
Alfa Aesar

Telephone

400-610-6006

Contact Fax

021-67582001/03/05

Website

http://chemicals.thermofisher.cn
TAIYUAN RHF CO.,LTD.

Telephone

+86 351 7031519

Contact Fax

+86 351 7031519

Website

http://www.rhfchem.com/
TCI (Shanghai) Development Co., Ltd.

Telephone

021-67121386 / 800-988-0390

Contact Fax

021-67121385

Website

https://www.tcichemicals.com/CN/zh/
ShangHai DEMO Chemical Co.,Ltd

Telephone

400-021-7337 qq:2355568890

Contact Fax

0086-21-50182339

Website

http://www.demochem.com
Beijing dtftchem Technology Co., Ltd.

Telephone

13651141086

Contact Fax

86 (10) 60270825

Website

http://www.dtfchem.com/
BeiJing Hwrk Chemicals Limted

Telephone

18516978288 0757-86329057-

Contact Fax

0757-86311057

Website

http://www.hwrkchemical.com/
Energy Chemical

Telephone

400-005-6266 021-58432009-

Contact Fax

021-58436166

Website

http://www.energy-chemical.com
Capot Chemical Co., Ltd

Telephone

+86 (0) 571 85 58 67 18

Contact Fax

0086-571-85864795

Website

http://www.capotchem.com/
Beijing Ouhe Technology Co., Ltd

Telephone

13552068683 010-82967028-

Contact Fax

+86-10-82967029

Website

http://www.ouhechem.com/
Jia Xing Isenchem Co.,Ltd

Telephone

18627885956 0573-85285100-

Contact Fax

0573-85285100

Website

https://www.chemicalbook.com/ShowSupplierProductsList14265/0.htm
Adamas Reagent, Ltd.

Telephone

400-600-9262

Contact Fax

Website

http://www.tansoole.com
Accela ChemBio Co.,Ltd.

Telephone

400-0665055

Contact Fax

021-50795055

Website

http://www.shao-yuan.com/
Shanghai Longsheng chemical Co.,Ltd.

Telephone

13585536065 021-58099652-8005

Contact Fax

021-58099609

Website

http://www.shlschem.com