603-85-0
Product Image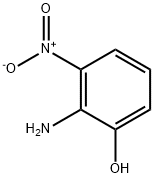 Name
2-Amino-3-nitrophenol
CAS
603-85-0
Synonyms
2-AMINO-3-HYDROXYNITROBENZENE
2-AMINO-3-NITROPHENOL
2-HYDROXY-6-NITROANILINE
2-AMINO-3-NITROPHENOL OEKANAL, 250 MG
3-NITRO-2-AMINOPHENOL
EINECS(EC#)
210-060-1
Molecular Formula
C6H6N2O3
MDL Number
MFCD00010875
Molecular Weight
154.12
MOL File
603-85-0.mol
Appearance
Red-brown powder
Melting point
212-213 °C (lit.)
mp
212-213 °C(lit.)
Boiling point
322.46°C (rough estimate)
density
1.3617 (estimate)
refractive index
1.6890 (rough estimate)
storage temp.
Keep in dark place,Sealed in dry,Room Temperature
pka
11.23±0.25(Predicted)
form
Powder
color
brown-red
BRN
2804307
InChIKey
KUCWUAFNGCMZDB-UHFFFAOYSA-N
CAS DataBase Reference
603-85-0(CAS DataBase Reference)
Hazard Codes
Xi,Xn
Risk Statements
R36/37/38:Irritating to eyes, respiratory system and skin .
R20/21/22:Harmful by inhalation, in contact with skin and if swallowed .
Safety Statements
S26:In case of contact with eyes, rinse immediately with plenty of water and seek medical advice .
S36:Wear suitable protective clothing .
WGK Germany
3
Hazard Note
Irritant
HS Code
29222990
Chemical Properties
Red-brown powder
Beijing Holiyang Chemical Co. Ltd.

Telephone

13718199399 010-69380220-

Contact Fax

010-56108838

Website

https://www.chemicalbook.com/ShowSupplierProductsList16440/0.htm
Wuxi kaiLi biotech Limited

Telephone

13327925606

Contact Fax

Website

http://www.klbiotech.com/index.php
J & K SCIENTIFIC LTD.

Telephone

400-666-7788 010-82848833-

Contact Fax

86-10-82849933

Website

http://www.jkchemical.com
Meryer (Shanghai) Chemical Technology Co., Ltd.

Telephone

400-660-8290 21-61259100-

Contact Fax

86-21-61259102

Website

http://www.meryer.com
3B Pharmachem (Wuhan) International Co.,Ltd.

Telephone

18930552037 821-50328103-801

Contact Fax

86-21-50328109

Website
Alfa Aesar

Telephone

400-610-6006

Contact Fax

021-67582001/03/05

Website

http://chemicals.thermofisher.cn
TAIYUAN RHF CO.,LTD.

Telephone

+86 351 7031519

Contact Fax

+86 351 7031519

Website

http://www.rhfchem.com/
TCI (Shanghai) Development Co., Ltd.

Telephone

021-67121386 / 800-988-0390

Contact Fax

021-67121385

Website

https://www.tcichemicals.com/CN/zh/
Beijing dtftchem Technology Co., Ltd.

Telephone

13651141086

Contact Fax

86 (10) 60270825

Website

http://www.dtfchem.com/
BeiJing Hwrk Chemicals Limted

Telephone

18516978288 0757-86329057-

Contact Fax

0757-86311057

Website

http://www.hwrkchemical.com/
Energy Chemical

Telephone

400-005-6266 021-58432009-

Contact Fax

021-58436166

Website

http://www.energy-chemical.com
Wuhan Chemwish Technology Co., Ltd

Telephone

86-027-67849912

Contact Fax

86-027-87531808

Website

http://www.chemwish.com
Capot Chemical Co., Ltd

Telephone

+86 (0) 571 85 58 67 18

Contact Fax

0086-571-85864795

Website

http://www.capotchem.com/
Beijing Ouhe Technology Co., Ltd

Telephone

13552068683 010-82967028-

Contact Fax

+86-10-82967029

Website

http://www.ouhechem.com/
Nanjing Search Biotech Co., Ltd

Telephone

13515111588 025-81682922-

Contact Fax

025-85860962

Website

http://www.searchbio.com.cn/
Adamas Reagent, Ltd.

Telephone

400-600-9262

Contact Fax

Website

http://www.tansoole.com
Accela ChemBio Co.,Ltd.

Telephone

400-0665055

Contact Fax

021-50795055

Website

http://www.shao-yuan.com/
Shanghai Hanhong Scientific Co.,Ltd.

Telephone

021-54302127 021-54306202-

Contact Fax

Website

http://www.chemto.com/ch/