583-75-5
Product Image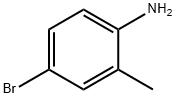 Name
4-BROMO-2-METHYLANILINE
CAS
583-75-5
Synonyms
1-AMINO-4-BROMO-2-METHYLBENZENE
2-AMINO-5-BROMOTOLUENE
2-METHYL-4-BROMOANILINE
4-BROMO-2-METHYLANILINE
4-BROMO-O-TOLUIDINE
5-BROMO-2-AMINOTOLUENE
AKOS BBS-00004345
LABOTEST-BB LT02085203
4-bromo-2-methyl-benzenamin
4-bromo-o-toluidin
o-Toluidine, 4-bromo-
2-Amino-5-bromotoluene~4-Bromo-o-toluidine
2-Methyl-4,5-Dihydrofuran-3-Thiol Acetate
4-bromo-2-methylaniline 2-Amino-5-bromotoluene
4-Bromo-o-toluidine (NH2=1)
4-Bromo-2-methylbenzenamine
EINECS(EC#)
209-519-9
Molecular Formula
C7H8BrN
MDL Number
MFCD00007825
Molecular Weight
186.05
MOL File
583-75-5.mol
Appearance
whitetolightyellowcrystalpowde
Melting point
57-59 °C(lit.)
mp
57-59 °C(lit.)
Boiling point
240 °C(lit.)
bp
240 °C(lit.)
density
1.4700 (rough estimate)
refractive index
1.6190 (estimate)
Fp
>230 °F
storage temp.
Keep in dark place,Sealed in dry,Room Temperature
pka
3.75±0.10(Predicted)
BRN
636521
CAS DataBase Reference
583-75-5(CAS DataBase Reference)
NIST Chemistry Reference
Benzenamine, 4-bromo-2-methyl-(583-75-5)
EPA Substance Registry System
583-75-5(EPA Substance)
Hazard Codes
Xn,Xi
Risk Statements
R20/21/22:Harmful by inhalation, in contact with skin and if swallowed .
R36/37/38:Irritating to eyes, respiratory system and skin .
Safety Statements
S26:In case of contact with eyes, rinse immediately with plenty of water and seek medical advice .
S37/39:Wear suitable gloves and eye/face protection .
RIDADR
UN2811
WGK Germany
3
RTECS
XU4250000
Hazard Note
Harmful
TSCA
Yes
HazardClass
6.1
PackingGroup
III
HS Code
29214200
Chemical Properties
whitetolightyellowcrystalpowde
Purification Methods
Steam distil the aniline and recrystallise it from EtOH. UV: max 292.5nm (H2O). [Beilstein 12 H 838, 12 I 389, 12 II 456, 12 IV 1804.]
Shanghai Harvest Chemical Industrial Co., Ltd.

Telephone

15721252604

Contact Fax

+86-21-51385350

Website

http://www.harvest-chem.com/
Nantong Xiaochang Pharmaceutical Trading Co., Ltd.

Telephone

17602153959 0513-82104991-

Contact Fax

QQ1907456386

Website

https://www.chemicalbook.com/ShowSupplierProductsList1312795/0.htm联系qq:2176423145
Jingjiang Sanjing Biotechnology Co., Ltd.

Telephone

15250805028

Contact Fax

QQ:1048979734

Website

http://www.sanjingchem.com/
J & K SCIENTIFIC LTD.

Telephone

400-666-7788 010-82848833-

Contact Fax

86-10-82849933

Website

http://www.jkchemical.com
Meryer (Shanghai) Chemical Technology Co., Ltd.

Telephone

400-660-8290 21-61259100-

Contact Fax

86-21-61259102

Website

http://www.meryer.com
Alfa Aesar

Telephone

400-610-6006

Contact Fax

021-67582001/03/05

Website

http://chemicals.thermofisher.cn
TCI (Shanghai) Development Co., Ltd.

Telephone

021-67121386 / 800-988-0390

Contact Fax

021-67121385

Website

https://www.tcichemicals.com/CN/zh/
Beijing dtftchem Technology Co., Ltd.

Telephone

13651141086

Contact Fax

86 (10) 60270825

Website

http://www.dtfchem.com/
BeiJing Hwrk Chemicals Limted

Telephone

18516978288 0757-86329057-

Contact Fax

0757-86311057

Website

http://www.hwrkchemical.com/
Energy Chemical

Telephone

400-005-6266 021-58432009-

Contact Fax

021-58436166

Website

http://www.energy-chemical.com
Wuhan Chemwish Technology Co., Ltd

Telephone

86-027-67849912

Contact Fax

86-027-87531808

Website

http://www.chemwish.com
Capot Chemical Co., Ltd

Telephone

+86 (0) 571 85 58 67 18

Contact Fax

0086-571-85864795

Website

http://www.capotchem.com/
Beijing Ouhe Technology Co., Ltd

Telephone

13552068683 010-82967028-

Contact Fax

+86-10-82967029

Website

http://www.ouhechem.com/
JinYan Chemicals(ShangHai) Co.,Ltd.

Telephone

13817811078

Contact Fax

86-021-50426522,50426273

Website

http://www.jingyan-chemical.com/
Shanghai Sinch Parmaceuticals Tech. Co. Ltd.

Telephone

+86-21-54098501

Contact Fax

+86-21-54096319

Website

http://www.sinch.com.cn/
Jia Xing Isenchem Co.,Ltd

Telephone

18627885956 0573-85285100-

Contact Fax

0573-85285100

Website

https://www.chemicalbook.com/ShowSupplierProductsList14265/0.htm
Secco work (Beijing) chemical technology co., LTD

Telephone

010-69755668

Contact Fax

010-69755668

Website

http://www.tjzkgh.com
Tetranov Biopharm

Telephone

13674959855

Contact Fax

Website

http://www.leadmedpharm.com/