583-70-0
Product Image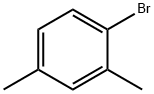 Name
2,4-Dimethylbromobenzene
CAS
583-70-0
Synonyms
1-BROMO-2,4-DIMETHYLBENZENE
2,4-DIMETHYLBROMOBENZENE
4-BROMO-1,3-DIMETHYLBENZENE
4-BROMO-M-XYLENE
1,3-Dimethyl-4-bromobenzene
1-bromo-2,4-dimethyl-benzen
m-Xylene, 4-bromo-
4-Bromo-1,3-dimethylbenzene~2,4-Dimethylbromobenzene
4-BROMO-M-XYLENE 97%
4-BROMO-M-XYLENE, TECH., 90%
4-Bromo-m-xylene,97%
4-Bromo-m-xylene,98%
BENZENE,1-BROMO-2,4-DIMETHYL
4-Bromo-m-xylene, 85%, tech.
4-BROMO-M-XYLENE, TECH. APPROX. 70%, REMAINDER 2-BROMO-M-XYLENE
EINECS(EC#)
209-517-8
Molecular Formula
C8H9Br
MDL Number
MFCD00000071
Molecular Weight
185.06
MOL File
583-70-0.mol
Hazard Codes
Xi
Risk Statements
R36/37/38:Irritating to eyes, respiratory system and skin .
Safety Statements
S26:In case of contact with eyes, rinse immediately with plenty of water and seek medical advice .
S36:Wear suitable protective clothing .
S37/39:Wear suitable gloves and eye/face protection .
WGK Germany
3
HS Code
29039990
J & K SCIENTIFIC LTD.

Telephone

400-666-7788 010-82848833-

Contact Fax

86-10-82849933

Website

http://www.jkchemical.com
Meryer (Shanghai) Chemical Technology Co., Ltd.

Telephone

400-660-8290 21-61259100-

Contact Fax

86-21-61259102

Website

http://www.meryer.com
Alfa Aesar

Telephone

400-610-6006

Contact Fax

021-67582001/03/05

Website

http://chemicals.thermofisher.cn
TCI (Shanghai) Development Co., Ltd.

Telephone

021-67121386 / 800-988-0390

Contact Fax

021-67121385

Website

https://www.tcichemicals.com/CN/zh/
BeiJing Hwrk Chemicals Limted

Telephone

18516978288 0757-86329057-

Contact Fax

0757-86311057

Website

http://www.hwrkchemical.com/
Energy Chemical

Telephone

400-005-6266 021-58432009-

Contact Fax

021-58436166

Website

http://www.energy-chemical.com
Capot Chemical Co., Ltd

Telephone

+86 (0) 571 85 58 67 18

Contact Fax

0086-571-85864795

Website

http://www.capotchem.com/
JinYan Chemicals(ShangHai) Co.,Ltd.

Telephone

13817811078

Contact Fax

86-021-50426522,50426273

Website

http://www.jingyan-chemical.com/
Jia Xing Isenchem Co.,Ltd

Telephone

18627885956 0573-85285100-

Contact Fax

0573-85285100

Website

https://www.chemicalbook.com/ShowSupplierProductsList14265/0.htm
Secco work (Beijing) chemical technology co., LTD

Telephone

010-69755668

Contact Fax

010-69755668

Website

http://www.tjzkgh.com
Adamas Reagent, Ltd.

Telephone

400-600-9262

Contact Fax

Website

http://www.tansoole.com
Shanghai Hanhong Scientific Co.,Ltd.

Telephone

021-54302127

Contact Fax

Website

http://www.chemto.com/ch/
China DongFan Chemical Co.,LTD

Telephone

86-0571-85151182

Contact Fax

86-0571-85151182

Website

http://www.dongfan-chem.com
XiaoGan ShenYuan ChemPharm co,ltd

Telephone

15527768850 0712-2580635-

Contact Fax

Website

http://www.farchem.com/
Syntechem Co.,Ltd

Telephone

Please Email

Contact Fax

E-Mail Inquiry

Website

http://www.syntechem.com/
China Langchem Inc.

Telephone

0086-21-58956006

Contact Fax

0086-21-58956100

Website

http://www.langchem.com/
Tianjin heowns Biochemical Technology Co., Ltd.

Telephone

400 638 7771

Contact Fax

Website

http://www.heowns.com
Sinopharm Chemical Reagent Co,Ltd.

Telephone

86-21-63210123

Contact Fax

86-21-63290778 86-21-63218885

Website

http://www.reagent.com.cn