548-04-9
Product Image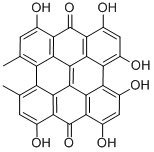 Name
Hypericin
CAS
548-04-9
Synonyms
1,3,4,6,8,13-HEXAHYDROXY-10,11-DIMETHYLPHENANTHRO[1,10,9,8-OPQRA]PERYLENE-7,14-DIONE
1,3,4,6,8,13-HEXAHYDROXY-10,11-DIMETHYLPHENANTHROL(1,10,9,8,OPQRA)PERYLENE-7,14-DIONE
4,5,7,4',5',7'-Hexahydroxy-2,2'-dimethylnaphthodianthrone
CYCLOSAN
CYCLO-WERROL
HYPERICIN
HYPERICIN (NATIVE)
HYPERICUM RED
MYCOPOPHYRIN
MYCOPORPHYRIN
ST JOHN'S WORT EXTRACT
ST JOHN'S WORT POWDER
hypericinfromhypericumperforatum
Hypericin Hypericum perforatum
Hypericine
Hypericins
VIMRxyn
Phenanthro1,10,9,8-opqraperylene-7,14-dione, 1,3,4,6,8,13-hexahydroxy-10,11-dimethyl-, stereoisomer
ST.JOHNSWORTEXTRACT,4:1,POWDER
HYPERICIN(P)
EINECS(EC#)
208-941-0
Molecular Formula
C30H16O8
MDL Number
MFCD02100619
Molecular Weight
504.44
MOL File
548-04-9.mol
Melting point
299-301°C
mp
299-301°C
Boiling point
1020.3±65.0 °C(Predicted)
density
1.915±0.06 g/cm3(Predicted)
RTECS
SF8472000
storage temp.
-20°C
solubility
1 M NaOH: 10 mg/mL
pka
6.91±0.20(Predicted)
form
powder
color
black
Water Solubility
Soluble in ethanol, dimethyl sulfoxide, methanol, acetone, ethylmethylketone, pyridine and sodium hydroxide. Insoluble in water.
Sensitive
Light Sensitive
Merck
14,4863
BRN
1917913
InChIKey
BTXNYTINYBABQR-UHFFFAOYSA-N
CAS DataBase Reference
548-04-9(CAS DataBase Reference)
Hazard Codes
Xn
Risk Statements
R22:Harmful if swallowed.
R40:Limited evidence of a carcinogenic effect.
Safety Statements
S22:Do not breathe dust .
S36:Wear suitable protective clothing .
RIDADR
2811
WGK Germany
3
F
8
HS Code
29145090
Description
An anthroquinone derivative that is naturally found in the flower of
H. perforatum
(St. John's wort) and has antidepressant, antiviral, and anticancer activities. Hypericin inhibits neuronal uptake of serotonin, norepinephrine, dopamine, GABA and L-glutamate, contributing to its antidepressant effects. It exerts broad spectrum phototoxic affects (IC
50
= 140 - 1,570 nM) through induction of apoptotic signaling and formation of reactive oxygen species (ROS) in cancer cells. Hypericin also has
in vitro
activity, which can be enhanced with photo-activation, against a variety of viruses including HIV, influenza virus, hepatitis C, murine cytolomegalovirus, and herpes viruses.
Chemical Properties
Powder
General Description
Produced by HWI Analytik
Exact content can be found on the certificate
Biological Activity
Photosensitive antiviral, anticancer and antidepressant agent derived from Hypericum perforatum (St John's wort). Inactivates enveloped viruses (including HIV), inhibits tyrosine kinases (IC 50 = 7.5 μ M) and is preferentially cytotoxic to tumor cells upon stimulation by visible light.
Biochem/physiol Actions
Primary TargetPKC
Purification Methods
Crystallise hypericin from pyridine by addition of methanolic HCl. [Beilstein 8 IV 3761.]
Hypericum perforatum extracts
Hypericin is an extract of Hypericum perforatum L.In 1957. It is first isolated from the Garcinia species Hypericum perforatum by human beings. Hypericin belongs to the bianthrone compounds, and it is the most biologically active substances. Hypericin is a yellowish brown to brown mobile powder, with slightly bitter taste. It is soluble in water, and can emit a special fragrance. It can inhibit the central nervous and has a sedative effect. Adding it to health care products can enhance immunity. It is also used as antidepressant drugs in Europe (especially in Germany). Hypericin also has a strong anti-viral effect, which can directly act on swine fever, foot and mouth disease and other viruses. In addition, it also has a good effect on killing highly pathogenic avian influenza virus.
Hypericum perforatum is one of the world's best-selling herbs in recent years, mainly containing hyperoside, quercetin, chlorogenic acid, caffeic acid, imanin, hypericin and other ingredients.
Hypericin is a few thousandths of the whole Hypericum perforatum. There are certain requirements for its extraction and testing. Methanol extraction method is common used in the past. Due to the toxicity of methanol, now the method is converted to use ethanol to obtain the active ingredient.
Indications
Hypericin is an anti-virus and pure Chinese medicine preparations. It is the first choice for the prevention and treatment of avian influenza drugs.
1, avian influenza, atypical Newcastle disease, infectious bronchitis, avian infectious laryngotracheitis , bursa of Fabricius, duck plague, duck viral hepatitis, egg drop syndrome and other viral diseases.
2, poultry fever caused by high fever, dyspnea, cough, head and face swelling, crown hair purple, lack of energy, decreased feed intake, egg drop, producing more abnormal eggs.
3, for classical swine fever, blue ear disease, parvovirus, viral enteritis, infectious gastroenteritis and immune dysfunction.
4, Hypericin has a strong anti-viral effect both in vivo and in vitro. It has a strong inhibitory effect on the early replication of HIV. Hypericin can lead to cancer cell programmed death, with anti-cancer effect. It has a enhanced immune function for activating mononuclear phagocytic cells. In addition, it has a strong role in killing the highly pathogenic H5N1 and H9N2 subtype of avian influenza virus.
Uses
(1) Antidepressant, increase immunity.
(2) For the treatment of antidepressants, increase immunity.
Chengdu Alfa Biotechnology Co.,Ltd.

Telephone

028-85142057 / 18030712385

Contact Fax

028-85142057 QQ:3591697873

Website

http://www.alfabiotech.cn
Guangzhou Shunyi Pharmaceutical Chemical Co., Ltd.

Telephone

15360832999

Contact Fax

QQ:1506687511

Website

https://www.chemicalbook.com/supplier/15044891/?tdsourcetag=s_pcqq_aiomsg
Chengdu Biopurify Phytochemicals Ltd.

Telephone

18602888327 028-82633397-

Contact Fax

+86-28-82633165

Website

http://www.biopurify.cn
Kono Chem Co.,Ltd

Telephone

18100218515 181-0021-8515

Contact Fax

029-86107037

Website

http://www.konochemical.com
J & K SCIENTIFIC LTD.

Telephone

400-666-7788 010-82848833-

Contact Fax

86-10-82849933

Website

http://www.jkchemical.com
3B Pharmachem (Wuhan) International Co.,Ltd.

Telephone

18930552037 821-50328103-801

Contact Fax

86-21-50328109

Website
Chembest Research Laboratories Limited

Telephone

021-20908456-

Contact Fax

021-58180499

Website

http://www.BioChemBest.com
Alfa Aesar

Telephone

400-610-6006

Contact Fax

021-67582001/03/05

Website

http://chemicals.thermofisher.cn
Energy Chemical

Telephone

400-005-6266 021-58432009-

Contact Fax

021-58436166

Website

http://www.energy-chemical.com
Nanjing Chemlin Chemical Co., Ltd

Telephone

025-83697070

Contact Fax

+86-25-83453306

Website

http://www.echemlin.cn
Chemsky(shanghai)International Co.,Ltd.

Telephone

021-50135380

Contact Fax

Website

http://www.shchemsky.com
XiaoGan ShenYuan ChemPharm co,ltd

Telephone

15527768850 0712-2580635-

Contact Fax

Website

http://www.farchem.com/
Chengdu XiYa Chemical Technology Co., Ltd.

Telephone

400-990-3999

Contact Fax

0539-6365991

Website

http://www.xiyashiji.com
BEST-REAGENT

Telephone

18981987031 400-1166-196

Contact Fax

Website

http://www.hx-r.com/
Tianjin heowns Biochemical Technology Co., Ltd.

Telephone

400 638 7771

Contact Fax

Website

http://www.heowns.com
Shenzhen Sungening Bio-Tech Co., Ltd

Telephone

+86-0755-89668383

Contact Fax

+86-0755-89594066/4038

Website

http://www.sungening.com/en
Beijing Taiya Jie Technology Development Co., Ltd.

Telephone

13552411790 021-33690831-8001

Contact Fax

021-33690831

Website

http://www.tyjchem.cn
Spectrum Chemical Manufacturing Corp.

Telephone

18616765336

Contact Fax

021-57711696

Website

https://www.spectrumchemical.com/OA_HTML/index.jsp?minisite=10020&respid=22372&language=US