4584-46-7
Product Image
Name
2-Dimethylaminoethyl chloride hydrochloride
CAS
4584-46-7
Synonyms
1-CHLORO-2-DIMETHYLAMINOETHANE HYDROCHLORIDE
2-chloroethyldimethylammonium chloride
2-CHLOROETHYL-N,N-DIMETHYLAMMONIUM CHLORIDE
2-CHLORO-N,N-DIMETHYLETHYLAMINE HCL
2-CHLORO-N,N-DIMETHYLETHYLAMINE HYDROCHLORIDE
2-(DIMETHYLAMINO)ETHYL CHLORIDE HCL
2-DIMETHYLAMINOETHYL CHLORIDE HYDROCHLORIDE
B-CHLOROETHYLDIMETHYLAMINE HYDROCHLORIDE
BETA-CHLOROETHYLDIMETHYLAMINE HCL
BETA-DIMETHYLAMINOETHYL CHLORIDE HYDROCHLORIDE
DIMETHYLAMINOETHYLCHLORIDE HCL
DIMETHYLAMINOETHYL CHLORIDE HYDROCHLORIDE
DMC
N-(2-CHLOROETHYL)DIMETHYLAMINE HYDROCHLORIDE
N-(2-CHLOROETHYL)-N,N-DIMETHYLAMMONIUM CHLORIDE
N,N-Dimethylamino chloroethane hydrochloride
N,N-DIMETHYLAMINOETHYL CHLORIDE HYDROCHLORIDE
N,N-DIMETHYL-N-2-CHLOROETHYLAMMONIUM CHLORIDE
2-chloro-n,n-dimethyl-ethanaminhydrochloride
2-chloro-n,n-dimethyl-ethylaminhydrochloride
EINECS(EC#)
224-970-1
Molecular Formula
C4H11Cl2N
MDL Number
MFCD00012516
Molecular Weight
144.04
MOL File
4584-46-7.mol
Appearance
Colorless to beige crystals
mp
201-204 °C(lit.)
Water Solubility
2000 g/L (20 ºC)
Sensitive
Hygroscopic
Usage
2-Chloro-N,N-dimethylethylamine hydrochloride (DMC) is used as intermediate for the synthesis of pharmaceuticals (e.g. bephenium hydroxnaphthoate, diltiazem, mepyramine and phenyltoloxamine). Product Data Sheet
BRN
3591234
CAS DataBase Reference
4584-46-7(CAS DataBase Reference)
EPA Substance Registry System
4584-46-7(EPA Substance)
Appearance
2-Dimethylaminoethyl chloride hydrochloride is white to Off-White Solid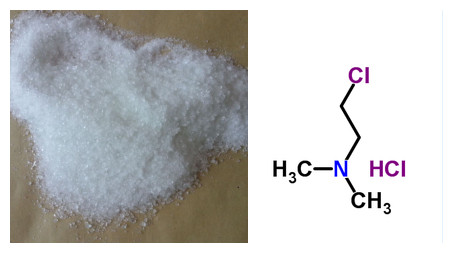 Applications
2-Chloro-N,N-dimethylethylamine is a widely used as an intermediate and starting reagent for organic synthesis.
Dangerous Goods Info
Not a dangerous good if item is equal to or less than 1g/ml and there is less than 100g/ml in the package
Hazard Codes
T,N,T+
Risk Statements
R22:Harmful if swallowed.
R24:Toxic in contact with skin.
R36/37/38:Irritating to eyes, respiratory system and skin .
R68:Possible risk of irreversible effects.
R51/53:Toxic to aquatic organisms, may cause long-term adverse effects in the aquatic environment .
R26:Very Toxic by inhalation.
Safety Statements
S26:In case of contact with eyes, rinse immediately with plenty of water and seek medical advice .
S36/37:Wear suitable protective clothing and gloves .
S45:In case of accident or if you feel unwell, seek medical advice immediately (show label where possible) .
S61:Avoid release to the environment. Refer to special instructions safety data sheet .
S36/37/39:Wear suitable protective clothing, gloves and eye/face protection .
RIDADR
UN 2811 6.1/PG 3
WGK Germany
3
RTECS
KQ9020000
HazardClass
6.1
PackingGroup
III
HS Code
29211980
Safety Profile
Poison by intraperitoneal and subcutaneous routes. Questionable carcinogen with experimental neoplastigenic data. Mutation data reported. When heated to decomposition it emits very toxic fumes of Cland NOx
Jinan Jianfeng Chemical Co., Ltd.

Telephone

0531-88110457-

Contact Fax

Website

http://www.pharmachemm.com
HUBEI HENGJINGRUI CHEMICALCO , LTD

Telephone

15871798329 027-52345113-

Contact Fax

027-52345113

Website

https://www.chemicalbook.com/Supplier/15270121/
Shandong RuiYue Biotechnology Co., Ltd.

Telephone

18805314509 0531-88581623-

Contact Fax

0531-88581623

Website

http://www.ruiyuepharm.com
Shandong Sihuan Pharmaceutical Co., Ltd.

Telephone

15662774383 0531-88990216-

Contact Fax

QQ:310772441

Website

https://www.sdsihuanpharm.com/
Shanghai Bank Pharma Limited

Telephone

021-54220652

Contact Fax

+86-21-50840321 QQ:2221346380

Website

https://www.chemicalbook.com/ShowSupplierProductsList20106/0.htm
Meryer (Shanghai) Chemical Technology Co., Ltd.

Telephone

400-660-8290 21-61259100-

Contact Fax

86-21-61259102

Website

http://www.meryer.com
Alfa Aesar

Telephone

400-610-6006

Contact Fax

021-67582001/03/05

Website

http://chemicals.thermofisher.cn
Beijing dtftchem Technology Co., Ltd.

Telephone

13651141086

Contact Fax

86 (10) 60270825

Website

http://www.dtfchem.com/
Energy Chemical

Telephone

400-005-6266 021-58432009-

Contact Fax

021-58436166

Website

http://www.energy-chemical.com
Beijing Ouhe Technology Co., Ltd

Telephone

13552068683 010-82967028-

Contact Fax

+86-10-82967029

Website

http://www.ouhechem.com/
JinYan Chemicals(ShangHai) Co.,Ltd.

Telephone

13817811078,021-50426030

Contact Fax

86-021-50426522,50426273

Website

http://www.jingyan-chemical.com/
Jia Xing Isenchem Co.,Ltd

Telephone

18627885956 0573-85285100-

Contact Fax

0573-85285100

Website

https://www.chemicalbook.com/ShowSupplierProductsList14265/0.htm
Nanjing Chemlin Chemical Co., Ltd

Telephone

025-83697070

Contact Fax

+86-25-83453306

Website

http://www.echemlin.cn
Shanghai Hanhong Scientific Co.,Ltd.

Telephone

021-54302127 021-54306202-

Contact Fax

+86-21-64545202

Website

http://www.chemto.com/ch/
Chemsky(shanghai)International Co.,Ltd.

Telephone

021-50135380

Contact Fax

Website

http://www.shchemsky.com
Chengdu XiYa Chemical Technology Co., Ltd.

Telephone

400-990-3999

Contact Fax

0539-6365991

Website

http://www.xiyashiji.com
BEST-REAGENT

Telephone

18981987031 400-1166-196

Contact Fax

Website

http://www.hx-r.com/
RYSS TECH LTD

Telephone

400-188-0725 +86 21 34310725 13611771617

Contact Fax

+86 21 34311076

Website

http://www.rysstech.com