435-97-2
Product Image
Name
PHENPROCOUMON
CAS
435-97-2
Synonyms
MARCUMA
Fencumar
Liquamar
Marcumar
Marcoumar
RO 1-4849
Falithiom
Falithrom
Phenprocumon
PHENPROCOUMON
Phenprocumone
Phenprocoumarol
Phenprocoumarole
Phenprocoumon (Marcumar)
PHENYLPROPYL-4-HYDROXYCOUMARIN
3-(1'-Phenyl-propyl)-4-oxycoumarin
3-(α-Ethylbenzyl)-4-hydroxycoumarin
3-(1-Phenylpropyl)-4-hydroxycoumarin
4-hydroxy-3-(1-phenylpropyl)coumarin
3-(alpha-Ethylbenzyl)-4-hydroxycoumarin
Coumarin, 3-(alpha-ethylbenzyl)-4-hydroxy-
4-Hydroxy-3-(1-phenylpropyl)-2H-chromen-2-on
4-Hydroxy-3-(1-phenylpropyl)-2H-chromen-2-one
4-Hydroxy-2-oxo-3-(1-phenylpropyl)-2H-chromene
2-hydroxy-3-[(1S)-1-phenylpropyl]-4H-chroMen-4-one
4-Hydroxy-3-(1-phenylpropyl)-2H-1-benzopyran-2-one
2H-1-Benzopyran-2-one, 4-hydroxy-3-(1-phenylpropyl)-
EINECS(EC#)
207-108-9
Molecular Formula
C18H16O3
MDL Number
MFCD00865273
MOL File
435-97-2.mol
Molecular Weight
280.32
Melting point
179-180°
Boiling point
463.2±45.0 °C(Predicted)
density
1.261±0.06 g/cm3(Predicted)
storage temp.
Sealed in dry,2-8°C
pka
4.50±1.00(Predicted)
EPA Substance Registry System
Phenprocoumon (435-97-2)
Chemical Properties
White Solid
Originator
Liquamar ,Organon ,US,1958
Uses
Phenprocoumon is known for being an oral anti-coagulant.
Definition
ChEBI: A hydroxycoumarin that is 4-hydroxycoumarin which is substituted at position 3 by a 1-phenylpropyl group.
Manufacturing Process
8.3 parts by weight of powdered sodium in 300 parts by volume of benzene, 100 parts by weight of diethyl (1'-phenylpropyl)-malonate and 72 parts by weight of acetylsalicylic acid chloride are reacted together to form diethyl 1(o-acetoxybenzoy1)-1-(1'-phenylpropyl)malonate, which boils at 195°198°C/0.03 mm Hg.
10.3 parts of weight of diethyl 1-(o-acetoxybenzoyl)-1-(1'-phenylpropyl)malonate are dissolved in 60 parts by volume of absolute ether and to this solution are added portion. wise at 10°C, while stirring, 2.6 parts by weight of sodium methylate. The reaction mixture is stirred for 4 hours, whereupon it is poured into ice water. The ether solution is washed neutral with ice water. After having distilled off the ether, a thick oil consisting of 3-carbethoxy-3-(1'phenylpropyl)-4-oxo-dihydrocoumarinis obtained. This compound crystallized in butyl oxide and has a MP of 108°-109°C.
The 3-carbethoxy-3-(1'-phenylpropyl)-4-oxo-dihydrocoumarinmay be hydrolyzed and decarboxylated as follows. The crude product is heated to 85°C for 1/2 hour with 100 parts by volume of 5% aqueous sodium hydroxide, while agitating or stirring. To remove traces of undissolved oil, the cooled solution is treated with 1 part by weight of charcoal, whereupon it is filtrated and acidified to Congo reaction with dilute sulfuric acid. The 3-(1'phenylpropyl)-4-hydroxycoumarin formed is separated off and recrystallized in 80% ethanol, whereupon it melts at 178°-179°C according to US Patent 2,701,804.
Brand name
Liquamar (Organon).
Therapeutic Function
Anticoagulant
Chemical Synthesis
Phenprocoumon, 3-(α-ethylbenzyl)-4-hydroxycoumarin (24.1.14), is synthesized by acylating sodium salts of diethyl ester (1-phenylpropyl)butyric acid with acetylsalicylic acid chloride, which forms the compound 24.1.12, which upon reaction with sodium ethoxide cyclizes to 3-(α-ethylbenzyl)-2-carboethoxy-4-hydroxycoumarin (24.1.13). Alkaline hydrolysis of this product and further decarboxylation gives phenprocoumon(24.1.14).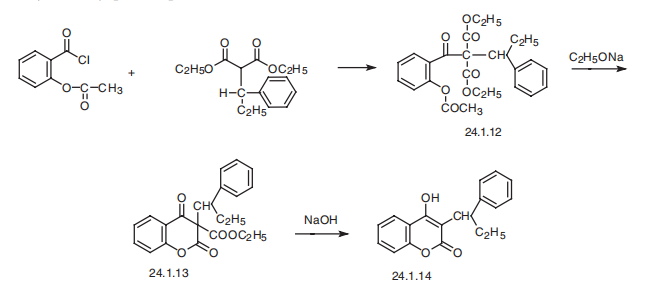 J & K SCIENTIFIC LTD.

Telephone

010-82848833 400-666-7788

Website

http://www.jkchemical.com
Chemsky(shanghai)International Co.,Ltd.

Telephone

021-50135380

Website

http://www.shchemsky.com
Shanghai Sunway Pharmaceutical Technology Co., Ltd

Telephone

13761588971

Website

http://www.sunwaypharm.com
Beijing HuaMeiHuLiBiological Chemical

Telephone

010-56205725

Website

http://www.huabeibiochem.com/
Wuhan Kaymke Chemical Co., Ltd.,

Telephone

027-87342388 18086026008

Website

http://www.kaymke.com
Bide Pharmatech Ltd.

Telephone

021-61629020-8031 400-1647117

Website

http://www.bidepharm.com
ChemStrong Scientific Co.,Ltd

Telephone

0755-66853366 15920483169

Website

http://www.chem-strong.com
AdooQ Bioscience CHINA

Telephone

025-58849295

Website

http://www.adooq.cn
Shanghai Synchem Pharma Co., ltd

Telephone

021-61984905-1 18016477331

Website

http://www.synchem-pharma.com
ShangHai Biochempartner Co.,Ltd

Telephone

17754423994 17754423994

Website

https://www.biochempartner.com
Aikon International Limited

Telephone

025-58851090 13611564524

Website

http://www.aikonchem.com
Shenzhen Polymeri Biochemical Technology Co., Ltd.

Telephone

+86-400-002-6226 +86-13028896684

Website

http://www.rrkchem.com
Biochempartner

Telephone

0086-13720134139

Website

http://www.biochempartner.com/
Honest Joy Holdings Limited

Telephone

755-36694831 +8613798234863

Website

http://www.diethyl-maleate.com/
Dayang Chem (Hangzhou) Co.,Ltd.

Telephone

571-88938639 +8617705817739

Website

https://www.dycnchem.com/
AFINE CHEMICALS LIMITED

Telephone

0571-85134551

Website

http://www.afinechem.com/index.html
ChemeGen(Shanghai) Biotechnology Co.,Ltd.

Telephone

18717932730

Website

http://www.chemegen.com
Guangzhou Younan Technology Co., Ltd

Telephone

020-31703347 13502246683

Website

http://www.ubiochem.com