33795-24-3
Product Image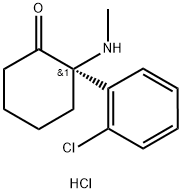 Name
(S)-(+)-Ketamine hydrochloride
CAS
33795-24-3
Synonyms
2-(2-CHLOROPHENYL)-2-(METHYLAMINO)-CYCLOHEXANONE HCL
2-(2-CHLOROPHENYL)-2-(METHYLAMINO)CYCLOHEXANONE HYDROCHLORIDE
KETAMINE HCL
(+/-)-KETAMINE HYDROCHLORIDE
KETAMINE HYDROCHLORIDE
S-(+)-KETAMINE HCL
S(+)-KETAMINE HYDROCHLORIDE
S-KETAMINE
(-)-(R)-Ketamine hydrochloride
(R)-(+)-Ketamine hydrochloride
Cyclohexanone, 2-(2-chlorophenyl)-2-(methylamino)-, hydrochloride, (2R)-(9CI)
Cyclohexanone, 2-(2-chlorophenyl)-2-(methylamino)-, hydrochloride, (R)-
Cyclohexanone, 2-(o-chlorophenyl)-2-(methylamino)-, hydrochloride, (+)-(8CI)
KANAMYCINSULFATE
(2R)-2-(2-Chlorophenyl)-2-(methylamino)cyclohexanone hydrochloride
EINECS(EC#)
217-484-6
Molecular Formula
C13H17Cl2NO
MDL Number
MFCD00051420
Molecular Weight
274.19
MOL File
33795-24-3.mol
Appearance
White or almost white, crystalline powder
storage temp.
2-8°C
solubility
H
2
O: 200 mg/mL
form
solid
color
white
Uses
General anaesthetic
CAS DataBase Reference
33795-24-3(CAS DataBase Reference)
Hazard Codes
Xn
Risk Statements
R22:Harmful if swallowed.
R36/37/38:Irritating to eyes, respiratory system and skin .
R40:Limited evidence of a carcinogenic effect.
Safety Statements
S26:In case of contact with eyes, rinse immediately with plenty of water and seek medical advice .
S36:Wear suitable protective clothing .
WGK Germany
3
RTECS
GW1400000