3034-22-8
Product Image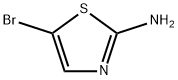 Name
2-Amino-5-bromothiazole
CAS
3034-22-8
Synonyms
2-AMINO-5-BROMOTHIAZOLE
5-BROMO-THIAZOL-2-YLAMINE
TIMTEC-BB SBB000204
5-bromo-1,3-thiazol-2-ylamine
5-BROMO-2-AMINOTHIAZOLE HYDROBROMIDE
2-Thiazolamine, 5-bromo-
2-AMINO-5-BROMO-1,3-THIAZOLE
5-Bromo-2-aminothiazole hydrobromide, HPLC 95%
2-AMINO-5-BROMOTHIAZOLE MONOHYDROBROMIDE 95%
5-bromo-thiazole-2-ylamine
5-Bromo-2-thiazolamine
5-Bromothiazole-2-amine
EINECS(EC#)
262-699-0
Molecular Formula
C3H3BrN2S
MDL Number
MFCD00016893
Molecular Weight
179.04
MOL File
3034-22-8.mol
Melting point
165 °C (dec.)(lit.)
mp
165 °C (dec.)(lit.)
Boiling point
287.6±13.0 °C(Predicted)
density
1.976±0.06 g/cm3(Predicted)
storage temp.
Keep in dark place,Inert atmosphere,Store in freezer, under -20°C
pka
3.22±0.10(Predicted)
CAS DataBase Reference
3034-22-8(CAS DataBase Reference)
Hazard Codes
Xn
Risk Statements
R22:Harmful if swallowed.
R36:Irritating to the eyes.
Safety Statements
S26:In case of contact with eyes, rinse immediately with plenty of water and seek medical advice .
S36/37:Wear suitable protective clothing and gloves .
RTECS
XJ1262200
Yancheng Schiemann Biological Technology Co.,Ltd

Telephone

515-88280676 18921872653

Website

http://www.ximanbio.com
Shanghai shaoyuan reagent co., LTD

Telephone

021-50795510 4000665055

Website

http://www.shao-yuan.com
PharmaBlock Sciences (Nanjing),Inc.

Telephone

400-0255188 13770978108

Website

http://www.pharmablock.com/
Beijing dtftchem Technology Co., Ltd.

Telephone

13651141086

Website

http://www.dtfchem.com/
Wuhan Chemwish Technology Co., Ltd

Telephone

86-027-67849912

Website

http://www.chemwish.com
Capot Chemical Co., Ltd

Telephone

+86 (0) 571 85 58 67 18

Website

http://www.capotchem.com/
Beijing Ouhe Technology Co., Ltd

Telephone

010-82967028 13552068683

Website

http://www.ouhechem.com/
JinYan Chemicals(ShangHai) Co.,Ltd.

Telephone

13817811078

Website

http://www.jingyan-chemical.com/
Shanghai Sinch Parmaceuticals Tech. Co. Ltd.

Telephone

+86-21-54098501

Website

http://www.sinch.com.cn/
Adamas Reagent, Ltd.

Telephone

400-6009262

Website

http://www.tansoole.com
Shanghai Longsheng chemical Co.,Ltd.

Telephone

021-58099652-8005 13585536065

Website

http://www.shlschem.com
Shanghai Hanhong Scientific Co.,Ltd.

Telephone

021-54306202

Website

http://www.chemto.com/ch/
Shanghai Ennopharm Co., Ltd.

Telephone

+86 (21) 6435-5022

Website

https://www.chemicalbook.com/ShowSupplierProductsList13640/0.htm
Syntechem Co.,Ltd

Telephone

Please Email

Website

http://www.syntechem.com/
China Langchem Inc.

Telephone

0086-21-58956006

Website

http://www.langchem.com/
RYSS TECH LTD

Telephone

400-188-0725 +86 21 34310725 13611771617

Website

http://www.rysstech.com
Shanghai Sunway Pharmaceutical Technology Co., Ltd

Telephone

13761588971

Website

http://www.sunwaypharm.com
Hangzhou Yuhao Chemical Technology Co., Ltd

Telephone

0571-82693216

Website

http://www.chemyuhao.com