2783-94-0
Product Image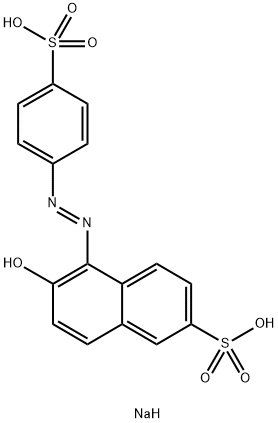 Name
Food Yellow 3
CAS
2783-94-0
Synonyms
CI 15985
disodium 6-hydroxy-5-[(4-sulphonatophenyl)azo]naphthalene-2-sulphonate
E110
FD AND C YELLOW 6
FD AND C YELLOW 6 LAKE
FD AND C YELLOW NO 6
FD&C Yellow No. 6
FODD YELLOW NO 5
FOOD YELLOW 3
FOOD YELLOW NO 5
LAKE SUNSET YELLOW FCF
SUNSET YELLOW
SUNSET YELLOW FCF
1351yellow
1899yellow
1-p-sulfophenylazo-2-hydroxynaphthalene-6-sulfonate,disodiumsalt
1-p-sulfophenylazo-2-naphthol-6-sulfonicacid,disodiumsalt
1-p-sulphophenylazo-2-naphthol-6-sulphonicacid,disodiumsalt
6-hydroxy-5-((4-sulfophenyl)azo)-2-naphthalenesulfonicacid,disodiumsalt
6-hydroxy-5-((4-sulfophenyl)azo)-2-naphthalenesulfonicacidisodiumsalt
EINECS(EC#)
220-491-7
Molecular Formula
C16H10N2Na2O7S2
MDL Number
MFCD00036437
Molecular Weight
452.37
MOL File
2783-94-0.mol
Appearance
orange-red crystals or powder
mp
390°C (dec.)
Colour Index
15985
Stability:
Stable. Combustible. Incompatible with strong oxidizing agents.
Water Solubility
5-10 g/100 mL at 24 ºC
Merck
9001
Uses
Sunset Yellow FCF (FD&C Yellow #6) is a colorant. It has good stability to changes in ph, showing no appreciable change at ph 3–8. It has excellent solubility in water with a solubility of 19 g in 100 ml at 25°c. It has moderate stability to light, fair stability to oxidation, good stability to heat, and shows appreciable change in 10% sugar systems. It has a reddishyellow hue and has good tinctorial strength. It has moderate compatibility with food components and is used in beverages, bakery goods, dessert confections, and ice cream.
CAS DataBase Reference
2783-94-0(CAS DataBase Reference)
EPA Substance Registry System
2783-94-0(EPA Substance)
Hazard Codes
Xi
Risk Statements
R36/37/38:Irritating to eyes, respiratory system and skin .
Safety Statements
S26:In case of contact with eyes, rinse immediately with plenty of water and seek medical advice .
S36:Wear suitable protective clothing .
RTECS
QK2450000
HS Code
32129000
Safety Profile
Low toxicity by ingestion and intraperitoneal routes. Mutation data reported. When heated to decomposition it emits very toxic fumes of NOx and SOx.
Hazardous Substances Data
2783-94-0(Hazardous Substances Data)
General Description
Orange-red crystals or a red powder.
Reactivity Profile
FD & C YELLOW NO. 6(2783-94-0) is an azo compound. Azo, diazo, azido compounds can detonate. This applies in particular to organic azides that have been sensitized by the addition of metal salts or strong acids. Toxic gases are formed by mixing materials of this class with acids, aldehydes, amides, carbamates, cyanides, inorganic fluorides, halogenated organics, isocyanates, ketones, metals, nitrides, peroxides, phenols, epoxides, acyl halides, and strong oxidizing or reducing agents. Flammable gases are formed by mixing materials in this group with alkali metals. Explosive combination can occur with strong oxidizing agents, metal salts, peroxides, and sulfides.
Air & Water Reactions
Azo dyes can be explosive when suspended in air at specific concentrations. Soluble in water.
Health Hazard
SYMPTOMS: It can cause enlargement of the caecum and weight loss.
Fire Hazard
Flash point data for this chemical are not available; however, FD & C YELLOW NO. 6 is probably combustible.
J & K SCIENTIFIC LTD.

Telephone

400-666-7788 010-82848833-

Contact Fax

86-10-82849933

Website

http://www.jkchemical.com
Meryer (Shanghai) Chemical Technology Co., Ltd.

Telephone

400-660-8290 21-61259100-

Contact Fax

86-21-61259102

Website

http://www.meryer.com
TCI (Shanghai) Development Co., Ltd.

Telephone

021-67121386 / 800-988-0390

Contact Fax

021-67121385

Website

https://www.tcichemicals.com/CN/zh/
Beijing dtftchem Technology Co., Ltd.

Telephone

13651141086

Contact Fax

86 (10) 60270825

Website

http://www.dtfchem.com/
BeiJing Hwrk Chemicals Limted

Telephone

18516978288 0757-86329057-

Contact Fax

0757-86311057

Website

http://www.hwrkchemical.com/
Energy Chemical

Telephone

400-005-6266 021-58432009-

Contact Fax

021-58436166

Website

http://www.energy-chemical.com
Adamas Reagent, Ltd.

Telephone

400-600-9262

Contact Fax

Website

http://www.tansoole.com
Chemsky(shanghai)International Co.,Ltd.

Telephone

021-50135380

Contact Fax

Website

http://www.shchemsky.com
Tianjin heowns Biochemical Technology Co., Ltd.

Telephone

400 638 7771

Contact Fax

Website

http://www.heowns.com
Sinopharm Chemical Reagent Co,Ltd.

Telephone

86-21-63210123

Contact Fax

86-21-63290778 86-21-63218885

Website

http://www.reagent.com.cn
Hangzhou Yuhao Chemical Technology Co., Ltd

Telephone

0571-82693216

Contact Fax

+86-571-82880190

Website

http://www.chemyuhao.com
Spectrum Chemical Manufacturing Corp.

Telephone

18616765336

Contact Fax

021-57711696

Website

https://www.spectrumchemical.com/OA_HTML/index.jsp?minisite=10020&respid=22372&language=US
Wuhan Fortuna Chemical Co., Ltd

Telephone

13308628970 027-59207852-

Contact Fax

QQ3130921841

Website

http://www.fortunachem.cn
Dalian Meilun Biotech Co., Ltd.

Telephone

15542382390 0411-66864596-

Contact Fax

Website

http://www.meilune.com/qwer
ShangHai YuanYe Biotechnology Co., Ltd.

Telephone

15800763013 021-61312847-

Contact Fax

021-55068248

Website

http://www.shyuanye.com
Shanghai civi chemical technology co.,Ltd

Telephone

86-21-34053660

Contact Fax

86-21-34053661

Website

http://www.labgogo.com
Shanghai T&W Pharmaceutical Co., Ltd.

Telephone

+86 21 61551611

Contact Fax

+86 21 50676805

Website

http://www.trustwe.com
Haoyuan Chemexpress Co., Ltd.

Telephone

86-21-58998985

Contact Fax

(86) 21-58955996

Website

http://gb.chemexpress.com.cn