2622-14-2
Product Image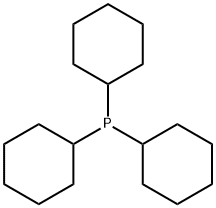 Name
Tricyclohexyl phosphine
CAS
2622-14-2
Synonyms
PHOSPHORUS TRICYCLOHEXYL
TCHP
TRICYCLOHEXYL-PHOSPHANE
TRICYCLOHEXYLPHOSPHINE
tricyclohexyl-phosphin
TRICYCLOHEXYLPHOSPHINE, 20 WT. % SOLUTI&
TRICYCLOHEXYLPHOSPHINE, 1M IN TOLUENE
TRICYCLOHEXYLPHOSPHINE, 1M IN TETRAHYDR&
Tricyclohexylphosphine, 20% Toluene Solution
Tricyclohexylphosphine,97%
Tricyclohexylphosphine(20%intoluene),min.88%
tricyclohexylphosphine solution
PCY3
tricyclohexylphospine
TRICYCLOHEXYLPHOSPHINE: (20% IN TOLUENE)
TRICYCLOHEXYLPHOSPHINE, DISSOLVED IN TOLUENE (20% CONCENTRATION)
TRICYCLOHEXYL PHOSPHINE (TCHP)
Tricyclohexylphosphine, technical grade
Tricyclohexylphosphine (contains Tricyclohexylphosphine Oxide) (ca. 18% in Toluene, ca. 0.60mol/L)
Phosphine, tricyclohexyl-
EINECS(EC#)
220-069-2
Molecular Formula
C18H33P
MDL Number
MFCD00003853
Molecular Weight
280.43
MOL File
2622-14-2.mol
Appearance
White or pale yellow crystalline powder
Melting point
81-83 °C (lit.)
mp
81-83 °C(lit.)
Boiling point
110°C
bp
110°C
density
0.909 g/mL at 25 °C
Fp
48 °F
storage temp.
−20°C
form
Solution
Specific Gravity
0.9
color
White to off-white
Water Solubility
Soluble in most organic solvents. Insoluble in water.
Sensitive
Air Sensitive
Hydrolytic Sensitivity
8: reacts rapidly with moisture, water, protic solvents
BRN
957171
InChIKey
WLPUWLXVBWGYMZ-UHFFFAOYSA-N
CAS DataBase Reference
2622-14-2(CAS DataBase Reference)
NIST Chemistry Reference
Phosphine, tricyclohexyl-(2622-14-2)
Storage Precautions
Air sensitive;Store under nitrogen
EPA Substance Registry System
2622-14-2(EPA Substance)
Hazard Codes
Xi,Xn,F
Risk Statements
R36/37/38:Irritating to eyes, respiratory system and skin .
R22:Harmful if swallowed.
R37/38:Irritating to respiratory system and skin .
R36:Irritating to the eyes.
R19:May form explosive peroxides.
R11:Highly Flammable.
R67:Vapors may cause drowsiness and dizziness.
R65:Harmful: May cause lung damage if swallowed.
R63:Possible risk of harm to the unborn child.
R48/20:Harmful: danger of serious damage to health by prolonged exposure through inhalation .
Safety Statements
S26:In case of contact with eyes, rinse immediately with plenty of water and seek medical advice .
S36/37:Wear suitable protective clothing and gloves .
S62:If swallowed, do not induce vomiting: seek medical advice immediately and show this container or label .
S37/39:Wear suitable gloves and eye/face protection .
S36:Wear suitable protective clothing .
S33:Take precautionary measures against static discharges .
S29:Do not empty into drains .
S16:Keep away from sources of ignition-No smoking .
RIDADR
UN 2056 3/PG 2
WGK Germany
3
TSCA
Yes
HazardClass
3
PackingGroup
III
HS Code
29319099
Chemical Properties
clear colorless to pale yellow solution
Purification Methods
It recrystallises from EtOH [Boert et al. J Am Chem Soc 109 7781 1987]. [Beilstein 16 IV 947.]
Uses
Tricyclohexyl Phosphine is a ligand catalyst used primarily in organometallic chemistry.
Ligand used in the Pd-catalyzed coupling of malononitrile with aryl halides.
suzuki reaction: Bulky phosphine ligand used with a Pd(0)-triolefinic macrocycle catalyst for Suzuki coupling of aryl bromides and chlorides.
This ligand is applied with Ni as a key intermediate in the formation of cylcopentane compounds.
As a reagent, Tricyclohexylphosphine is used for a range of metal-catalyzed organic transformations.
Crabtree's catalyst is an organoiridium compound containing tricyclohexyl phosphine used for hydrogenation of mono-, di-, tri-, and tetra- substituted substrates and hydrogen transfer reactions.
Grubbs' catalysts consists of transition metal ruthenium and tricylohexyl phosphine utilized in olefin metathesis in synthetic organic chemistry.
Nanjin Cynthia chemicals Technology Co.,Ltd

Telephone

15951861180 0550-5618439 0550-5610690

Contact Fax

0550-5610690

Website

http://www.cynthiachem.com
Sinocompound Catalysts Co., Ltd.

Telephone

051267216632 0512-67216634-

Contact Fax

0512-56316689

Website

http://www.sinocompound.com
Wuhan Ying Yuan Bei Biological Limited

Telephone

13349903920

Contact Fax

Website

http://www.yyb-chem.com
BeiJing Greenchem Technology Co.,Ltd.

Telephone

18515576082

Contact Fax

010-62925455

Website

http://www.bjgreenchem.com
Xinxiang Runyu Material Co., Ltd.

Telephone

13592593621 373-7759608-

Contact Fax

0373-7759608

Website

http://www.runvmat.com/
Shanghai Chino Pharmaceutical Technology Co., Ltd

Telephone

13472752483 159-01710861-

Contact Fax

QQ: 444761026

Website

https://www.channelpharm.com
Wuhan WinYuanBei Trading Company

Telephone

13349903920

Contact Fax

-

Website

http://www.yyb-chem.com
Creasyn Finechem(Tianjin) Co., Ltd.

Telephone

022-83945878-

Contact Fax

022-83945176

Website

http://www.creasyn.com/
J & K SCIENTIFIC LTD.

Telephone

400-666-7788 010-82848833-

Contact Fax

86-10-82849933

Website

http://www.jkchemical.com
Meryer (Shanghai) Chemical Technology Co., Ltd.

Telephone

400-660-8290 21-61259100-

Contact Fax

86-21-61259102

Website

http://www.meryer.com
Alfa Aesar

Telephone

400-610-6006

Contact Fax

021-67582001/03/05

Website

http://chemicals.thermofisher.cn
ShangHai DEMO Chemical Co.,Ltd

Telephone

400-021-7337 qq:2355568890

Contact Fax

0086-21-50182339

Website

http://www.demochem.com
Beijing dtftchem Technology Co., Ltd.

Telephone

13651141086

Contact Fax

86 (10) 60270825

Website

http://www.dtfchem.com/
BeiJing Hwrk Chemicals Limted

Telephone

18516978288 0757-86329057-

Contact Fax

0757-86311057

Website

http://www.hwrkchemical.com/
Energy Chemical

Telephone

400-005-6266 021-58432009-

Contact Fax

021-58436166

Website

http://www.energy-chemical.com
Capot Chemical Co., Ltd

Telephone

+86 (0) 571 85 58 67 18

Contact Fax

0086-571-85864795

Website

http://www.capotchem.com/
Beijing Ouhe Technology Co., Ltd

Telephone

13552068683 010-82967028-

Contact Fax

+86-10-82967029

Website

http://www.ouhechem.com/
JinYan Chemicals(ShangHai) Co.,Ltd.

Telephone

13817811078

Contact Fax

86-021-50426522,50426273

Website

http://www.jingyan-chemical.com/