2004-06-0
Product Image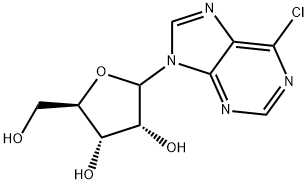 Name
6-Chloropurine riboside
CAS
2004-06-0
Synonyms
6-CHLORO-9-BETA-D-RIBOFURANOSYL-9H-PURINE
6-CHLORO-9-(BETA-D-RIBOFURANOSYL)PURINE
6-CHLOROINOSINE
6-CHLOROPURINE-9-BETA-D-RIBOFURANOSIDE
6-CHLOROPURINE-9-RIBOSIDE
6-CHLOROPURINE NUCLEOSIDE
6-CHLOROPURINE RIBOSIDE
6-CLPR
6-chloropurineribonucleoside
6-chloro-9-ribofuranosyl-9H-purine
6-Chloropurine riboside, pure, 99+%
6-Chloro-9-(b-D-ribofuranosyl)purine
6-Chloropurine ribose
6-CHLOROPURINE RIBOSIDE 98+%
6-Chloropurine riboside
9H-PURINE,6-CHLORO-9-RIBOFURANOSYL
6-Chlrorpurine riboside
6-CHLOROPURINE RIBOSIDE extrapure
(2R,3R,4S,5R)-2-(6-Chloropurin-9-yl)-5-(hydroxymethyl)oxolane-3,4-diol
EINECS(EC#)
217-904-8
Molecular Formula
C10H11ClN4O4
MDL Number
MFCD00005738
Molecular Weight
286.67
MOL File
2004-06-0.mol
Appearance
white to light yellow crystal powde
mp
158-162 °C (dec.)(lit.)
refractive index
-45 ° (C=0.8, H2O)
storage temp.
2-8°C
Detection Methods
HPLC,NMR
CAS DataBase Reference
2004-06-0(CAS DataBase Reference)
Hazard Codes
Xi
Risk Statements
R36/37/38:Irritating to eyes, respiratory system and skin .
Safety Statements
S22:Do not breathe dust .
S24/25:Avoid contact with skin and eyes .
S36:Wear suitable protective clothing .
S26:In case of contact with eyes, rinse immediately with plenty of water and seek medical advice .
RTECS
UO7520800
F
10-23
Hazard Note
Irritant
HS Code
29389090
J & K SCIENTIFIC LTD.

Telephone

400-666-7788 010-82848833-

Contact Fax

86-10-82849933

Website

http://www.jkchemical.com
Meryer (Shanghai) Chemical Technology Co., Ltd.

Telephone

+86-18621169078 +86-021-61259100

Contact Fax

86-21-61259102

Website

http://www.meryer.com
3B Pharmachem (Wuhan) International Co.,Ltd.

Telephone

18930552037 821-50328103-801

Contact Fax

86-21-50328109

Website
TAIYUAN RHF CO.,LTD.

Telephone

+86 351 7031519

Contact Fax

+86 351 7031519

Website

http://www.rhfchem.com/
Energy Chemical

Telephone

400-005-6266 021-58432009

Contact Fax

021-58436166

Website

http://www.energy-chemical.com
Capot Chemical Co., Ltd

Telephone

+86 (0) 571 85 58 67 18

Contact Fax

0086-571-85864795

Website

http://www.capotchem.com/
Beijing Ouhe Technology Co., Ltd

Telephone

13552068683 010-82967028

Contact Fax

+86-10-82967029

Website

http://www.ouhechem.com/
JinYan Chemicals(ShangHai) Co.,Ltd.

Telephone

13817811078

Contact Fax

86-021-50426522,50426273

Website

http://www.jingyan-chemical.com/
Jia Xing Isenchem Co.,Ltd

Telephone

18627885956 0573-85285100

Contact Fax

0573-85285100

Website

https://www.chemicalbook.com/ShowSupplierProductsList14265/0.htm
Nanjing Chemlin Chemical Co., Ltd

Telephone

025-83697070

Contact Fax

+86-25-83453306

Website

http://www.echemlin.cn
Shanghai Hanhong Scientific Co.,Ltd.

Telephone

021-54306202

Contact Fax

13764082696

Website

http://www.chemto.com/ch/
XiaoGan ShenYuan ChemPharm co,ltd

Telephone

15527768850 0712-2580635-

Contact Fax

Website

http://www.farchem.com/
Beijing Isomersyn Technology CO;LTD

Telephone

13391601435 010-82954736

Contact Fax

Website

https://www.chemicalbook.com/supplier/10680452/1.htm
Chengdu XiYa Chemical Technology Co., Ltd.

Telephone

400-990-3999

Contact Fax

0539-6365991

Website

http://www.xiyashiji.com
BEST-REAGENT

Telephone

18981987031 400-1166-196

Contact Fax

Website

http://www.hx-r.com/
Tianjin heowns Biochemical Technology Co., Ltd.

Telephone

400 638 7771

Contact Fax

Website

http://www.heowns.com
Shanghai Sunway Pharmaceutical Technology Co., Ltd

Telephone

13761588971

Contact Fax

021 51613951

Website

http://www.sunwaypharm.com
Maya High Purity Chemicals

Telephone

+86 (573) 82222445 (0)18006601000 QQ:452520369

Contact Fax

+86 (573) 82222643

Website

http://www.maya-r.com