18146-00-4
Product Image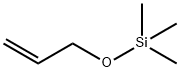 Name
ALLYLOXYTRIMETHYLSILANE
CAS
18146-00-4
Synonyms
ALLOXYTRIMETHYLSILANE
ALLYLOXYTRIMETHYLSILANE
O-TRIMETHYLSILYLALLYL ALCOHOL
1-Trimethylsiloxy-2-propene
1-Trimethylsilyloxy-2-propene
Allyl trimethylsilyl ether
Silane, (allyloxy)trimethyl-
Silane, trimethyl(2-propenyloxy)-
trimethyl(2-propenyloxy)-silan
trimethyl(2-propenyloxy)-Silane
Trimethylallyloxysilane
3-(Trimethylsiloxy)propene
Allyloxytrimethylsilane(O-Trimethylsilylallylalcohol)
(2-Propenyloxy)trimethylsilane
3-(Trimethylsilyloxy)-1-propene
EINECS(EC#)
242-031-4
Molecular Formula
C6H14OSi
MDL Number
MFCD00008643
Molecular Weight
130.26
MOL File
18146-00-4.mol
Appearance
clear colorless liquid
mp
<0°C
bp
100-102 °C(lit.)
density
0.773 g/mL at 25 °C(lit.)
refractive index
n
20/D
1.397(lit.)
Fp
31 °F
storage temp.
2-8°C
CAS DataBase Reference
18146-00-4(CAS DataBase Reference)
Hazard Codes
F,Xi
Risk Statements
R11:Highly Flammable.
R36/37/38:Irritating to eyes, respiratory system and skin .
Safety Statements
S16:Keep away from sources of ignition-No smoking .
S26:In case of contact with eyes, rinse immediately with plenty of water and seek medical advice .
S36:Wear suitable protective clothing .
RIDADR
UN 1993 3/PG 2
WGK Germany
3
F
10-21
TSCA
Yes
HazardClass
3.1
PackingGroup
II
HS Code
29319090
Henan Kangqian Medical Technology Co., Ltd.

Telephone

+86-0371-69197788

Contact Fax

+86-371-86568877

Website

http://www.hnkqhx.com
Henan qinpeng technology co., ltd

Telephone

18839185240

Contact Fax

Website

https://www.chemicalbook.com/ShowSupplierProductsList611244/0.htm
J & K SCIENTIFIC LTD.

Telephone

400-666-7788 010-82848833-

Contact Fax

86-10-82849933

Website

http://www.jkchemical.com
Meryer (Shanghai) Chemical Technology Co., Ltd.

Telephone

400-660-8290 21-61259100-

Contact Fax

86-21-61259102

Website

http://www.meryer.com
Alfa Aesar

Telephone

400-610-6006

Contact Fax

021-67582001/03/05

Website

http://chemicals.thermofisher.cn
TCI (Shanghai) Development Co., Ltd.

Telephone

021-67121386 / 800-988-0390

Contact Fax

021-67121385

Website

https://www.tcichemicals.com/CN/zh/
BeiJing Hwrk Chemicals Limted

Telephone

18516978288 0757-86329057-

Contact Fax

0757-86311057

Website

http://www.hwrkchemical.com/
Energy Chemical

Telephone

400-005-6266 021-58432009-

Contact Fax

021-58436166

Website

http://www.energy-chemical.com
BEST-REAGENT

Telephone

18981987031 400-1166-196

Contact Fax

Website

http://www.hx-r.com/
Maya High Purity Chemicals

Telephone

+86 (573) 82222445 (0)18006601000 QQ:452520369

Contact Fax

+86 (573) 82222643

Website

http://www.maya-r.com
Hangzhou Yuhao Chemical Technology Co., Ltd

Telephone

0571-82693216

Contact Fax

+86-571-82880190

Website

http://www.chemyuhao.com
ZhengZhou HuaWen Chemical Co.Ltd

Telephone

15343847665 0370-2775059-

Contact Fax

QQ:3470079902

Website

http://www.hnhwchem.com
Chengdu Ai Keda Chemical Technology Co., Ltd.

Telephone

4008-755-333 028-85911938-

Contact Fax

028-86757656

Website

http://www.aikeshiji.com
Shanghai Topbiochem Technology Co., Ltd

Telephone

+86-21-60341587

Contact Fax

+86-21-61294319

Website

http://www.topbiochem.com
Jiangsu Aikon Biopharmaceutical R&D co.,Ltd.

Telephone

17798518460 025-66099280-

Contact Fax

(1)02557626880

Website

http://www.aikonchem.com/
Chengdu AstaTech Trading Co., Ltd./AstaTech (Chengdu) Pharma. Co., Ltd.

Telephone

+86-28-85122536 85324413

Contact Fax

+86-28-85326443

Website

https://www.chemicalbook.com/ShowSupplierProductsList12313/0_EN.htm
Bide Pharmatech Ltd.

Telephone

400-1647117 021-61629020-8031

Contact Fax

+86-21-61629029

Website

http://www.bidepharm.com
Shanghai Gileader Advanced Material Technology Co.,Ltd

Telephone

18516111942

Contact Fax

Website

http://www.tanguitech.com/