17715-69-4
Product Image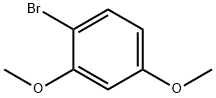 Name
1-Bromo-2,4-dimethoxybenzene
CAS
17715-69-4
Synonyms
1,3-DIMETHOXY-4-BROMOBENZENE
1-BROMO-2,4-DIMETHOXYBENZENE
2,4-DIMETHOXYBROMOBENZENE
4-BROMORESOCINOL DIMETHYL ETHER
4-BROMORESORCINOL DIMETHYL ETHER
2,4-Dimethoxyphenyl bromide
4-Bromo-1,3-dimethoxybenzene
1-BROMO-2 4-DIMETHOXYBENZENE 96%
1-Bromo-2,4-dimethoxybenzene, GC 98%
Benzene, 1-bromo-2,4-dimethoxy-
3-Methoxy-4-bromoanisole
EINECS(EC#)
241-717-0
Molecular Formula
C8H9BrO2
MDL Number
MFCD00009844
Molecular Weight
217.06
MOL File
17715-69-4.mol
Appearance
clearslightlyyellowliqui
Melting point
25-26 °C(lit.)
mp
25-26 °C(lit.)
Boiling point
153-155 °C18 mm Hg(lit.)
bp
153-155 °C18 mm Hg(lit.)
density
1.507 g/mL at 25 °C(lit.)
refractive index
n
20/D
1.572(lit.)
Fp
>230 °F
storage temp.
0-6°C
form
Liquid
color
Clear slightly yellow
Specific Gravity
1.507
Water Solubility
insoluble
BRN
1867593
InChIKey
NIUZVSQOXJIHBL-UHFFFAOYSA-N
CAS DataBase Reference
17715-69-4(CAS DataBase Reference)
NIST Chemistry Reference
Benzene, 1-bromo-2,4-dimethoxy-(17715-69-4)
Hazard Codes
Xi
Risk Statements
R36/37/38:Irritating to eyes, respiratory system and skin .
Safety Statements
S26:In case of contact with eyes, rinse immediately with plenty of water and seek medical advice .
S37/39:Wear suitable gloves and eye/face protection .
WGK Germany
3
Hazard Note
Irritant
HazardClass
IRRITANT
HS Code
29093090
Chemical Properties
clearslightlyyellowliqui
Uses
1-Bromo-2,4-dimethoxybenzene was used in the synthesis of 2,3-disubstituted benzo[b]furans. It was also used in the synthesis of dendrimer Si[CH2CH2Si(Me)2-2,4-(MeO)2-C6H3]4.
Nanjing XiLang Chemical Products Co., Ltd.

Telephone

025-5276156 18936048580

Website
Zhengzhou Huiju Chemical Co., Ltd.

Telephone

0371-55900031 18137872243

Website

https://www.chemicalbook.com/supplier/11124122/
J & K SCIENTIFIC LTD.

Telephone

010-82848833 400-666-7788

Website

http://www.jkchemical.com
Meryer (Shanghai) Chemical Technology Co., Ltd.

Telephone

18621169121

Website

http://www.meryer.com
future industrial shanghai co., ltd

Telephone

400-0066400 13621662912

Website

http://www.jonln.com
Alfa Aesar

Telephone

400-6106006

Website

http://chemicals.thermofisher.cn
TCI (Shanghai) Development Co., Ltd.

Telephone

021-67121386

Website

https://www.tcichemicals.com/CN/zh/
Energy Chemical

Telephone

021-58432009 400-005-6266

Website

http://www.energy-chemical.com
Shijiazhuang Sdyano Fine Chemical Co., Ltd.

Telephone

0311-89250318 031166536426

Website

http://www.sdynchem.com
Wuhan Chemwish Technology Co., Ltd

Telephone

86-027-67849912

Website

http://www.chemwish.com
Capot Chemical Co., Ltd

Telephone

+86 (0) 571 85 58 67 18

Website

http://www.capotchem.com/
Beijing Ouhe Technology Co., Ltd

Telephone

010-82967028 13552068683

Website

http://www.ouhechem.com/
JinYan Chemicals(ShangHai) Co.,Ltd.

Telephone

13817811078

Website

http://www.jingyan-chemical.com/
Shanghai Sinch Parmaceuticals Tech. Co. Ltd.

Telephone

+86-21-54098501

Website

http://www.sinch.com.cn/
Secco work (Beijing) chemical technology co., LTD

Telephone

010-69755668

Website

http://www.tjzkgh.com
Adamas Reagent, Ltd.

Telephone

400-6009262

Website

http://www.tansoole.com
Accela ChemBio Co.,Ltd.

Telephone

021-50795510 4000665055

Website

http://www.shao-yuan.com/
Shanghai Hanhong Scientific Co.,Ltd.

Telephone

021-54306202

Website

http://www.chemto.com/ch/