1711-06-4
Product Image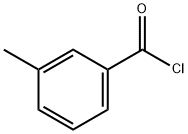 Name
3-Methylbenzoyl chloride
CAS
1711-06-4
Synonyms
3-METHYLBENZOYL CHLORIDE
M-METHYLBENZOYL CHLORIDE
M-TOLUOYL CHLORIDE
M-TOLUYL CHLORIDE
3-methyl-benzoylchlorid
3-Toluoyl chloride
3-toluoylchloride
meta Methyl benzoyl chloride
Toluoyl chloride
toluoylchloride
meta-toluoyl chloride
3-ToluylChloride
Benzoyl chloride, 3-methyl-(9CI)
m-Toluoyl chloride(m-Toluicchloride)
3-METHYLBENZOYL CHLORIDE/M-TOLUOYL CHLORIDE
3-Methylbenzenecarbonyl chloride
3-Methylbenzoic acid chloride
m-Methylbenzoic acid chloride
EINECS(EC#)
216-976-8
Molecular Formula
C8H7ClO
MDL Number
MFCD00000681
Molecular Weight
154.59
MOL File
1711-06-4.mol
Appearance
clear colorless to light brown liquid
Melting point
-23°C
mp
-23°C
bp
86 °C (5 mmHg)
Boiling point
86 °C/5 mmHg (lit.)
density
1.17
refractive index
1.5475-1.5495
Fp
76 °C
storage temp.
Inert atmosphere,2-8°C
form
Liquid
Specific Gravity
1.17
color
Clear colorless to light brown
Water Solubility
Reacts with water.
Sensitive
Moisture Sensitive
BRN
878419
InChIKey
YHOYYHYBFSYOSQ-UHFFFAOYSA-N
CAS DataBase Reference
1711-06-4(CAS DataBase Reference)
NIST Chemistry Reference
Benzoyl chloride, 3-methyl-(1711-06-4)
EPA Substance Registry System
1711-06-4(EPA Substance)
Hazard Codes
C
Risk Statements
R34:Causes burns.
R36/37:Irritating to eyes and respiratory system .
Safety Statements
S24/25:Avoid contact with skin and eyes .
S45:In case of accident or if you feel unwell, seek medical advice immediately (show label where possible) .
S36/37/39:Wear suitable protective clothing, gloves and eye/face protection .
S27:Take off immediately all contaminated clothing .
S26:In case of contact with eyes, rinse immediately with plenty of water and seek medical advice .
S23:Do not breathe gas/fumes/vapor/spray (appropriate wording to be specified by the manufacturer) .
RIDADR
3265
WGK Germany
1
RTECS
DM6644000
TSCA
Yes
HazardClass
8
PackingGroup
II
HS Code
29163990
Chemical Properties
clear colorless to light brown liquid
Uses
m-Toluoyl chloride has been used to derivatize the C1-C4 aliphatic amines for their determination in air by HPLC. It has been used in determination of atmospheric ammonia by denuder-sampling and HPLC-UV detection.
General Description
m-Toluoyl chloride is an efficient derivatization reagent for amines.
Mountainous Chemical Co.,Ltd

Telephone

0523-87306168 18352621837

Website

http://www.mountainouschem.com
Shandong Tianshili Biological Technology Co. LTD

Telephone

18663779269 18765889670

Website

http://cs.sdskychem.com
J & K SCIENTIFIC LTD.

Telephone

010-82848833 400-666-7788

Website

http://www.jkchemical.com
Meryer (Shanghai) Chemical Technology Co., Ltd.

Telephone

18621169121

Website

http://www.meryer.com
Alfa Aesar

Telephone

400-6106006

Website

http://chemicals.thermofisher.cn
TCI (Shanghai) Development Co., Ltd.

Telephone

021-67121386

Website

https://www.tcichemicals.com/CN/zh/
Beijing dtftchem Technology Co., Ltd.

Telephone

13651141086

Website

http://www.dtfchem.com/
Energy Chemical

Telephone

021-58432009 400-005-6266

Website

http://www.energy-chemical.com
Capot Chemical Co., Ltd

Telephone

+86 (0) 571 85 58 67 18

Website

http://www.capotchem.com/
Beijing Ouhe Technology Co., Ltd

Telephone

010-82967028 13552068683

Website

http://www.ouhechem.com/
Nanjing Chemlin Chemical Co., Ltd

Telephone

025-83697070

Website

http://www.echemlin.cn
Shanghai Hanhong Scientific Co.,Ltd.

Telephone

021-54306202

Website

http://www.chemto.com/ch/
XiaoGan ShenYuan ChemPharm co,ltd

Telephone

0712-2580635 15527768850

Website

http://www.farchem.com/
Chengdu XiYa Chemical Technology Co., Ltd.

Telephone

400-9903999

Website

http://www.xiyashiji.com
Syntechem Co.,Ltd

Telephone

Please Email

Website

http://www.syntechem.com/
BEST-REAGENT

Telephone

400-1166196 18981987031

Website

http://www.hx-r.com/
China Langchem Inc.

Telephone

0086-21-58956006

Website

http://www.langchem.com/
Tianjin heowns Biochemical Technology Co., Ltd.

Telephone

400 638 7771

Website

http://www.heowns.com