1454-53-1
Product Image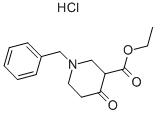 Name
Ethyl 1-benzyl-4-oxo-3-piperidinecarboxylate hydrochloride
CAS
1454-53-1
Synonyms
1-BENZYL-3-CARBETHOXY-4-PIPERIDONE HYDROCHLORIDE
1-BENZYL-3-ETHOXYCARBONYL-4-PIPERIDONE HYDROCHLORIDE
1-BENZYL-3-METHOXYCARBONYL-4-PIPERIDINONE HCL
1-BENZYL-4-PIPERIDONE-3-CARBOXYLIC ACID ETHYL ESTER HYDROCHLORIDE HYDRATE
ETHYL 1-BENZYL-4-OXO-3-PIPERIDINECARBOXYLATE HYDROCHLORIDE
ETHYL 1-BENZYL-4-OXO-3-PIPERIDINECARBOXYLATE HYDROCHLORIDE HYDRATE
ETHYL 1-BENZYL-4-OXOPIPERIDINE-3-CARBOXYLATE HYDROCHLORIDE
ETHYL 1-BENZYL-4-PIPERIDONE-3-CARBOXYLATE HYDROCHLORIDE
ETHYL 1-BENZYL-4-PIPERIDONE-3-CARBOXYLATE HYDROCHLORIDE HYDRATE
LABOTEST-BB LT00159470
METHYL 1-BENZYL-4-OXO-PIPERIDINE-3-CARBOXYLATE
1-Benzyl-3-carboethoxy-4-piperidone hydrochloride~Ethyl 1-benzyl-4-piperidone-3-carboxylate hydrochloride
Ethyl 1-benzyl-4-oxo-3-piperidinecarboxylate
Ethyl-4-oxo-(1-Phenylmethyl)-3-piperidincarboxylate,Hydrochloride
Ethyl 1-benzylpiperidin-4-one-3-carboxylate hydrochloride
ETHYL 1-BENZYL-4-OXO-3-PIPERIDINE-CARBOX YLATE HYDROCHLORIDE,TECH.
1-BENZYL-3-CARBETHOXY-PIPERIDONE HCL
1-Benzyl-3-Ethoxycarbonyl-4-Piperidone HCL
N-Benzyl-4-piperidone-3-carboxylicacidethylesterHCl
1-BENZYL-3-ACETOXY-4-PIPERIDONE HYDROCHLORIDE
EINECS(EC#)
215-929-9
Molecular Formula
C15H20ClNO3
MDL Number
MFCD00012800
Molecular Weight
297.78
MOL File
1454-53-1.mol
Hazard Codes
Xi
Risk Statements
R36/37/38:Irritating to eyes, respiratory system and skin .
Safety Statements
S37/39:Wear suitable gloves and eye/face protection .
S26:In case of contact with eyes, rinse immediately with plenty of water and seek medical advice .
S36:Wear suitable protective clothing .
Hazard Note
Irritant
HS Code
29339900
Chongqing Werlchem Fine Chemical Co.Ltd.

Telephone

13320292971 023-67521957

Contact Fax

86-23-67511575

Website

http://www.werlchem.com/
Shanghai Hobor Chemical Co., Ltd

Telephone

13918007836 21-61026752-

Contact Fax

Website

http://www.hoborchem.com
Wuxi Helen Biotechnology Co., Ltd.,

Telephone

18013409632 0510-85629785-

Contact Fax

0510-85625359

Website

http://www.reading-chemicals.com
J & K SCIENTIFIC LTD.

Telephone

400-666-7788 010-82848833-

Contact Fax

86-10-82849933

Website

http://www.jkchemical.com
PharmaBlock Sciences (Nanjing),Inc.

Telephone

400-025-5188 400-025-5188

Contact Fax

86-025-86918232

Website

http://www.pharmablock.com/
Meryer (Shanghai) Chemical Technology Co., Ltd.

Telephone

400-660-8290 21-61259100-

Contact Fax

86-21-61259102

Website

http://www.meryer.com
Alfa Aesar

Telephone

400-610-6006

Contact Fax

021-67582001/03/05

Website

http://chemicals.thermofisher.cn
TAIYUAN RHF CO.,LTD.

Telephone

+86 351 7031519

Contact Fax

+86 351 7031519

Website

http://www.rhfchem.com/
TCI (Shanghai) Development Co., Ltd.

Telephone

021-67121386 / 800-988-0390

Contact Fax

021-67121385

Website

https://www.tcichemicals.com/CN/zh/
Beijing dtftchem Technology Co., Ltd.

Telephone

13651141086

Contact Fax

86 (10) 60270825

Website

http://www.dtfchem.com/
Energy Chemical

Telephone

400-005-6266 021-58432009-

Contact Fax

021-58436166

Website

http://www.energy-chemical.com
Capot Chemical Co., Ltd

Telephone

+86 (0) 571 85 58 67 18

Contact Fax

0086-571-85864795

Website

http://www.capotchem.com/
Beijing Ouhe Technology Co., Ltd

Telephone

13552068683 010-82967028-

Contact Fax

+86-10-82967029

Website

http://www.ouhechem.com/
JinYan Chemicals(ShangHai) Co.,Ltd.

Telephone

13817811078

Contact Fax

86-021-50426522,50426273

Website

http://www.jingyan-chemical.com/
Sichuan Guanghan Bio-Tech Co., Ltd

Telephone

+86-28-86127071

Contact Fax

+86-28-86127072

Website

http://www.sino-produce.com/
Jia Xing Isenchem Co.,Ltd

Telephone

18627885956 0573-85285100-

Contact Fax

0573-85285100

Website

https://www.chemicalbook.com/ShowSupplierProductsList14265/0.htm
Adamas Reagent, Ltd.

Telephone

400-600-9262

Contact Fax

Website

http://www.tansoole.com
Accela ChemBio Co.,Ltd.

Telephone

400-0665055

Contact Fax

021-50795055

Website

http://www.shao-yuan.com/