1445-73-4
Product Image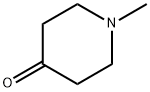 Name
1-Methyl-4-piperidone
CAS
1445-73-4
Synonyms
1-METHYL-4-PIPERIDINONE
1-METHYL-4-PIPERIDONE
1-METHYLTETRAHYDROPYRIDIN-4(1H)-ONE
4-PIPERIDINONE, 1-METHYL-
AKOS BBS-00004237
N-METHYL-4-PIPERIDONE
N-METHYL-GAMMA-PIPERIDONE
N-METHYLPIPERIDONE
1-Methyl-4-oxopiperidine
1-Methyl-4-piperidione
1-Methyl-piperidin-4-one
1-Methylpiperidine-4-one
1-Methylpiperidone-(4)
4-Piperidone, 1-methyl-
4-Piperidone,1-methyl-
N-Methyl-4-piperidinone
N-Methyl-4-piperidon
1-Methylpiperid-4-one
N-METHYLPIPERIDIN-4-ONE
1-METHYL-4-PIPERIDONE 98%
EINECS(EC#)
215-895-5
Molecular Formula
C6H11NO
MDL Number
MFCD00006191
Molecular Weight
113.16
MOL File
1445-73-4.mol
Appearance
clear yellow to orange liquid
Melting point
192-193 °C(Solv: ethyl acetate (141-78-6))
Boiling point
55-60 °C11 mm Hg(lit.)
bp
55-60 °C11 mm Hg(lit.)
density
0.973 g/mL at 20 °C(lit.)
refractive index
n
20/D
1.460
Fp
140 °F
storage temp.
0-6°C
pka
8.02±0.20(Predicted)
form
Liquid
color
Clear yellow to orange
Specific Gravity
0.92
PH
12 (100g/l, H2O, 20℃)
Water Solubility
MISCIBLE
Sensitive
Air Sensitive
BRN
106924
CAS DataBase Reference
1445-73-4(CAS DataBase Reference)
NIST Chemistry Reference
4-Piperidinone, 1-methyl-(1445-73-4)
Hazard Codes
C,Xi
Risk Statements
R34:Causes burns.
R10:Flammable.
R36/37/38:Irritating to eyes, respiratory system and skin .
Safety Statements
S23:Do not breathe gas/fumes/vapor/spray (appropriate wording to be specified by the manufacturer) .
S24/25:Avoid contact with skin and eyes .
S37/39:Wear suitable gloves and eye/face protection .
S26:In case of contact with eyes, rinse immediately with plenty of water and seek medical advice .
RIDADR
UN 1224 3/PG 3
WGK Germany
3
Hazard Note
Irritant
HazardClass
3
PackingGroup
III
HS Code
29333999
Chemical Properties
clear yellow to orange liquid
Uses
1-Methyl-4-piperidone, are widely used in artificial fibre industry. They are polymerizable and used as nylon precursors. They have excellent applications as solvents and as intermediates for organic synthesis. They are used in the aqueous carrier medium and amide penetrants in inks and water soluble paints.
Purification Methods
It is best purified by fractional distillation The hydrochloride of the hydrate (4-diol) has m 94.7-95.5o, but the anhydrous hydrochloride which crystallises from CHCl3/Et2O has m 165-168o (164-167o) and can also be obtained by sublimation at 120o/2mm. The oxime has m 130-132o (from Me2CO). The methiodide crystallises from MeOH, the crystals with 1MeOH have m 189-190o, and the solvent-free iodide has m 202-204o(dec). [Lyle et al. J Org Chem 24 342 1959, Bowden & Greeen J Chem Soc 1164 1952, Tomita Yakugaku Zasshi (J Pharm Soc Japan) 71 1053 1951, Beilstein 21 IIII/IV 3183, 21/6 V 419.]
Shanghai Hobor Chemical Co., Ltd

Telephone

13918007836 21-61026752-

Contact Fax

Website

http://www.hoborchem.com
yxinchem

Telephone

180717855871 0710-4323688-

Contact Fax

15502706050

Website

http://www.yxinchem.com
Anhui Dexinjia Biopharm Co., Ltd

Telephone

13210597381 0531-82375809-

Contact Fax

Website

http://www.ahdxj.com
Nantong Xiaochang Pharmaceutical Trading Co., Ltd.

Telephone

17602153959 0513-82104991-

Contact Fax

QQ1907456386

Website

https://www.chemicalbook.com/ShowSupplierProductsList1312795/0.htm
Shandong Chenyi Environmental Protection Technology Co., Ltd

Telephone

18560179988 0531-83179999-

Contact Fax

Website

http://www.chenyichem.com/
Creasyn Finechem(Tianjin) Co., Ltd.

Telephone

022-83945878-

Contact Fax

022-83945176

Website

http://www.creasyn.com/
Wuhan EnTai Technology Development Co,.Ltd

Telephone

86-27-82330560

Contact Fax

86-27-82330547

Website

https://www.chemicalbook.com/ShowSupplierProductsList13263/0.htm
J & K SCIENTIFIC LTD.

Telephone

400-666-7788 010-82848833-

Contact Fax

86-10-82849933

Website

http://www.jkchemical.com
Meryer (Shanghai) Chemical Technology Co., Ltd.

Telephone

400-660-8290 21-61259100-

Contact Fax

86-21-61259102

Website

http://www.meryer.com
future industrial shanghai co., ltd

Telephone

400-0066-400

Contact Fax

021-55660885

Website

http://www.jonln.com
Alfa Aesar

Telephone

400-610-6006

Contact Fax

021-67582001/03/05

Website

http://chemicals.thermofisher.cn
TCI (Shanghai) Development Co., Ltd.

Telephone

021-67121386 / 800-988-0390

Contact Fax

021-67121385

Website

https://www.tcichemicals.com/CN/zh/
Beijing dtftchem Technology Co., Ltd.

Telephone

13651141086

Contact Fax

86 (10) 60270825

Website

http://www.dtfchem.com/
BeiJing Hwrk Chemicals Limted

Telephone

18516978288 0757-86329057-

Contact Fax

0757-86311057

Website

http://www.hwrkchemical.com/
Energy Chemical

Telephone

400-005-6266 021-58432009-

Contact Fax

021-58436166

Website

http://www.energy-chemical.com
Capot Chemical Co., Ltd

Telephone

+86 (0) 571 85 58 67 18

Contact Fax

0086-571-85864795

Website

http://www.capotchem.com/
Beijing Ouhe Technology Co., Ltd

Telephone

13552068683 010-82967028-

Contact Fax

+86-10-82967029

Website

http://www.ouhechem.com/
JinYan Chemicals(ShangHai) Co.,Ltd.

Telephone

13817811078

Contact Fax

86-021-50426522,50426273

Website

http://www.jingyan-chemical.com/