144-11-6
Product Image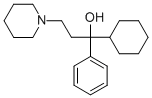 Name
Trihexylphenedyl
CAS
144-11-6
Synonyms
Artane
Benzhexol
Triphenidyl
TRIHEXYPHENIDYL
rihexylphenedyl
Trihexylphenedyl
Parkinane retard
Trihexylphenidyl
Trihexylphenizyl
Trihexylphenidyle
Sedrena (free base)
1-Piperidinepropanol, a-cyclohexyl-a-phenyl-
1-Cyclohexyl-1-phenyl-3-piperidino-1-propanol
1-Cyclohexyl-1-phenyl-3-(1-piperidyl)propan-1-ol
α-Cyclohexyl-α-(2-piperidinoethyl)benzenemethanol
1-Cyclohexyl-1-phenyl-3-(1-piperidinyl)-1-propanol
alpha-Cyclohexyl-alpha-phenyl-1-piperidinepropanol
1-cyclohexyl-1-phenyl-3-(piperidin-1-yl)propan-1-ol
1-Piperidinepropanol, alpha-cyclohexyl-alpha-phenyl-
(R)-1-Cyclohexyl-1-phenyl-3-(piperidin-1-yl)propan-1-ol hydrochloride
EINECS(EC#)
205-614-4
Molecular Formula
C20H31NO
MDL Number
MFCD00599600
Molecular Weight
301.47
MOL File
144-11-6.mol
Melting point
258.5°C
Boiling point
442.59°C (rough estimate)
density
0.9941 (rough estimate)
refractive index
1.5614 (estimate)
pka
14.31±0.29(Predicted)
NIST Chemistry Reference
Trihexyphenidyl(144-11-6)
Originator
Artane,Lederle,US,1949
Uses
Trihexyphenidyl, an antiparkinsonian drug, possesses central and peripheral anticholinergic actions, as well as a direct relaxant effect on smooth muscle. It reduces muscle rigidity and general stiffness, and has a relatively minor effect on tremors. It is used in Parkinsonism in the form of monotherapy as well as in combination with levodopa.
Uses
Anticholinergic; antiparkinsonian.
Manufacturing Process
Acetophenone, paraformaldehyde and piperidine are first reacted to give ω-(1- piperidyl)propiophenone. To an absolute ethyl ether solution of cyclohexylmagnesium bromide (prepared from 261 parts of cyclohexyl bromide, 38.8 parts magnesium turnings and 700 parts by volume absolute ethyl ether) a dry solution of 174 parts omega-(1-piperidyl)-propiophenonein 600 parts by volume of ether is added, with stirring, at such a rate that gentle reflux is maintained with no external cooling or heating. The reaction mixture is stirred for about 5 hours and then allowed to stand at room temperature until reaction appears complete. While being cooled the reaction mixture is then decomposed by the dropwise addition of 500 parts by volume of 2.5 N hydrochloric acid, and finally is made strongly acidic to Congo red by the addition of concentrated hydrochloric acid.
The resulting white solid is collected on a filter, air dried, redissolved in 2,500 parts water at 95°C and the resulting solution treated with decolorizing charcoal and clarified by filtration. The cooled filtrate is made alkaline with ammonia and the product, crude 3-(1-piperidyl)-1-cyclohexyl-1-phenyl-1- propanol is collected. The hydrochloride melts with decomposition in ten seconds in a bath held at 258.5°C. The alcohol melts at 114.3° to 115.0°C, according to US Patent 2,716,121.
Brand name
Artane (Lederle); Tremin (Schering).
Therapeutic Function
Antiparkinsonian
Safety Profile
Poison by intraperitoneal, subcutaneous, and intravenous routes. When heated to decomposition it emits toxic fumes of NOx.
Chemical Synthesis
Trihexyphenidyl, 1-cyclohexyl-1-phenyl-3-piperidineopropan-1-ol (10.2.2), is synthesized by the reaction of 2-(1-piperidino)propiophenone (10.2.1) with cyclohexylmagnesiumbromide. The initial 2-(1-piperidino)propiophenone is synthesized in turn by the aminomethylation of benzophenone using paraformaldehyde and piperidine [24–27].

Shanghai Longsheng chemical Co.,Ltd.

Telephone

13585536065 021-58099652-8005

Contact Fax

021-58099609

Website

http://www.shlschem.com
Syntechem Co.,Ltd

Telephone

Please Email

Contact Fax

E-Mail Inquiry

Website

http://www.syntechem.com/
Hangzhou Yuhao Chemical Technology Co., Ltd

Telephone

0571-82693216

Contact Fax

+86-571-82880190

Website

http://www.chemyuhao.com
Beijing HuaMeiHuLiBiological Chemical

Telephone

010-56205725

Contact Fax

010-65763397

Website

http://www.huabeibiochem.com/
Shanghai Macklin Biochemical Co.,Ltd.

Telephone

15221275939

Contact Fax

021-50706099

Website

http://www.macklin.cn
Hangzhou J&H Chemical Co., Ltd.

Telephone

0571-87396432-

Contact Fax

0571-87396431

Website

http://www.jhechem.com
Hubei Jusheng Technology Co.,Ltd

Telephone

18871490274 027-59599241-

Contact Fax

027-59599241

Website

http://www.hubeijusheng.com
Chizhou Kailong Import and Export Trade Co., Ltd.

Telephone

Please Email

Contact Fax

-

Website

https://www.chemicalbook.com/ShowSupplierProductsList16778/0.htm
West Asia Chemical Technology (Shandong) Co. Ltd

Telephone

400-990-3999

Contact Fax

0539-6365991

Website

http://www.xiyashiji.com
Shenzhen SUNGENING Bio-Medical Co., Ltd.

Telephone

18818684823 0755-28967200-8056

Contact Fax

0755-28967200

Website

http://www.sungening.com
Shandong Ono Chemical Co., Ltd.

Telephone

0539-6362799(To 20)

Contact Fax

0539-6362799(To 20)

Website

http://www.onochem.com
Chengdu Saint - Kay Biotechnology Co., Ltd.

Telephone

15882256948

Contact Fax

Website

https://www.chemicalbook.com/ShowSupplierProductsList30701/0.htm
Dideu Industries Group Limited

Telephone

029-88380327

Contact Fax

Website

https://www.dideu.com
Dayang Chem (Hangzhou) Co.,Ltd.

Telephone

17705817739 +86-571-88938639

Contact Fax

+86-571-88938652,+86-571- 88492614

Website

https://www.dycnchem.com/
AFINE CHEMICALS LIMITED

Telephone

008657185134551

Contact Fax

008657185134895

Website

http://www.afinechem.com/index.html
Hefei TNJ Chemical Industry Co.,Ltd.

Telephone

0551-65418671

Contact Fax

0551-65418697

Website

https://www.tnjchem.com
Hubei Moco Chemical Co., Ltd.

Telephone

18627756402

Contact Fax

QQ:3001051413

Website

http://www.molcoo.com/
CONIER CHEM AND PHARMA LIMITED

Telephone

86-18523575427

Contact Fax

Website

http://www.conier.com/