13760-79-7
Product Image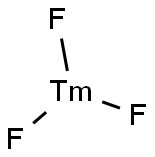 Name
Thulium trifluoride
CAS
13760-79-7
Synonyms
THULIUM FLUORIDE
THULIUM(III) FLUORIDE
thuliumfluoride(tmf3)
Thulium fluoride, anhydrous
thulium trifluoride
THULIUM(III) FLUORIDE, ANHYDROUS, 99.99%
Thulium(III)fluoride,anhydrous(99.9%-Tm)(REO)
thulium(iii) fluoride, anhydrous
thulium(iii) fluoride, anhydrous, reacton
thulium(iii) fluoride, ultra dry
THULIUMFLUORIDE,CRYSTALLINE
Thulium fluoride, anhydrous 99.9%
THULIUM(III) FLUORIDE, ANHYDROUS: 99.9% (REO)
Thulium(III) fluoride, anhydrous, REacton(R), 99.99% (REO)
Thulium(III) fluoride, ultra dry, 99.99% (REO)
Thulium(III) fluoride, anhydrous, REacton, 99.99% (REO)
Thulium fluoride, 99.5% (REO)
Thulium(III) trifluoride
EINECS(EC#)
237-353-7
Molecular Formula
F3Tm
MDL Number
MFCD00049611
Molecular Weight
225.93
MOL File
13760-79-7.mol
Chemical Properties
a yellowish or grayish white powder(s); hygroscopic [STR93]
Hazard Codes
T
Risk Statements
R23/24/25:Toxic by inhalation, in contact with skin and if swallowed .
R32:Contact with acids liberates very toxic gas.
Safety Statements
S26:In case of contact with eyes, rinse immediately with plenty of water and seek medical advice .
S36/37/39:Wear suitable protective clothing, gloves and eye/face protection .
S45:In case of accident or if you feel unwell, seek medical advice immediately (show label where possible) .
RIDADR
UN 3288 6.1/PG 3
WGK Germany
3
Hazard Note
Toxic
TSCA
Yes
HazardClass
6.1
PackingGroup
III
Uses
Thulium Fluoride has specialized uses in ceramics, glass, phosphors, lasers, also is the important dopant for fibre amplifiers and as raw materials for making Thulium Metal and alloys. Thulium Fluoride is a water insoluble Thulium source for use in oxygen-sensitive applications, such as metal production. Fluoride compounds have diverse applications in current technologies and science, from oil refining and etching to synthetic organic chemistry and the manufacture of pharmaceuticals.
J & K SCIENTIFIC LTD.

Telephone

400-666-7788 010-82848833-

Contact Fax

86-10-82849933

Website

http://www.jkchemical.com
Meryer (Shanghai) Chemical Technology Co., Ltd.

Telephone

400-660-8290 21-61259100-

Contact Fax

86-21-61259102

Website

http://www.meryer.com
3B Pharmachem (Wuhan) International Co.,Ltd.

Telephone

18930552037 821-50328103-801

Contact Fax

86-21-50328109

Website
Alfa Aesar

Telephone

400-610-6006

Contact Fax

021-67582001/03/05

Website

http://chemicals.thermofisher.cn
BeiJing Hwrk Chemicals Limted

Telephone

18516978288 0757-86329057-

Contact Fax

0757-86311057

Website

http://www.hwrkchemical.com/
Energy Chemical

Telephone

400-005-6266 021-58432009-

Contact Fax

021-58436166

Website

http://www.energy-chemical.com
Nanjing Chemlin Chemical Co., Ltd

Telephone

025-83697070

Contact Fax

+86-25-83453306

Website

http://www.echemlin.cn
Shanghai Hanhong Scientific Co.,Ltd.

Telephone

021-54306202

Contact Fax

13764082696

Website

http://www.chemto.com/ch/
Chengdu XiYa Chemical Technology Co., Ltd.

Telephone

400-990-3999

Contact Fax

0539-6365991

Website

http://www.xiyashiji.com
Spectrum Chemical Manufacturing Corp.

Telephone

18616765336

Contact Fax

021-57711696

Website

https://www.spectrumchemical.com/OA_HTML/index.jsp?minisite=10020&respid=22372&language=US
Cheng Du Micxy Chemical Co.,Ltd

Telephone

18048500443

Contact Fax

028-85632863

Website

http://www.micxy.com
9ding chemical ( Shanghai) Limited

Telephone

4009209199

Contact Fax

86-021-52271987

Website

http://www.9dingchem.com
Shanghai Aladdin Bio-Chem Technology Co.,LTD

Telephone

400-620-6333 400-62063333-1

Contact Fax

021-50323701

Website

http://www.aladdin-e.com/
Shanghai Meishui Chemical Technology Co., Ltd

Telephone

021-60549325 18616193163

Contact Fax

021-33250306

Website

http://www.meishuichem.com
Hangzhou J&H Chemical Co., Ltd.

Telephone

0571-87396432-

Contact Fax

0571-87396431

Website

http://www.jhechem.com
Sigma-Aldrich

Telephone

800-8193336 021-61415566-

Contact Fax

Website

https://www.sigmaaldrich.cn
Codow Chemical Co.,Ltd.

Telephone

18620099427 1862-009-9427

Contact Fax

+86-20-62619665

Website

http://www.howeipharm.com
West Asia Chemical Technology (Shandong) Co. Ltd

Telephone

400-990-3999

Contact Fax

0539-6365991

Website

http://www.xiyashiji.com