123318-82-1
Product Image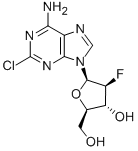 Name
Clofarabine
CAS
123318-82-1
Synonyms
2-CHLORO-2'-ARABINOFLUORO-2'-DEOXYADENOSINE
5-(6-amino-2-chloro-purin-9-yl)-4-fluoro-2-(hydroxymethyl)oxolan-3-ol
CAFDA
CLOFARABINE
2-chloro-9-(2-deoxy-2-fluoroarabinofuranosyl)adenine
2-chloro-9-(2-deoxy-2-fluoro-beta-d-arabinofuranosyl)-9h-purin-6-amin
2-chloro-9-(2-deoxy-2-fluoro-beta-d-arabinofuranosyl)adenine
Clolar
Clofarabine2-CHLORO-9-(2'-DEOXY-2'-FLUORO-B-D-ARABINOFURANOSYL)ADENINE
Clola
2-Chloro-9-(2-deoxy-2-fluoro-b-D-arabinofuranosyl)-9H-purin-6-amine
9H-Purin-6-amine, 2-chloro-9-(2-deoxy-2-fluoro-b-D-arabinofuranosyl)-
CLOFARABINE(FORR&DONLY)
CLOFARABINE, 5-(6-AMINO-2-CHLORO-PURIN-9-YL)-4-FLUORO-2-(HYDROXYMETHYL)OXOLAN-3-OL
CLORFARABINE
(2R,3R,4S,5R)-5-(6-amino-2-chloro-purin-9-yl)-4-fluoro-2-(hydroxymethyl)oxolan-3-ol
9H-Purin-6-amine, 2-chloro-9-(2-deoxy-2-fluoro-β-D-arabinofuranosyl)-
2-CHLORO-9-(2-DEOXY-2-FLUORO-β-D-ARABINOFURANOSYL)-9H-PURIN-6-AMINE (CLOFARABINE)
2-Chloro-9-(2-deoxy-2-fluoro--D-arabinofuranosyl)-9H-purin-6-amine
Molecular Formula
C10H11ClFN5O3
MDL Number
MFCD00871077
Molecular Weight
303.68
MOL File
123318-82-1.mol
Appearance
White Solid
mp
228-2310C
Usage
ISecond generation purine nucleoside analog; antimetabolite that inhibits DNA synthesis and resists deamination by adenosine deaminase. Antineoplastic
CAS DataBase Reference
123318-82-1(CAS DataBase Reference)
Anti-cancer drugs
Clofarabine is a novel purine nucleoside anticancer drugs is first successfully developed by the Top10 biopharmaceutical company of the United States---Genzyme Corporation, NASDAQ: GENZ) with the trade names being "Clofarabine". On December 28, 2004 the US food and Drug Administration (FDA) used fast-track for approval of clofarabine for application to children with refractory or relapsed acute lymphocytic leukemia. It is currently the only available drugs for the special treatment of children with acute myelogenous leukemia (ALL); it has an excellent efficacy on the treatment of leukemia with well tolerance and no unpredictable adverse reactions. It can be administrated through either administered intravenously or administered orally. This drug is the first product approved for being dedicated to the treatment of the children's leukemia in more than ten years.
Pharmacological effects
Clofarabine has also combined the advantages of fludarabine and cladribine that can inhibit both DNA polymerase as well as inhibit ribonucleotide reductase with strong anti-cancer activity against different cell lines and tumor models. Early studies have also shown that the product, when having a concentration of micromolar or less, can already effectively inhibit the proliferation of human CNS tumors, lung cancer, kidney cancer, and leukemia and melanoma cell lines. In vivo and in vitro experiments have showed that clofarabine can induce apoptosis of leukemia cells with the mechanism being the down-regulation of de-phosphorylation of BCL-2 family proteins BCL-X and MCL-1 as well as the AKT. Its inhibitory effect on the human leukemia cells K-562 is stronger than cladribine and fluorine with the IC50 being 5 nmol/L while the IC50 for cladribine and fluorine is 16 nmol/L and 460nmol/L, respectively. Preclinical and drug combination experiments have showed that clofarabine, similar as other deoxynucleotide analogs as well as other types of anti-cancer drugs such as Etoposide, can enhance the activity of the deoxycytidine kinase in normal or abnormal human lymphocytes, and therefore increasing the anti-cancer effect.
Dosage
Clofarabine belongs to the anticancer drug which affects tubulin and is mainly used for clinical treatment of the following diseases:
1. treatment of relapsed or refractory acute lymphocytic leukemia;
2. it also has efficacy in treating acute myeloid leukemia and myelodysplastic syndrome (MDS) in older patients and can be used in combination with cytarabine.
General adult dose:
1. relapsed or refractory acute lymphoblastic leukemia: suitable for the patient (1 to 21 years) should have previously received at least two kinds of treatment programs; take 52 mg/m2 daily X 5 days, have intravenous injection (more than 2 hours) until the organ get function recovery or return back to the baseline level, repeat 1 time every 2 to 6 weeks.
2. Acute myeloid leukemia and MDS: daily 52 mg/m2 × 5 days, have intravenous infusion for 1 hour; After 4 hours, administer cytarabine with 1 g(daily)/m2 X 5 days, perform intravenous infusion for 2 hours, it has positive effect for the newly diagnosed elderly patients with acute myelogenous leukemia and high-risk MDS.
Child:
It can be used for treating refractory and relapsed acute lymphocytic leukemia with the same amount for adults. For the treatment of the refractory and relapsed acute non-lymphocytic leukemia, use daily 52mg/m2 × 5 days, perform intravenous infusion (more than 2 hours) and repeat the treatment per 2-6 weeks depending on the reaction and toxicity in patients.
The above information is edited by the Chemicalbook of Dai Xiongfeng.
Adverse reactions and precautions
Common adverse reactions about clofarabine are as follows:
Blood system: leukocytes and neutropenia, thrombocytopenia, anemia.
Digestive system: loss of appetite, nausea, vomiting, abdominal pain, constipation; stomatitis, gingival bleeding, sore throat.
Nervous System: fatigue, drowsiness, headache, dizziness; anxiety, depression; irritability, excitability.
Cardiovascular System: tachycardia, hypertension, hypotension, transient systolic dysfunction of the left ventricular; the drug should be discontinued upon any causes of hypotension; it was occasionally observed in pediatric patient of capillary leak syndrome and systemic inflammatory response syndrome (SIRS) which can be prevented by administration of hormone during the 1st to 3rd day of treatment. During the medication, once the above syndrome occurs, it should be discontinued immediately and combined with concurrent support treatment. Once the condition is stabilized and the organ gets function recovery, the patients can re-initiate the administration from low dosage.
Liver toxicity: reversible liver damage, increased level of aspartate aminotransferase, alanine aminotransferase and bilirubin; hepatomegaly and jaundice.
Respiratory system: respiratory distress, coughing, pleural effusions.
Urogenital: hematuria, secondary hyperuricemia, elevated level of serum creatinine and creatine.
Other: dermatitis, erythema; muscle pain, joint pain; fever and infection.
[Note] women of childbearing age should take care of contraception during medication, lactation women should stop breastfeeding. Patients of hypotension, dehydration, liver and kidney dysfunction as well as secondary infection of bone marrow suppression should take with caution. Clofarabine may cause tumor lysis syndrome and should drawn attention.
Category
toxic substances.
Flammability and hazard characteristics
It is combustible with fire decomposition releasing toxic nitrogen oxides; fluorides and chlorides fume.
Storage characteristics
warehouse: low-temperature, dry and ventilated.
Extinguishing media
Water, carbon dioxide, dry, sandy soil.
Chongqing Chemieliva Pharmaceutical Co., Ltd.

Telephone

023-67770219

Contact Fax

+86 (23) 6777-0220

Website

http://www.chemieliva.com
Wuhu Nuowei Chemical Technology Co., Ltd

Telephone

0553-8233716-803

Contact Fax

Website

http://www.nuowei-chem.com
Wuhu Huaren Scientific

Telephone

0553-5842013 0553-5842013-801

Contact Fax

086-553-5843138

Website

http://www.huarensh.com
Shanghai Boyle Chemical Co., Ltd.

Telephone

Contact Fax

86-21-57758967

Website

http://www.boylechem.com
J & K SCIENTIFIC LTD.

Telephone

400-666-7788 010-82848833-

Contact Fax

86-10-82849933

Website

http://www.jkchemical.com
Meryer (Shanghai) Chemical Technology Co., Ltd.

Telephone

400-660-8290 21-61259100-

Contact Fax

86-21-61259102

Website

http://www.meryer.com
3B Pharmachem (Wuhan) International Co.,Ltd.

Telephone

18930552037 821-50328103-801

Contact Fax

86-21-50328109

Website
Chembest Research Laboratories Limited

Telephone

021-20908456-

Contact Fax

021-58180499

Website

http://www.BioChemBest.com
TCI (Shanghai) Development Co., Ltd.

Telephone

021-67121386 / 800-988-0390

Contact Fax

021-67121385

Website

https://www.tcichemicals.com/CN/zh/
Energy Chemical

Telephone

400-005-6266 021-58432009-

Contact Fax

021-58436166

Website

http://www.energy-chemical.com
Capot Chemical Co., Ltd

Telephone

+86 (0) 571 85 58 67 18

Contact Fax

0086-571-85864795

Website

http://www.capotchem.com/
Jia Xing Isenchem Co.,Ltd

Telephone

18627885956 0573-85285100-

Contact Fax

0573-85285100

Website

https://www.chemicalbook.com/ShowSupplierProductsList14265/0.htm
Nanjing Chemlin Chemical Co., Ltd

Telephone

025-83697070

Contact Fax

+86-25-83453306

Website

http://www.echemlin.cn
Chemsky(shanghai)International Co.,Ltd.

Telephone

021-50135380

Contact Fax

Website

http://www.shchemsky.com
XiaoGan ShenYuan ChemPharm co,ltd

Telephone

15527768850 0712-2580635-

Contact Fax

Website

http://www.farchem.com/
Hangzhou Yuhao Chemical Technology Co., Ltd

Telephone

0571-82693216

Contact Fax

+86-571-82880190

Website

http://www.chemyuhao.com
ZhengZhou HuaWen Chemical Co.Ltd

Telephone

15343847665 0370-2775059-

Contact Fax

QQ:3470079902

Website

http://www.hnhwchem.com
Wuhan Fortuna Chemical Co., Ltd

Telephone

13308628970 027-59207852-

Contact Fax

QQ3130921841

Website

http://www.fortunachem.cn