122-99-6
Product Image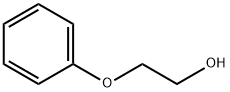 Name
2-Phenoxyethanol
CAS
122-99-6
Synonyms
2-PHENOXYETHANOL
2-Phenoxyethyl alcohol
3-ETHYL-2-HEPTANOL
DOWANOL(TM) EPH
ETHYLENE GLYCOL MONOPHENYL ETHER
ETHYLENE GLYCOL PHENYL ETHER
MONOPHENYL GLYCOL
PHENOXETOL
PHENOXYETHANOL
PHENOXYETHANOLUM
PHENYL CELLOSOLVE
PHENYLGLYCOL
ROSE ETHER
1-Hydroxy-2-phenoxyethane
1-hydroxy-2-phenoxyethane[qr]
2-Fenoxyethanol
2-fenoxyethanol(czech)[qr]
2-Hydroxyethyl phenyl ether
2-Hydroxyethylphenylether
2-hydroxyethylphenylether[qr]
EINECS(EC#)
204-589-7
Molecular Formula
C8H10O2
MDL Number
MFCD00046644
Molecular Weight
138.16
MOL File
122-99-6.mol
Description
Phenoxyethanol is an organic chemical compound, a glycol ether often used in dermatological products such as skin creams and sunscreen. It is a colorless oily liquid. It is a bactericide (usually used in conjunction with quaternary ammonium compounds). Phenoxyethanol is used in many applications such as cosmetics, vaccines and pharmaceuticals as a preservative.
Appearance
clear colorless to light yellow viscous liquid
Melting point
11-13 °C
mp
11-13 °C
Boiling point
247 °C(lit.)
bp
247 °C(lit.)
density
1.107 g/mL at 20 °C(lit.)
vapor density
4.8 (vs air)
vapor pressure
0.01 mm Hg ( 20 °C)
refractive index
n
20/D
1.539
FEMA
4620 | 2-PHENOXYETHANOL
Fp
>230 °F
storage temp.
room temp
solubility
soluble, clear, colorless to very faintly yellow
form
Liquid
color
Clear colorless
PH
7 (10g/l, H2O, 23℃)
explosive limit
1.4-9.0%(V)
Water Solubility
30 g/L (20 ºC)
Merck
14,7257
BRN
1364011
Contact allergens
Phenoxyethanol is an aromatic ether-alcohol used mainly as a preservative, mostly with methyldibromoglutaronitrile (in Euxyl® K 400) or with parabens. Sensitization to this molecule is very rare.
Uses
phenoxyethanol is a broad-range preservative with fungicidal, bactericidal, insecticidal, and germicidal properties. It has a relatively low sensitizing factor in leave-on cosmetics. Phenoxyethanol can be used in concentrations of 0.5 to 2.0 percent, and in combination with other preservatives such as sorbic acid or parabens. In addition, it is used as a solvent for aftershaves, face and hair lotions, shampoos, and skin creams of all types. It can be obtained from phenol.
Uses
Phenoxyethanol is a preservative used in consumer and health care products, including vaccines, pen inks, ear drops, shampoos, skin cleansers, moisturizers, sun care products, and topical medicaments. The preservative Euxyl-K 400 also contains 2-phenoxyethanol, in combination with methyldibromoglutaronitrile.
Phenoxyethanol is commonly used in cosmetics for its antibacterial and antifungal properties. It is increasingly being used in vaccines as a substitute for thiomersal and is also a component of pen inks and, more rarely, ear drops.Reactions to phenoxyethanol have rarely been reported. Three cases of CoU induced by phenoxyethanol in cosmetics have been reported.2-Phenoxyethanol is used as a single agent and in combination with other preservatives such as 1,2-dibromo-2,4-dicyanobutane (Euxyl K 400) and parabens, or in conjunction with quaternary ammonium compounds.The possibility of immunological IgE-mediated reaction could not be confirmed because specific IgE against 2-phenoxyethanol was negative.
Uses
Antimicrobial preservative; also used topically in treatment of bacterial infections.
CAS DataBase Reference
122-99-6(CAS DataBase Reference)
NIST Chemistry Reference
2-Phenoxyethanol(122-99-6)
EPA Substance Registry System
122-99-6(EPA Substance)
Chemical Properties
clear colorless liquid
General Description
Colorless liquid with a pleasant odor. Density 1.02 g/cm3. An irritant.
Reactivity Profile
ETHYLENE GLYCOL PHENYL ETHER(122-99-6) may react violently with strong oxidizing agents. May generate flammable and/or toxic gases with alkali metals, nitrides, and other strong reducing agents. May initiate the polymerization of isocyanates and epoxides.
Air & Water Reactions
Oxidizes in air to form unstable peroxides that may explode spontaneously [Bretherick, 1979 p.151-154, 164]. Water soluble.
Health Hazard
May cause moderate eye irritation and moderate corneal injury. Excessive exposure may cause skin irritation and hemolysis.
Fire Hazard
This chemical is combustible.
Hazard Codes
Xn,Xi
Risk Statements
R22:Harmful if swallowed.
R36:Irritating to the eyes.
Safety Statements
S26:In case of contact with eyes, rinse immediately with plenty of water and seek medical advice .
WGK Germany
1
RTECS
KM0350000
Hazard Note
Irritant
TSCA
Yes
HS Code
29094990
Safety Profile
Moderately toxic by ingestion and skin contact. A skin and severe eye irritant. Mutation data reported. Some glycol ethers have dangerous human reproductive effects. Combustible when exposed to heat or flame; can react vigorously with oxidizing materials. When heated to decomposition it emits acrid smoke and irritating fumes. To fight fEe, use CO2, dry chemical. Used as a solvent for ester-type resins. See also GLYCOL ETHERS.
Hazardous Substances Data
122-99-6(Hazardous Substances Data)
Yangzhou Hopechem Co., Ltd.

Telephone

86-18701858496

Contact Fax

QQ:1719657062,MSN:quality.kate@hotmail.com

Website

http://www.hepuchem.com
Shanghai Aladdin Bio-Chem Technology Co.,LTD

Telephone

400-620-6333 021-20337333-801

Contact Fax

021-50323701

Website

http://www.aladdin-e.com/
Jinan Taihua Chemical Co., Ltd.

Telephone

13553165615

Contact Fax

Website

http://www.jnthchem.com
Jiaxing Nova Chemical Co., Ltd.

Telephone

18957373295 021-20921617-

Contact Fax

021-20921617

Website

http://www.novamedicals.com
JOBACHEM Trading (Suzhou) Co.,Ltd.

Telephone

18114626121 0512-62927368

Contact Fax

Website

http://jobachem.com.cn/
Amatek Scientific Co. Ltd.

Telephone

0512-56316828

Contact Fax

0512-56316826

Website

http://www.amateksci.com
Shaanxi changxiang pharmaceutical co. LTD

Telephone

13295180996

Contact Fax

Website

https://www.chemicalbook.com/supplier/15710233/
J & K SCIENTIFIC LTD.

Telephone

400-666-7788 010-82848833-

Contact Fax

86-10-82849933

Website

http://www.jkchemical.com
Meryer (Shanghai) Chemical Technology Co., Ltd.

Telephone

400-660-8290 21-61259100-

Contact Fax

86-21-61259102

Website

http://www.meryer.com
Alfa Aesar

Telephone

400-610-6006

Contact Fax

021-67582001/03/05

Website

http://chemicals.thermofisher.cn
TCI (Shanghai) Development Co., Ltd.

Telephone

021-67121386 / 800-988-0390

Contact Fax

021-67121385

Website

https://www.tcichemicals.com/zh/cn/index.html
Beijing dtftchem Technology Co., Ltd.

Telephone

13651141086

Contact Fax

86 (10) 60270825

Website

http://www.dtfchem.com/
Energy Chemical

Telephone

400-005-6266 021-58432009

Contact Fax

021-58436166-800

Website

http://www.energy-chemical.com
Shijiazhuang Sdyano Fine Chemical Co., Ltd.

Telephone

031166536426 0311-89250318-

Contact Fax

4000311741

Website

http://www.sdynchem.com
Beijing Ouhe Technology Co., Ltd

Telephone

13552068683 010-82967028-

Contact Fax

+86-10-82967029

Website

http://www.ouhechem.com/
Adamas Reagent, Ltd.

Telephone

400-600-9262

Contact Fax

Website

http://www.tansoole.com
Nanjing Chemlin Chemical Co., Ltd

Telephone

025-83697070-

Contact Fax

+86-25-83453306

Website

http://www.echemlin.cn
Shanghai Hanhong Scientific Co.,Ltd.

Telephone

021-54306202-

Contact Fax

+86-21-64545202

Website

http://www.chemto.com/ch/