1122-91-4
Product Image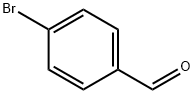 Name
4-Bromobenzaldehyde
CAS
1122-91-4
Synonyms
4-BBA
4-BROMOBENZALDEHYDE
4-BROMOBENZYLALDEHYDE
AKOS BBS-00003194
LABOTEST-BB LT00929178
P-BROMOBENZALDEHYDE
4-Brombenzaldehyd
4-bromo-benzaldehyd
Benzaldehyde, p-bromo-
Benzaldehyde,4-bromo-
p-bromo-benzaldehyd
p-Bromobenzaldehyde 4-Bromobenzaldehyde
Bromobenzaldehyde
4-Bromobenzaldehyde99%
4-BROMO BENZALDEHYDE FOR SYNTHESIS
Ethyl 2-bromoisopentanoate
1-Bromo-4-formylbenzene
4-Formylbromobenzene
EINECS(EC#)
214-365-0
Molecular Formula
C7H5BrO
MDL Number
MFCD00003377
Molecular Weight
185.02
MOL File
1122-91-4.mol
Appearance
white crystalline solid
Melting point
55-58 °C(lit.)
mp
55-58 °C(lit.)
Boiling point
66-68°C 2mm
bp
66-68°C 2mm
density
1.85 g/cm3
refractive index
1.5727 (estimate)
Fp
228 °F
storage temp.
Store below +30°C.
form
Crystalline Solid
color
White
Water Solubility
INSOLUBLE
Sensitive
Air Sensitive
Detection Methods
GC
BRN
507100
InChIKey
ZRYZBQLXDKPBDU-UHFFFAOYSA-N
CAS DataBase Reference
1122-91-4(CAS DataBase Reference)
NIST Chemistry Reference
Benzaldehyde, 4-bromo-(1122-91-4)
Storage Precautions
Moisture sensitive;Store under nitrogen;Light sensitive
EPA Substance Registry System
1122-91-4(EPA Substance)
Hazard Codes
Xn,Xi
Risk Statements
R22:Harmful if swallowed.
R36/37/38:Irritating to eyes, respiratory system and skin .
R43:May cause sensitization by skin contact.
Safety Statements
S26:In case of contact with eyes, rinse immediately with plenty of water and seek medical advice .
S36/37:Wear suitable protective clothing and gloves .
S36/37/39:Wear suitable protective clothing, gloves and eye/face protection .
S22:Do not breathe dust .
RIDADR
2811
WGK Germany
2
RTECS
CU4810000
Hazard Note
Irritant/Harmful/Air Sensitive
TSCA
Yes
HazardClass
6.1(b)
PackingGroup
III
HS Code
29130000
Aikon International Limited

Telephone

18068836627 025-58859352-

Contact Fax

02557626880

Website

http://www.aikonchem.com
Shanghai Taijilin Industrial Co., Ltd.

Telephone

18964684208 021-50630626-

Contact Fax

021-50563898

Website

http://www.tajilin.com/
Shanghai Qiao Chemical Science Co., Ltd

Telephone

021-58892003-

Contact Fax

Website

http://www.qiaochem.com/
Tianjin Englon Technology Co., LTD

Telephone

17526513758 010-1234567

Contact Fax

Website

https://www.chemicalbook.com/ShowSupplierProductsList13187/0.htm
Nantong Xiaochang Pharmaceutical Trading Co., Ltd.

Telephone

17602153959 0513-82104991-

Contact Fax

QQ1907456386

Website

https://www.chemicalbook.com/ShowSupplierProductsList1312795/0.htm联系qq:2176423145
Ningbo jinuo chemical co., LTD

Telephone

057487319282 0574-87314919-

Contact Fax

Website

https://cn.nbinno.com
Jinan Hongkangda Chemical Co., Ltd

Telephone

18596078578 0531-88901705-

Contact Fax

Website

https://www.chemicalbook.com/supplier/23801892/
LEWOO PHARMATECH (SHANGHAI) CO.,LTD

Telephone

18116361417

Contact Fax

021 67898603

Website

http://www.lewoopharma.com/
Wuhan EnTai Technology Development Co,.Ltd

Telephone

86-27-82330560

Contact Fax

86-27-82330547

Website

https://www.chemicalbook.com/ShowSupplierProductsList13263/0.htm
J & K SCIENTIFIC LTD.

Telephone

400-666-7788 010-82848833-

Contact Fax

86-10-82849933

Website

http://www.jkchemical.com
Meryer (Shanghai) Chemical Technology Co., Ltd.

Telephone

400-660-8290 21-61259100-

Contact Fax

86-21-61259102

Website

http://www.meryer.com
future industrial shanghai co., ltd

Telephone

400-0066-400

Contact Fax

021-55660885

Website

http://www.jonln.com
Alfa Aesar

Telephone

400-610-6006

Contact Fax

021-67582001/03/05

Website

http://chemicals.thermofisher.cn
TCI (Shanghai) Development Co., Ltd.

Telephone

021-67121386 / 800-988-0390

Contact Fax

021-67121385

Website

https://www.tcichemicals.com/CN/zh/
ShangHai DEMO Chemical Co.,Ltd

Telephone

400-021-7337 qq:2355568890

Contact Fax

0086-21-50182339

Website

http://www.demochem.com
Beijing dtftchem Technology Co., Ltd.

Telephone

13031183356 010-60275820-

Contact Fax

010-60270825

Website

http://www.dtfchem.com
BeiJing Hwrk Chemicals Limted

Telephone

18516978288 0757-86329057-

Contact Fax

0757-86311057

Website

http://www.hwrkchemical.com/
Energy Chemical

Telephone

400-005-6266 021-58432009-

Contact Fax

021-58436166

Website

http://www.energy-chemical.com