10377-48-7
Product Image
Name
Lithium sulfate
CAS
10377-48-7
Synonyms
LITHIUM SULFATE
LITHIUM SULPHATE
Dilthium sulfate
Li2SO4
Lithiophor
Lithium sulfate (2:1)
Lithium sulfate, alpha
Lithium-Duriles
lithiumsulfate(2:1)
lithiumsulfateanhydrous
Sulfuric acid lithium salt
Sulfuric acid, dilithium salt
Sulfuric acid, lithium salt (1:2)
Sulfuricacid,dilithiumsalt
sulfuricacid,lithiumsalt(1:2)
LITHIUM SULPHATE MONO.
LITHIUM SULFATE ANHYDROUS PHOTOGRAPHIC*G RADE
LITHIUM SULFATE, 99.99+%
LITHIUM SULFATE, >= 98.5%
Lithium sulfate monohydrate, ReagentPlus®,, 99%
EINECS(EC#)
233-820-4
Molecular Formula
Li2O4S
MDL Number
MFCD00011086
Molecular Weight
109.94
MOL File
10377-48-7.mol
Appearance
White crystalline powder
Melting point
845 °C (lit.)
mp
845 °C(lit.)
density
2.22 g/mL at 25 °C(lit.)
storage temp.
Inert atmosphere,Room Temperature
solubility
absolute ethanol: insoluble(lit.)
form
Powder
color
White
PH
6.0-9.0 (25℃, 2M in H2O)
Water Solubility
25.7 g/100 mL (25 ºC)
λmax
λ: 260 nm Amax: 0.08
λ: 280 nm Amax: 0.04
Sensitive
Hygroscopic
Merck
14,5541
CAS DataBase Reference
10377-48-7(CAS DataBase Reference)
NIST Chemistry Reference
Lithium sulfate(10377-48-7)
EPA Substance Registry System
10377-48-7(EPA Substance)
Hazard Codes
Xn
Risk Statements
R22:Harmful if swallowed.
R36/37/38:Irritating to eyes, respiratory system and skin .
Safety Statements
S26:In case of contact with eyes, rinse immediately with plenty of water and seek medical advice .
S36/37:Wear suitable protective clothing and gloves .
WGK Germany
1
RTECS
OJ6419000
TSCA
Yes
HS Code
28332990
Chemical Properties
Lithium sulfate is a colorless monoclinic or hexagonal crystalline solid. It is the lithium salt of sulfuric acid. Although lithium sulfate solution is prepared in a large quantity as an intermediate in the spodumene-sulfuric acid process, the pure compound has only limited industrial use. It is used in small quantities in molten salt baths for the chemical strengthening of glass.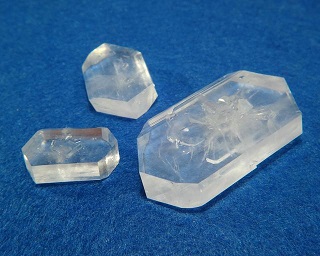 The dissolved lithium sulfate is converted into lithium carbonate by adding sodium carbonate (NaCO3).The sodium replaces the lithium in the sulfate compound.This reaction works this way because sodium is more reactive than lithium.
Uses
Lithium sulfate is used in making a special type of high strength glass. It also is used in medicine as an antidepressant.
Preparation
Lithium sulfate is prepared by neutralization of lithium hydroxide or lithium carbonate with sulfuric acid followed by crystallization:
2LiOH + H2SO4 → Li2SO4 + H2O
Li2CO3 + H2SO4 → Li2SO4 + CO2 + H2O
The product obtained from crystallization in a concentrated solution is the monohydrate, Li2SO4•H2O. Anhydrous salt is obtained by heating the monohydrate in a vacuum.
Definition
ChEBI: A metal sulfate in which the counterion is lithium and the ratio of lithium to sulfate is 2:1.
Purification Methods
Crystallise it from H2O (4mL/g) by partial evaporation, and dry it above 130o in vacuo.
Nanjing chemical reagent co. LTD

Telephone

13815889511

Contact Fax

025-85312034

Website

http://www.nj-reagent.com/
Shanghai Oujin Lithium Industrial., Ltd

Telephone

18217292481

Contact Fax

Website

https://www.chemicalbook.com/ShowSupplierProductsList124589/0.htm
J & K SCIENTIFIC LTD.

Telephone

400-666-7788 010-82848833-

Contact Fax

86-10-82849933

Website

http://www.jkchemical.com
Meryer (Shanghai) Chemical Technology Co., Ltd.

Telephone

400-660-8290 21-61259100-

Contact Fax

86-21-61259102

Website

http://www.meryer.com
3B Pharmachem (Wuhan) International Co.,Ltd.

Telephone

18930552037 821-50328103-801

Contact Fax

86-21-50328109

Website
Alfa Aesar

Telephone

400-610-6006

Contact Fax

021-67582001/03/05

Website

http://chemicals.thermofisher.cn
Beijing dtftchem Technology Co., Ltd.

Telephone

13651141086

Contact Fax

86 (10) 60270825

Website

http://www.dtfchem.com/
Energy Chemical

Telephone

400-005-6266 021-58432009-

Contact Fax

021-58436166

Website

http://www.energy-chemical.com
JinYan Chemicals(ShangHai) Co.,Ltd.

Telephone

13817811078

Contact Fax

86-021-50426522,50426273

Website

http://www.jingyan-chemical.com/
Adamas Reagent, Ltd.

Telephone

400-600-9262

Contact Fax

Website

http://www.tansoole.com
Shanghai Hanhong Scientific Co.,Ltd.

Telephone

021-54302127 021-54306202-

Contact Fax

Website

http://www.chemto.com/ch/
Tianjin heowns Biochemical Technology Co., Ltd.

Telephone

400 638 7771

Contact Fax

Website

http://www.heowns.com
Sinopharm Chemical Reagent Co,Ltd.

Telephone

86-21-63210123

Contact Fax

86-21-63290778 86-21-63218885

Website

http://www.reagent.com.cn
Maya High Purity Chemicals

Telephone

+86 (573) 82222445 (0)18006601000 QQ:452520369

Contact Fax

+86 (573) 82222643

Website

http://www.maya-r.com
Spectrum Chemical Manufacturing Corp.

Telephone

18616765336

Contact Fax

021-57711696

Website

https://www.spectrumchemical.com/OA_HTML/index.jsp?minisite=10020&respid=22372&language=US
Thermo Fisher Scientific

Telephone

800-810-5118

Contact Fax

+86-10-84193589

Website

http://www.thermo.com.cn
Beijing HuaMeiHuLiBiological Chemical

Telephone

010-56205725

Contact Fax

010-65763397

Website

http://www.huabeibiochem.com/
Beijing innoChem Science & Technology Co.,Ltd.

Telephone

400-810-7969 010-59572699

Contact Fax

010-59572688

Website

http://www.inno-chem.com.cn